Thank you to nearly 160 awesome humans who turned out for last night's fundraiser for Our Watch.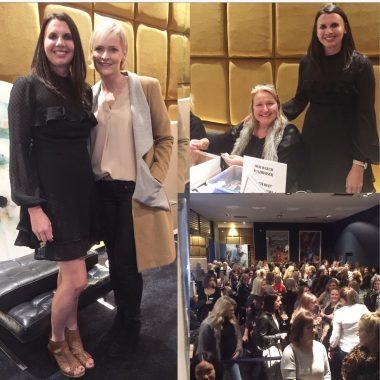 True to form, Nat Bell got the fundraising off to a flying start, recruiting some impressive worker bees.
And the art raffles were a major hit thanks to Carolyn Doyle and Lou Neale.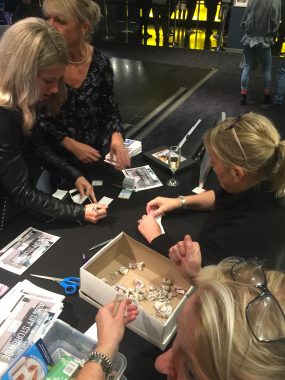 Bubbles flowed and people took the opportunity to enjoy a Friday night out with mates.
Some of the guests have now attended four of these events to spark change for Australian women, so good!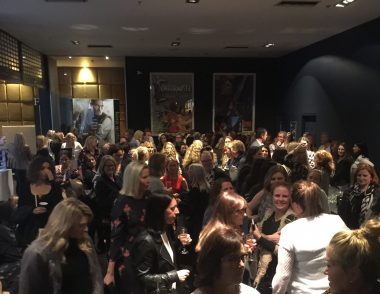 So why did we choose to fundraise for Our Watch?
The answer is simple:
TO HELP CREATE AN AUSTRALIA WHERE WOMEN AND THEIR CHILDREN ARE FREE FROM ALL FORMS OF VIOLENCE.
It is a national organisation to prevent violence.
Violence against women in their own homes is a national emergency.
The team at Our Watch sent a message of thanks to last night's guests:
"Thank you for your support!
Much appreciated – enjoy your evening."
Team at Our Watch.
The cold, hard facts are 17 women have been killed in Australia this year due to family violence.
We are only five months into the year.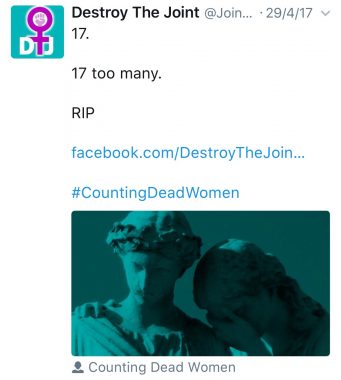 The money raised from this event (Nat and I will update you with final tally on Monday) will help change the future of many, many women and children.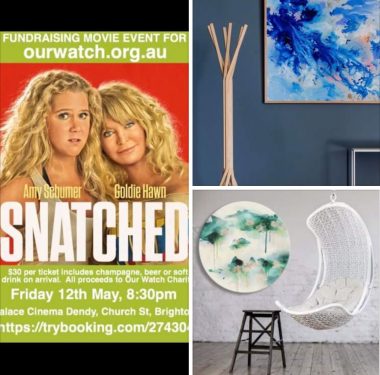 Congratulations to Effie Cozijnsen, a friend of Anne Robinson's, who gets to take home a stunning circular artwork from United Interiors.
Valued at more than 700 dollars, it's a generous donation from Marcia Svik (who also attended last nights event) at Palace Dendy in Brighton.
More from United Interiors here. 
And congrats to the lucky winner who took home a chance to hang a limited edition Katie McKinnon piece her home!
We featured the Melbourne artist's gorgeous work and her home here
Big thanks also to Michelle Ryan who organised an amazing 22 people to attend.
Great work to the St Finbar's Primary school mums who attended.
And to the fab crews from Brighton Grammar, Sandringham House and Firbank.
Thanks also goes to those who have supported the work of Engaging Women since it started. Every like, share or comment is greatly appreciated.
As for the movie, Snatched with  Goldie Hawn and Amy Schumer – if you want a laugh, go and see it.
If you're conservative, probably bench it… bathroom scene anyone?
Before you go, if you or your friends want to be first to watch our upcoming video conversation series with some fantastic content? Or here about our next event?
Don't forget to sign up here.
You can check out our other events to help draw attention to issues affecting women and children here.