It was an enormous pleasure to meet guests at Jewish Care's 'Friends of Montefiore' annual brunch in Melbourne.
Sponsored by the Pratt Foundation, this event has a rich, thirty-four year history.
220 people travelled to Leonda by the Yarra to raise funds for Gary Smorgon House aged care residence and I was honoured to deliver the keynote speech.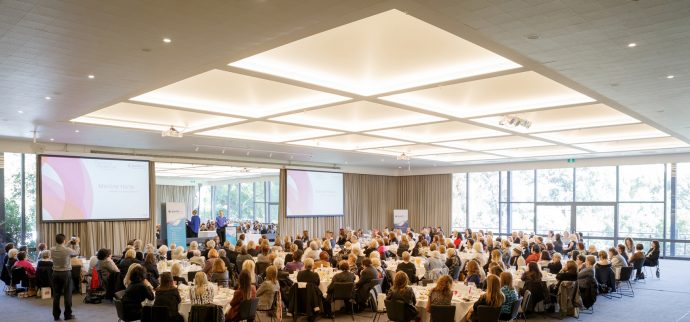 You couldn't help but notice that Jewish Care is all about community: it supports young and old, rich and poor, healthy and sick, religious and unaffiliated.
And the history is fascinating.
In 1848, members of the Melbourne Jewish Philanthropic Society established the foundations of Jewish Care to assist those in need.
Back then, the entire Jewish population of Victoria numbered only 200.
Today it extends support to more than 5,000 lives each year, individuals and families who are facing challenges.
It may be a mother suffering from postnatal depression or a single mum who needs some help to pay the bills.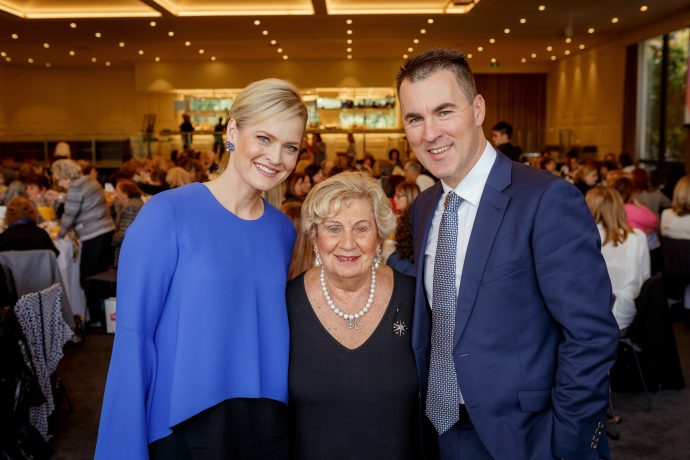 Martine Harte, Chairperson of the Friends of Montefiore committee Delysia Pahoff and Jewish Care Chief Executive Officer Bill Appleby. Image: thanks to Sav Schulman and Jewish Care. 
As always, I had the privilege of meeting some really interesting Australians.
Enter: Delysia Pahoff OAM.
Delysia has worked tirelessly for her community for almost half a century. In the beginning she helped her equally charitably minded mother Adele Southwick OAM.
"One thing led to another as I really enjoyed working for the aged,"  Delysia explained.
Once her children finished school she joined the Melbourne Hebrew Ladies Benevolent Society which aids women and children in distress.
Fundraising is her "forte." In 1984, she established the, "Friends of Montefiore' committee, which has been fundraising for Jewish Care ever since.
"I am one of six children. My mother Adele made sure we were well inducted as far as charity. From a young child of 12 she helped in the alms houses of Montefiore; she thrived on helping others and made sure she passed this on to her children.
We all grow old, every family is touched in some way.
We need to make sure our elderly have the love and care they deserve. Jewish Care is an amazing organisation."
The Engaging Woman Project continues to shine a light on the fulfilment which often comes from a life of public service.
Delysia is no different:
"One of my favourite memories is when I received the OAM at Government House in the Queens Honours. I had watched my mother, my brother for Try Youth and community work and my sister for the Posh Op Shop and community work all receive their OAM and now it was my turn.
It was a great honour to stand with so many outstanding members of our community.
My advice to women who wish to give back is choose enthusiastic and eager people to work with, but show the enthusiasm yourself."
This year's event raised more than 80,000 dollars to enhance the lives of aged care residents of Gary Smorgon House.
It gave me an opportunity to share the good work of Engaging Women and our activism surrounding the rights of women and girls and social justice.
Thank you very much to everyone for your generous feedback .
Want to discover more about Jewish Care's work? Tap  here. 
Read more about Engaging Women's involvement in the 34th annual brunch in J-Wire by tapping here
Want to hear from some of the most accomplished women in Australia?
Head to our interview library, collected by the National Library of Australia for its cultural value. Tap here.
Coming up,, we have fantastic interviews with Dr Anne Summers, UN Women's Janelle Weissman, broadcaster and Emmy award winning correspondent Sara James.