Melbourne MC, Martine Harte.
Martine is a dedicated voice for the advancement of women, diversity and a more compassionate world.
She founded the successful Engaging Women platform to elevate the voices of women through publishing, a speakers offering, networking, activism and consults big business, government and not-for-profits.
Engaging Women has helped drive the conversation that gender equality is vital for our progress and encourage more women to step into public life.
It contributes expertise towards events for Australian small business, big business and government. She judged the Telstra Business Woman of the Year awards.
Recent collaborations include:
Victorian Government 'Women@Work Conference.'

WorkSafe Victoria's 'Women at Work' series.

Launch of Respect Victoria, MC services 2019.

City of Melbourne's 2017 'Women in Business' lunch at Melbourne Town Hall.

Bayside Women's 'Press for Progress' event.

ACS 'Striving for gender parity' breakfast at ACMI.

Victoria Police International Women's Day 2019 Keynote speaker 

Merlin Entertainments plc. – International Women's Day Keynote speaker

Emerson Automation Solutions – International Women's Day Keynote speaker


Raise Foundation High Tea Windsor Hotel

Safe Steps event RACV Club Melbourne

SEALIFE fundraising Gala for Our Watch

Hagar Foundation 'Lunch to Liberate' event

Keynote speaker Jewish Care Montefiore Lunch
Martine was awarded a prestigious Melbourne Press Club Gold Quill Award for excellence, a Logie award nomination for journalism and judged the 2017 Telstra Business Woman of the Year awards.
Recent feedback: 
Hon Natalie Hutchins MP
Minister for Women Victoria, Minister for the Prevention of Family Violence
"Thank you for your contribution to the Women@Work Conference. The conference was a wonderful success. It brought together representatives of the public and private sectors in the shared goal of gender equality in Victorian Workplaces. It also led to 25 organisations undertaking the Victorian Government Gender Equality Pledge."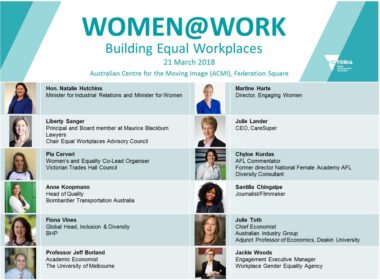 City of Melbourne's 2017 'Women in Business' lunch at Melbourne Town Hall.
"The luncheon was a tremendous success. Your professionalism was outstanding and your contribution to the panel discussion kept guests both engaged and entertained throughout the event. We are confident that everyone left the event feeling inspired."
Craig Eloranta. City of Melbourne.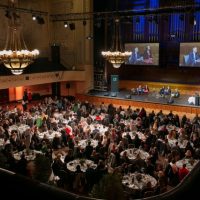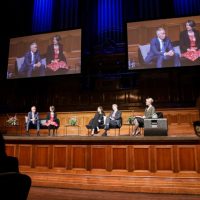 The National Library of Australia selected Engaging Women to add to its digital collections citing its cultural value.
"We don't collect every Australian website but select with an eye for content… The Library aspires to enable Australians to understand their diverse social, cultural and intellectual histories by collecting and preserving Australian publications and unpublished collections—in print and digital forms—so that they can be enjoyed by current and future generations."
National Library of Australia.
Martine has moderated 'Women in Stemm' panels at the National Press Club in Canberra and consulted Telstra.
She was selected for Telstra's influencer program in 2013.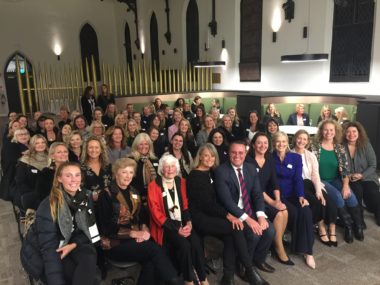 In June 2018, Martine drove a 'Press for Progress' event in collaboration with the Office of Tim Wilson MP in Bayside Melbourne.
She hosted the all-women panel and designed the first 'Lifetime achievement award' which went to 97-year-old Lesley Falloon OAM for her leadership.
It raised funds for Our Watch.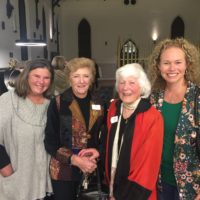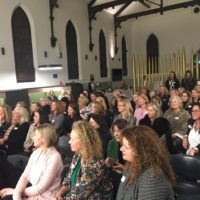 After more than a decade as a journalist, Martine responded to the changing media landscape by diving in head first; founding the digital platform to share the voices of women when there was very little like it in the space.
International women's day, 2019
"Thank you for your inspiring words at our International Women's Day event. You delivered a thoughtful, engaging and motivational address, which prompted much discussion among our team. We look forward to working with you again in the future."
Sarah-Jane Tilbury, General Manager at SEA LIFE Melbourne.
SEALIFE Gala for Our Watch, 2020
"The event enabled us to reach an audience we would not have been able to reach and raise awareness of our work in the prevention of violence against women and their children.
We have received only positive feedback from attendees and that is in part due to your work in the lead up to and during the event as MC."
Patty Kinnersley Chief Executive Officer 
Our Watch
The platform also raises funds for services trying to prevent family violence.
It a wide reach across social media and a strong subscriber base.
Interview with The Age, Spectrum magazine 2017:
  "The Martine Harte story has now become very much a new-media journey.
Harte told her readers that Engaging Women was not going to be about "the usual suspects" but would harvest the insights and wisdom of female CEOs, corporate leaders, scientists and many others."
The Age, 2015
****
Thank you so much for the outstanding job you did as MC for Lunch to Liberate. You were engaging, warm, smart, articulate and always in control.
We truly couldn't have asked for a more perfect MC for the day and we felt very lucky to have you!
Jo Pride, CEO Hagar Australia
****
Martine was engaging, weaving her message of equality, empowerment and respect through her personal narrative.  Students and staff present were both entertained and educated – a pleasure to hear, perfectly pitched and something that every school community should hear.
Head of senior school – male.
Bialik College.
Engaging Women also provides a vehicle for women to spark change through its Ambassador program. It helps raises money for family violence outreach, including several events raising thousands of dollars for Our Watch.
The promotion of these events also sends a message through popular culture that violence against women is wrong. Engaging Women seeks to find new ways to send this message through creative promotions of events.
Rosie Batty, Australian of the Year, is featured in the Engaging Women library.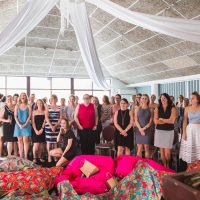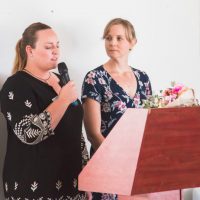 Find out more about our Ambassador program here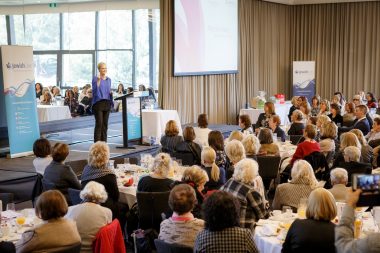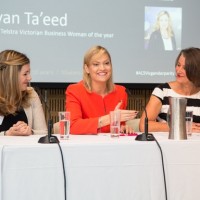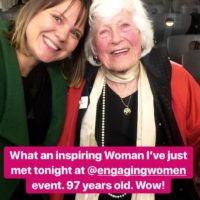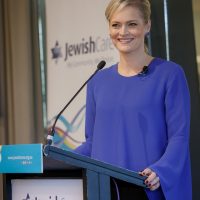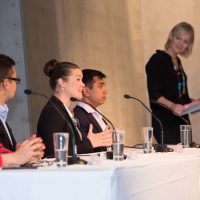 Fairfax feature The Age, Spectrum Magazine. 
Get in touch : info@engagingwomen.com.au