"Being asked to perform with Blondie and the Pretenders and then with Magic Dirt we did a lot of amazing supports very early well such as Sonic Youth." Adalita Srsen.
Adalita Srsen has worked with some of the best: Paul Kelly, Blondie, the Pretenders. Her music is described as moody yet energy fuelled Indie Rock.
Her "cool" factor is high.
At eighteen she asked her mum to buy her a guitar and taught herself from a basic guitar instruction book, song writing she recalls, "came easy." She met and fell for bass player Dean Turner and they turned their union into one of Australia's most popular bands Magic Dirt.
After Turner passed away from a rare form of cancer in 2009, Srsen honoured him by pursuing a solo career he'd urged her to forge. "He was absolutely my mentor. We were a creative perfect match and each others closest, most trusted friend. I looked to him for pretty much everything."
Here she is…
Martine Harte: Adalita do you have a stand out moment from your journey so far, the kind of thing you like to replay in your head?
Adalita Srsen: Well there's been so many. I just remember with the solo thing I had support from some really big names and people I look up to in the industry like Paul Kelly, he asked me to support him at one of his shows. It was such a massive deal, I'm a huge fan and to have that acknowledgment from someone I respect is one of my huge highlights for sure. Being asked to perform with Blondie and the Pretenders and then with Magic Dirt we did a lot of amazing supports very early well such as Sonic Youth.
Was there any advice that you look back upon and wish you had ignored? 
Adalita Srsen: No, I've just done what I've wanted the whole way, it's all been good, I don't regret a thing. I've had a good time and I've always been myself, always knew what I wanted, I've made mistakes along the way but that's cool.
Guess there have been lots of good moments, lots of tough moments as well, how do you get through the dark?
Adalita Srsen: Oh god… every time I get into a depression or a dark moment, it's never-ending. The rules are always changing the goal posts move. I just tend to ride the wave, sometimes I feel like I'm never going to come out of a dark moment. Friends are really important. Now that I'm older and a bit wiser, I know that these things pass.
I know that there is light at the end of the tunnel if you get through it. But I try not to escape too much from the feeling now – the uncomfortable feeling – I guess I'm getting a bit more spiritual in that way. Trying to get a big more centred. I'm consciously now trying to work on the neural pathways in my brain and get into the habit of positive thinking, I've been a pessimist all my life, I'm trying to be a bit more of an optimist.
There is something about aspiring to be positive isn't there? It doesn't have to be uncool?
Adalita Srsen: No, it doesn't have to be that your happy all the time, it's healthy to say, "I'm not good today." I'm striving to be more authentic, I tend to put on a mask a lot of the time by saying, "I'm alright, I'm alright, but I'm just not all the time. I don't know, it's really hard to be real and authentic all the time especially when you go through significant things in your life, going through relationships or difficult moments in the workplace, you have to ride the challenges. I kind of have to let my mask down a bit, "who the f*** am I? Who am I really? Who are you? There's all these masks.
If we met in ten years time, where is Adalita in her life and what's she doing?
Adalita Srsen: I hope to have my own house, that would be a good thing to do, to have my own space where I can put my roots down and have a studio and be centred in that way in a home that would be really great.
Where?
Adalita Srsen: Well I've always dreamed of being in the country but I'm getting used to being in the city now, so Melbourne – probably Thornbury or somewhere like that. I might have a kid, I'm not sure but I've been thinking about kids a lot, I might have a partner, I'm not sure. I might not have either, might just be me you know?
Can you share something with us that you have never shared publicly before?
Adalita Srsen: I was the school prefect.
Oh there you go! 
Adalita Srsen: Yeah, I was pretty nerdy. I used to wear the badge: had permed hair, long socks, long kilt, specs and I'd make little paper eyes for my specs to make everybody laugh. So yeah.. I don't think anybody really knows that.
Well there you go, hope for all the nerds yet hey?
laughs….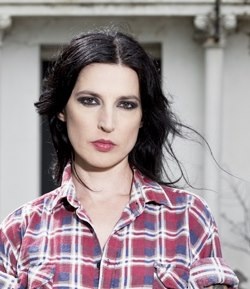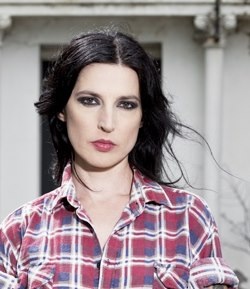 HOOK UP WITH ADALITA:
You can hear Adalita for yourself right here https://soundcloud.com/liberation-music-oz/sets/adalita-all-day-venus-1/s-kJa9r
Or find her on Facebook here