Girls are not going to be whole, confident, positive, ambitious young women if they don't see us showing them what that looks, feels and smells like.
Dannielle Miller.
Who's in? Who's out? Who's hot? Who's not?
These dilemmas are played out by many teenage girls  in schools across the country every day.
When our girls morph into unsure teens it's often confusing for everyone.
Dannielle Miller is here to tell us it can all be ok; really it can.
Ten years ago this go-getting former teacher co-founded Enlighten Education, Australia's largest provider of in school workshops on body image, self-esteem and empowerment.
Her business quickly took on a life of its own, she has received countless awards and now speaks to more than 20,000 girls (and boys) each year through her workshops.
Martine Harte: So Danni were you drawing from your own teen years when you came up with the idea for Enlighten Education?
Danielle Miller: Oh absolutely! One of the ways we connect with the girls is about telling personal stories, young people respond to that so beautifully.
For some reason we as adults think we need to project this image that we're always in control and always right and we didn't make any mistakes.
When I was two-years-old my grandmother burnt me and I've got very visible scars down my arm and neck. As a little girl that didn't worry me at all (I mean I was so interested in reading and ruling the world) but when I became a teen girl I thought it would define me and no-one would love me because of those scars and I judged myself so harshly.
It was really only through discovering feminism; the work of Naomi Wolf in particular that I thought, "Wow I have really been sucked into this nonsense about what will make me loveable and what will make me more valuable and I am so much more than an arm and I'm so much more than my body, I'm somebody."
We don't have to be perfect all the time, we can say to our daughters, "Yeah I find this hard too you know. Sometimes when I read magazines I end up feeling not good about myself but this is what I do when that happens."
So interesting! Can you give us 3 main points you want carers and parents to know so that they are better equipped to cope with teens?
Danielle Miller: Yes.
1/ Girls can't be what they can't see.
Girls are not going to be whole, confident, positive, ambitious young women if they don't see us showing them what that looks, feels and smells like.
Often I say to girls, "What do you think it feels like to be a woman?" And the girls say, "It doesn't look much fun, my mum is forever on a diet." So we do need to step up and be really good models and show girls we embrace ourselves and we're ok.
2/ Give the girls the skills they need to de-construct media message. I'm not a huge fan of locking princesses in the towers or banning or censoring, the just say no approach does not work. Giving them the vocabulary to learn to deconstruct material; give them the skills to know how to talk back to marketers – this stuff is really empowering.
3/ Create a positive place for young women. I think we tend to demonise teen girls culturally and I've written about this before. We refer to them as mean girls, divas or princesses, we sort of roll our eyes. .. Many are making such great choices. I just find such beauty in teen girls, they are hilarious and loveable. They sense culturally we are not very supportive of them.
From all your experience is it possible to interrupt the messages that are hammering their young minds?
Danielle Miller: Girls absolutely tell me every day that I have.
They realise, they're only at war with themselves because there's a war being waged on them. That realisation is like a light going on and you can't go back. I can actually be this really strong, powerful girl who accepts my uniqueness and actually accepts the girls in my year and oh my god they feel the same as I did, I thought I was the only one.
You don't want to go in and start lecturing girls for all the things they're doing wrong, or patronising them or policing them because they get that stuff ad nauseam and they're so over it, they get their backs up. They need you to feel that you get them and you connect with them and to find humour in all of it with them because it is really fun too!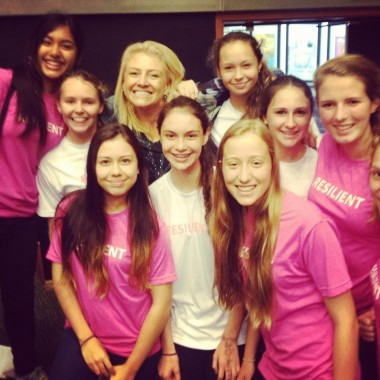 Now you sound like an out of control positive person. How do you do it?
Danielle Miller: Do I? Only because I've just presented today and I'm thinking about my work (laughs) I think I can be as grumpy as the next person cause I also say to the girls, "it's ok to have every bloody emotion we don't have to walk around smiling all the time, it's not reality."
I love to be inspired by other women (and other men) but I'm really careful about who I let into my life and who I let get close to me. I do recognise that I do really important work and I have to be in a positive state of mind to do that. So I feed myself with the positive, amazing women I have around me in my life.
I love humour, I love funny people so I love to laugh a lot. I love stand up comedy and making other people laugh and being stupid.
I also like to read and reflect on what other strong women do.
Same here, since I was a teen I've been cutting out articles on women I admire.
Danielle Miller: That was my home, I didn't come from the happiest of homes. My parents were separated and I didn't get to live with my mum for a while, I lived with my grandparents. Alcoholism caused violence in my family and it was quite tumultuous at times and lots of mental health issues so for me finding feminism was like finding my home.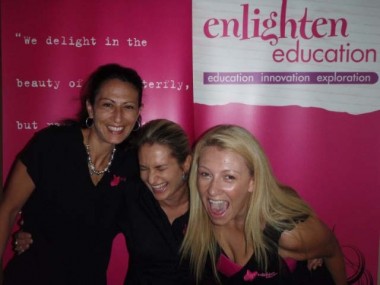 HOOK UP WITH DANNI:
At her terrific site http://www.danniellemiller.com.au
Her latest book Loveability an Empowered Girl's Guide to Dating and Relationships can be snapped up here or if you're curious like me here's the dedicated site  www.loveability.com.au