I've always loved a good story. Telling stories is what drew me to journalism back in the day.
As a guest in people's homes I'm always interested in the provenance of their 'things.'
The connections, the people, the design decisions which create interiors and allow people to express who they are.  It's different every time.
First off we have the rock-solid, colour popping 1950's home of Madeleine and Jeremy Grummet and their four daughters.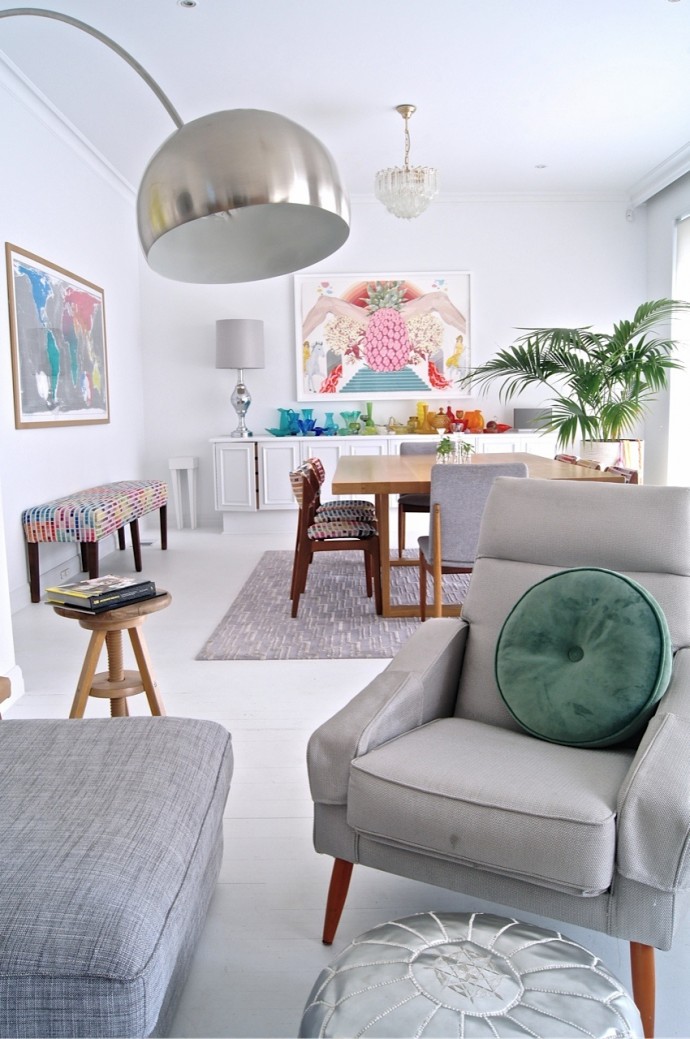 As founder of her own creative consultancy Do Re Me Creative Madeleine clearly has the design pedigree but there's something else at play.
She seems completely in tune with what she loves and you feel it as soon as you step into the front room. Photo – Changwei Dean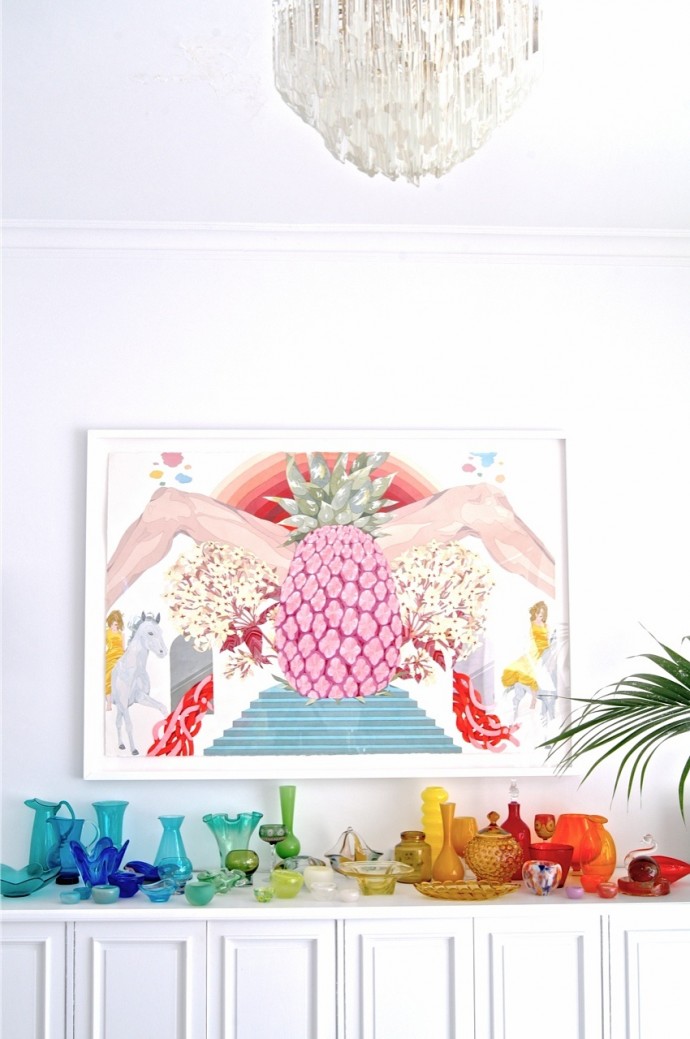 This striking original watercolour by Luisa Rossitto 'Homecoming,' 2010 was purchased from the Helen Gory Galerie.
In Madeleine's words:
"I'd seen this amazing work and fallen pretty hard for it, so some girlfriends wanted to give it to my husband and I as a joint 40th gift but at the time I couldn't get him over the line! – fair enough – there's way too much girl in this house already, let alone perfectly positioned pineapples (poor man!) But I ended up buying it myself a year later. I love the quirk, the vibrance, the ballsy, sheer kitsch of it all and I love that it celebrates women (albeit in a troppo way!)" Photo – Changwei Dean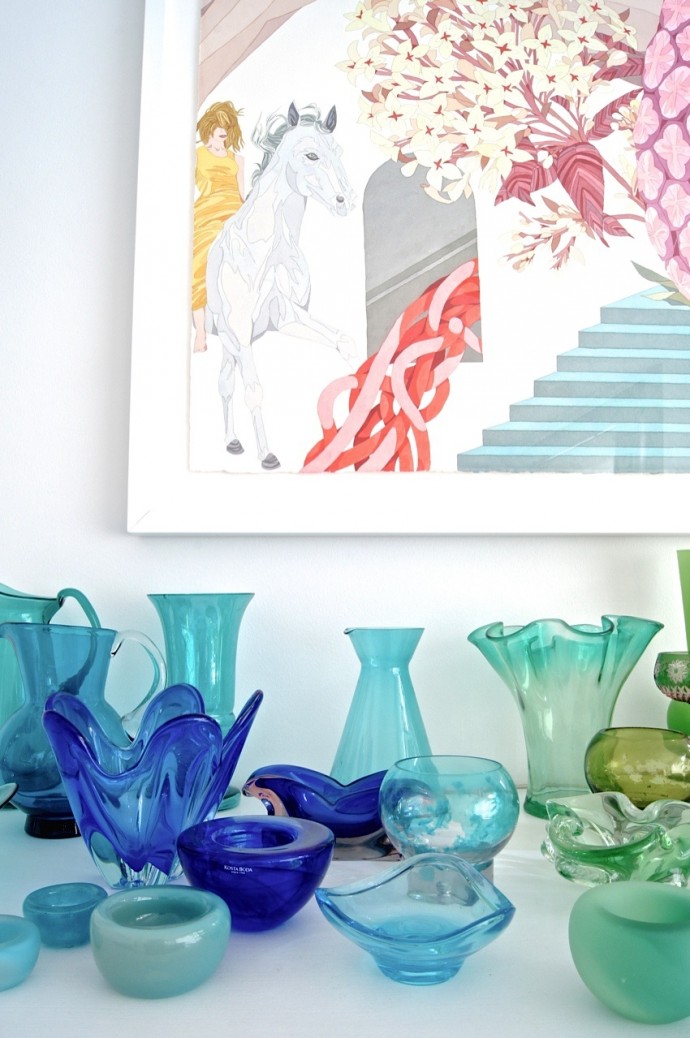 Grandmothers on both sides of the family and great aunts have contributed to this hand blown glass display, a cleverly arranged collection of high street pieces and op shop finds. Each piece has its own story and the colour is magnificent when it catches the morning sun.
"I have to admit I'm a little obsessed with coloured glass – I can spot a shining glass gem at a glance from 100 yards in an op shop! But they're not just decorative form over function pieces, I love showing them off and letting them shine at dinner parties and as show-stopping vases. Photo – Changwei Dean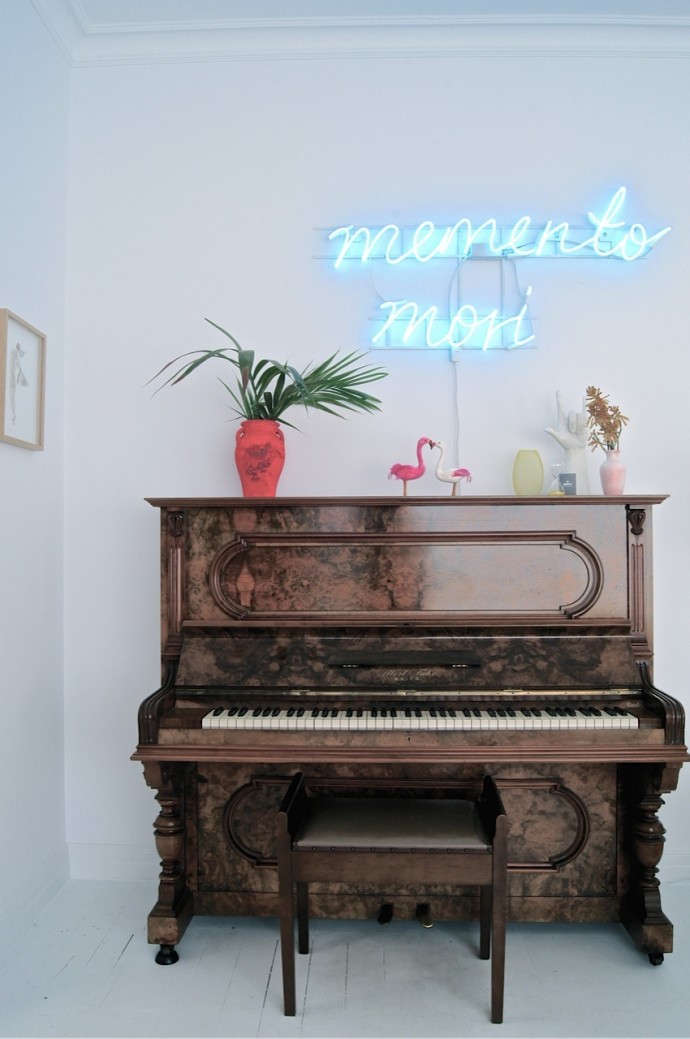 Jeremy's father, Andrew Grummet, learnt to play on this beauty and now Madeleine and all four girls keep it in tune. It's cleverly juxtaposed with an array of collectibles including vintage ceramics reincarnated with spray-paint, mini-flamingos (a birthday pressie to daughter Olive from a family friend Kate from KSJ Design and a yellow polypropylene vessel by Emma Davies. Photo: Changwei Dean
Above the piano is a newly installed neon piece Madeleine commissioned last year after the sudden death of her father, Noel Hanger. She and Jeremy spent many hours searching for ways to live fully and meaningfully in the face of the inevitability of death. 'Memento Mori' is a phrase that originated in ancient Rome; as a Roman general was triumphant after a victory in battle, his slave would remind him that tomorrow he could fall. Life is for living.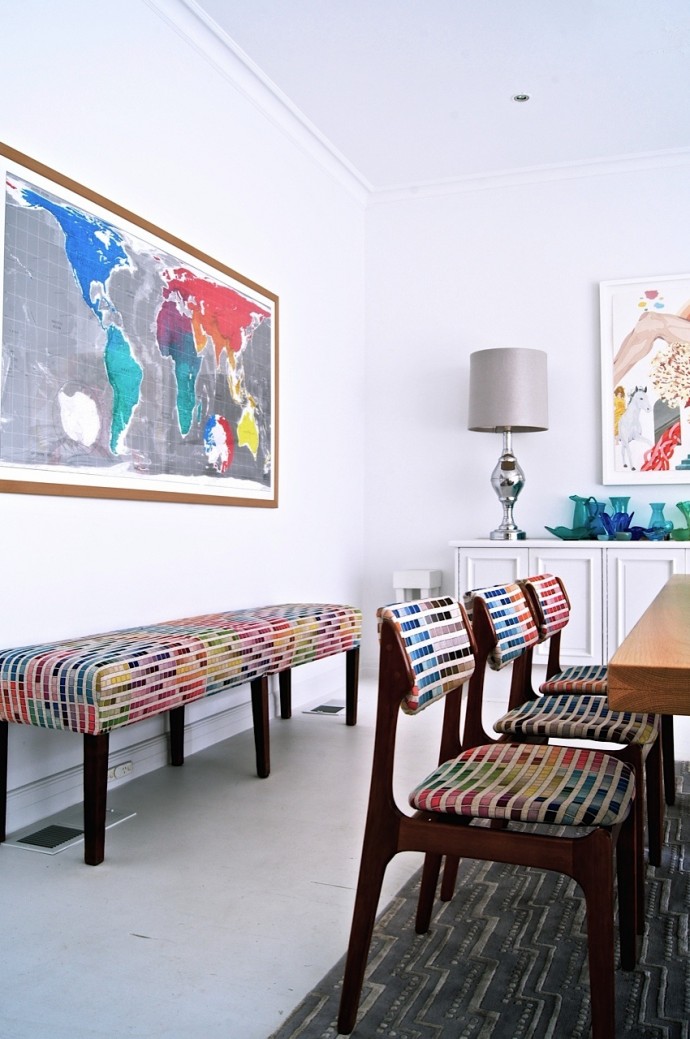 This old church pew dating back to the 1800's was rescued from hard rubbish and spruced up with Pantone fabric from Warwick.
Same deal with the dining chairs. They were found at the Posh Opp Shoppe in Caulfield, thrown into Mad's van and revived by clever upholstery. Photo – Changwei Dean
"I look for good bones and love a bargain, nothing like a lick of paint, swatch of fabric or swish of oil to give new life to tired things!"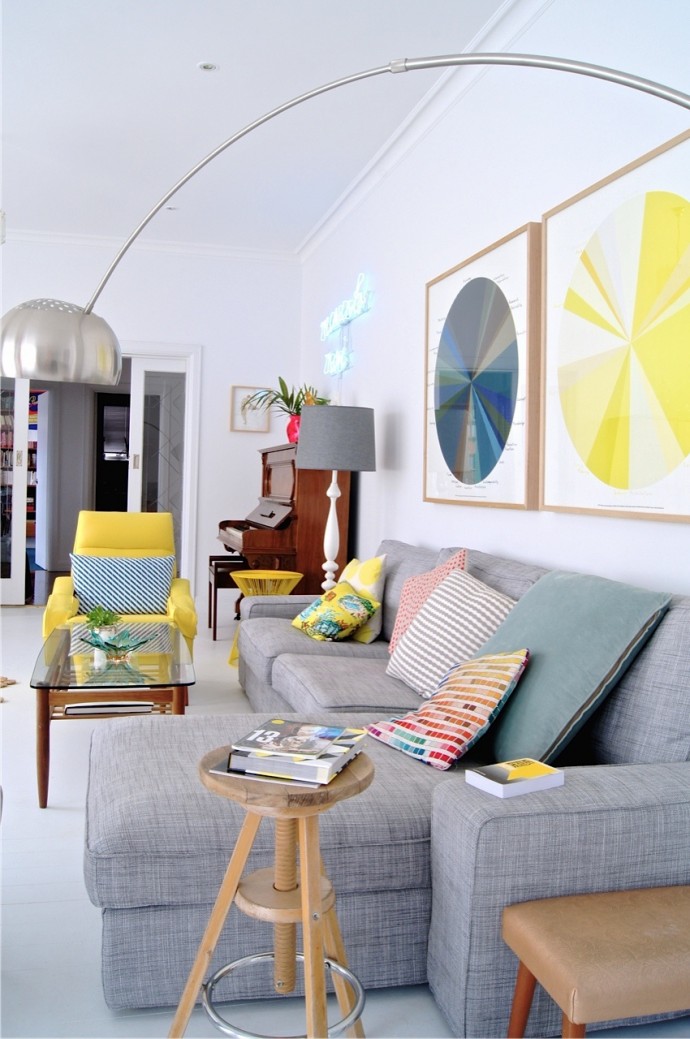 The mid-century yellow chair another hard rubbish find, Ikea sofa. Photo – Changwei Dean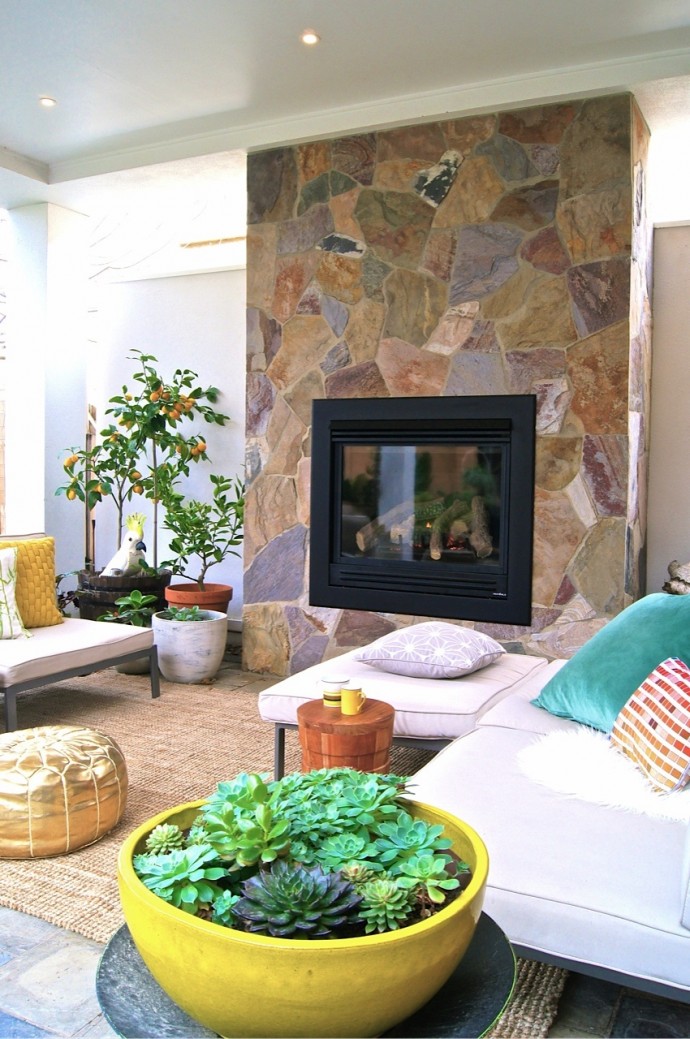 The hero of the outdoor nook is the crazy pave fire place made of the multi-hued original Castlemaine slate and it has a very cool story behind it. Photo – Martine Harte
"A friend by pure chance bought the childhood home of my dad in East St Kilda and gave me the incredibly generous gift of open picking on the house before it was demolished. The fireplace facade was once my father's front steps, I hacked this up piece by piece and my super talented brother Dan and I constructed it over some long days of loud music, reminiscing and bonding. I'm a sentimental gal. Muchos gracias to the Yost Family!"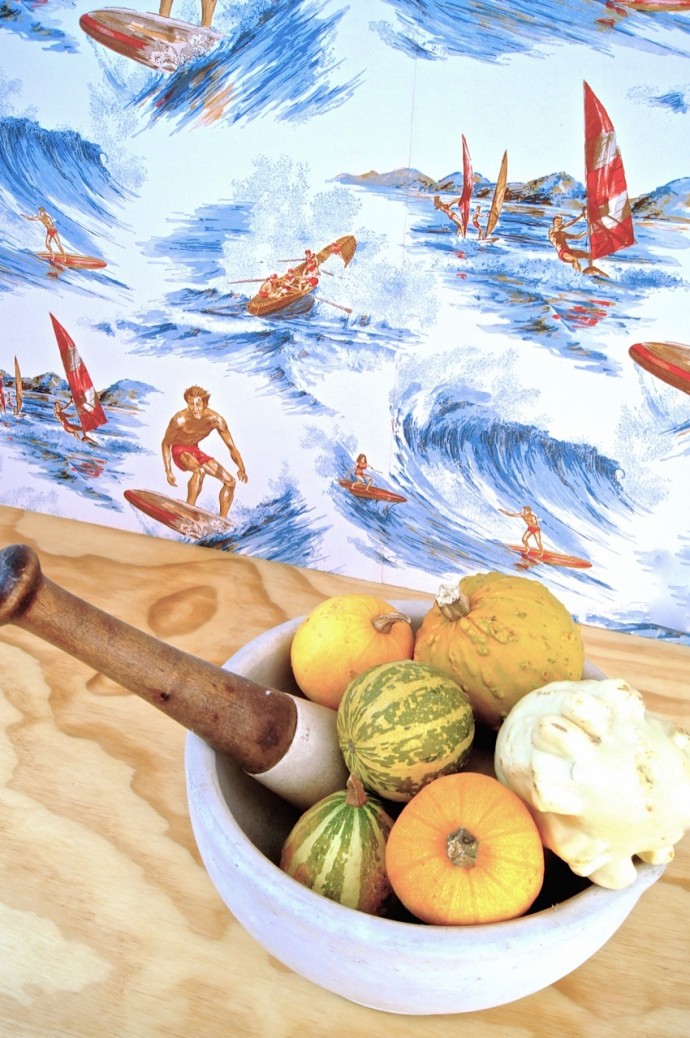 The 1930's mortar and pestle used by pharmacist grand parents has taken on a new life. Photo – Changwei Dean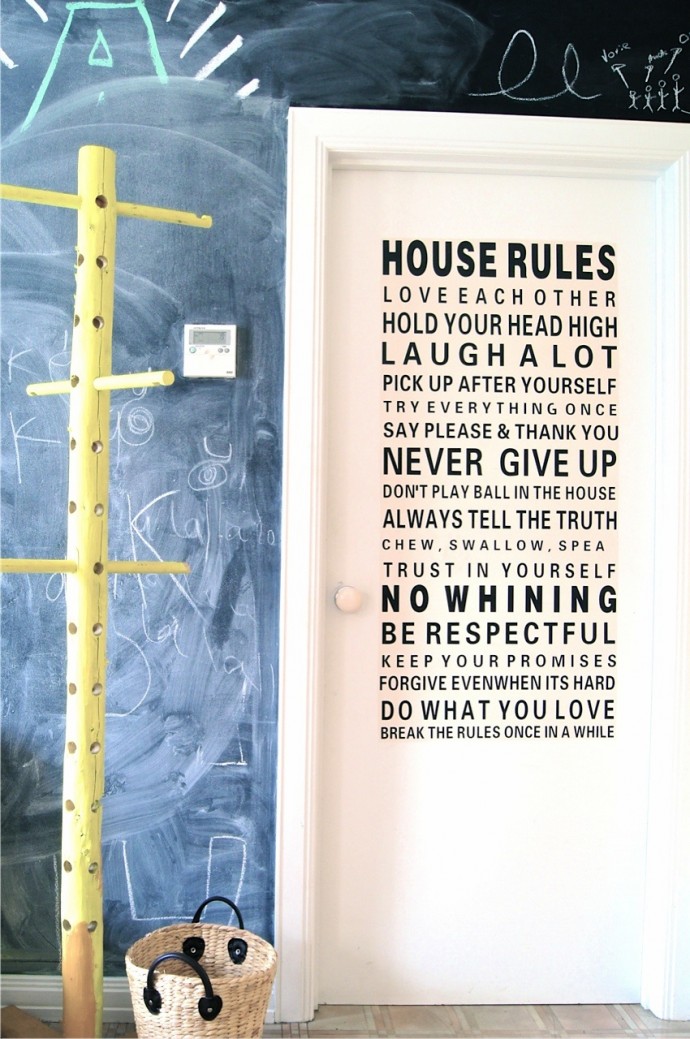 The couple purchased the two-storey home in 2011. They didn't want to renovate, wanted good light and good proportions. Photo – Changwei Dean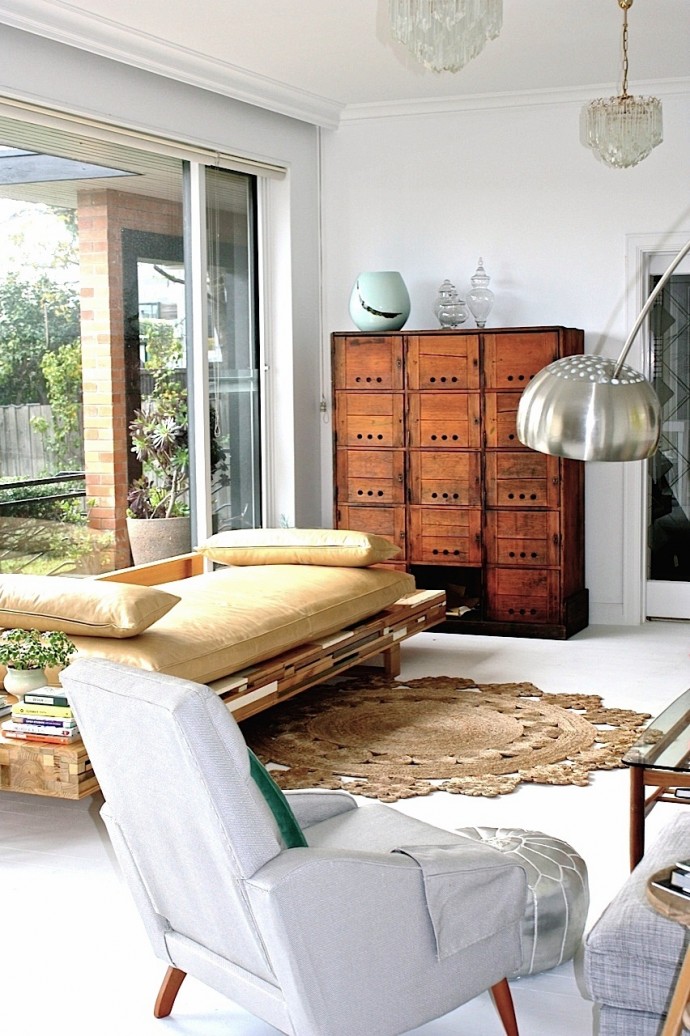 Madeleine commissioned the day bed from a talented local artisan Ari Pratseya, the rug is Armadillo & Co. Photo – Martine Harte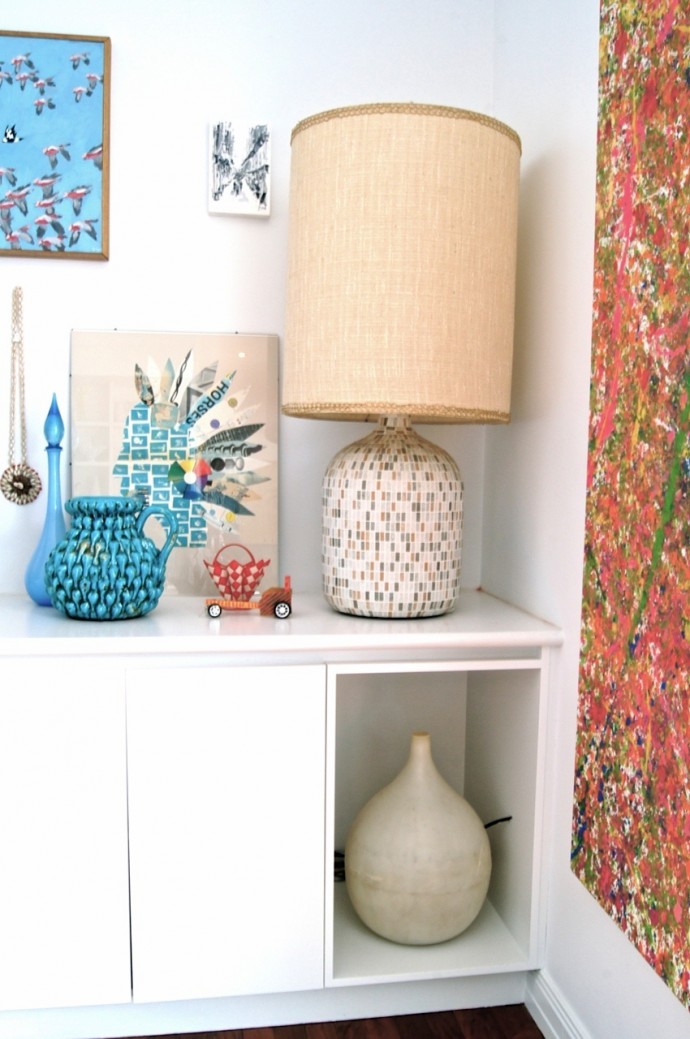 Many nooks feature Madeleine's own artworks. The collage above is called 'Who's The Boss' and was created from cuttings of 1960's vintage books, album covers and almanacs. Photo – Changwei Dean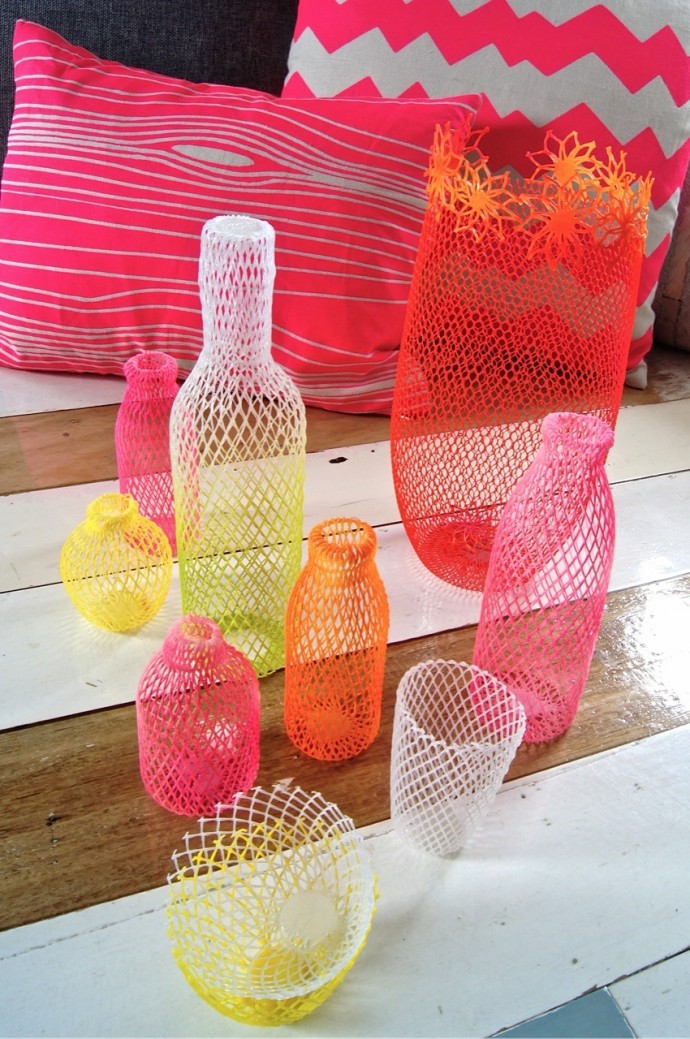 Emma Davies striking polypropylene vessels are reincarnated onion bags. Photo – Changwei Dean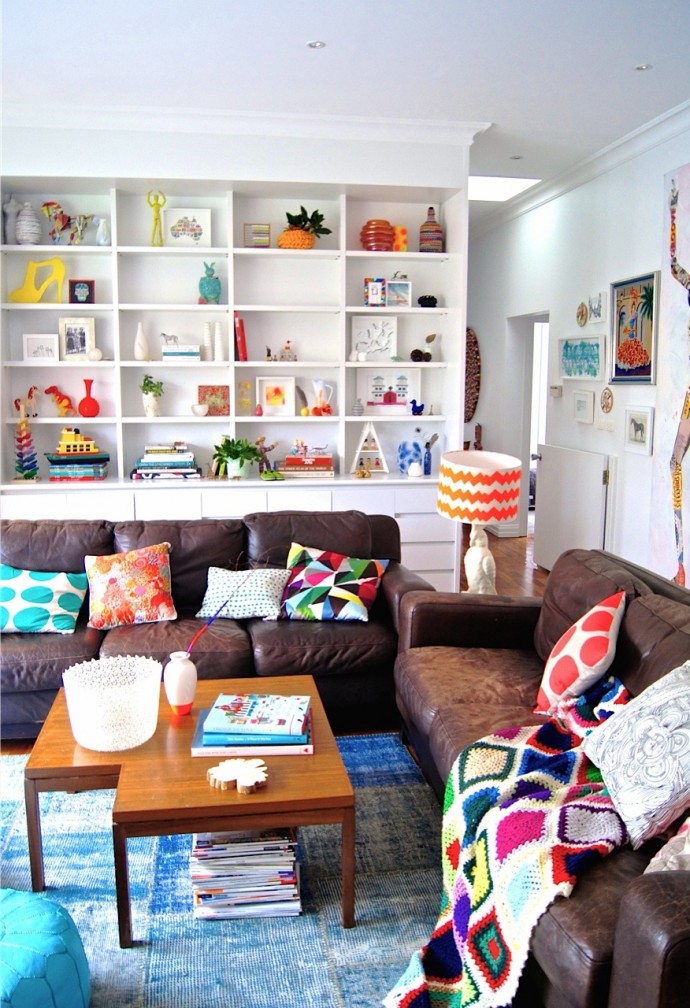 The home is filled with spaces for Harriet, Olive, Audrey and Violet to hang with friends. Photo – Changwei Dean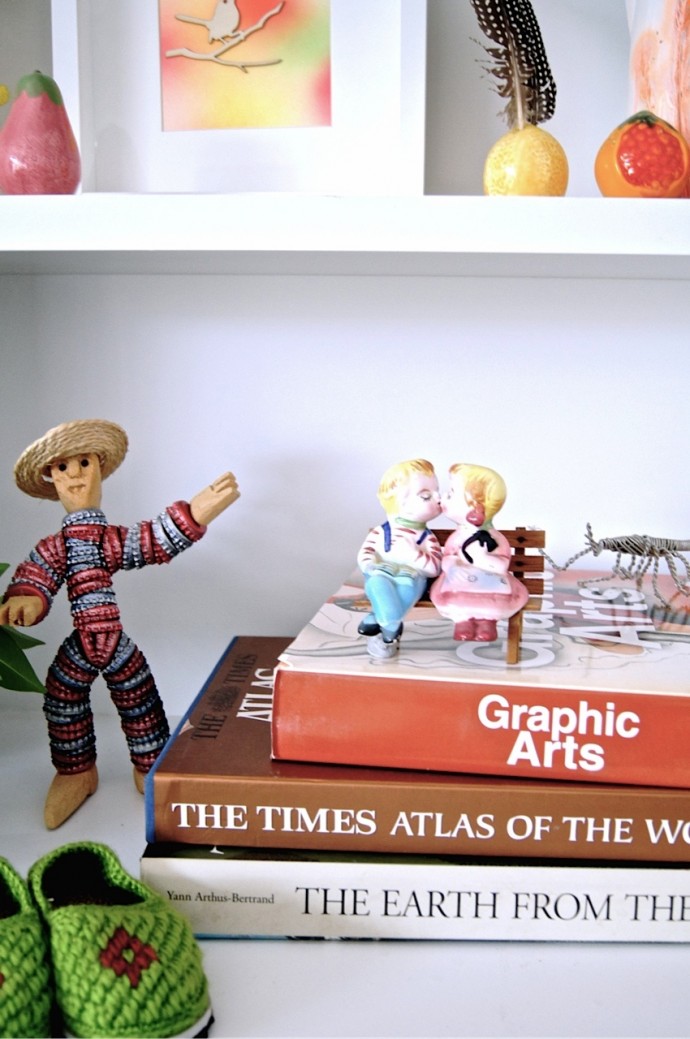 The little guy was purchased during a trip to Mexico and is made from reclaimed coke bottle tops! Handwoven green shoes were bought from villagers on the side of the road in the south of China by Madeleine's mum Jenny Hanger.
"Mum has travelled solo to four corners of the globe. The most courageous, adventurous and resilient woman I know!" Photo – Changwei Dean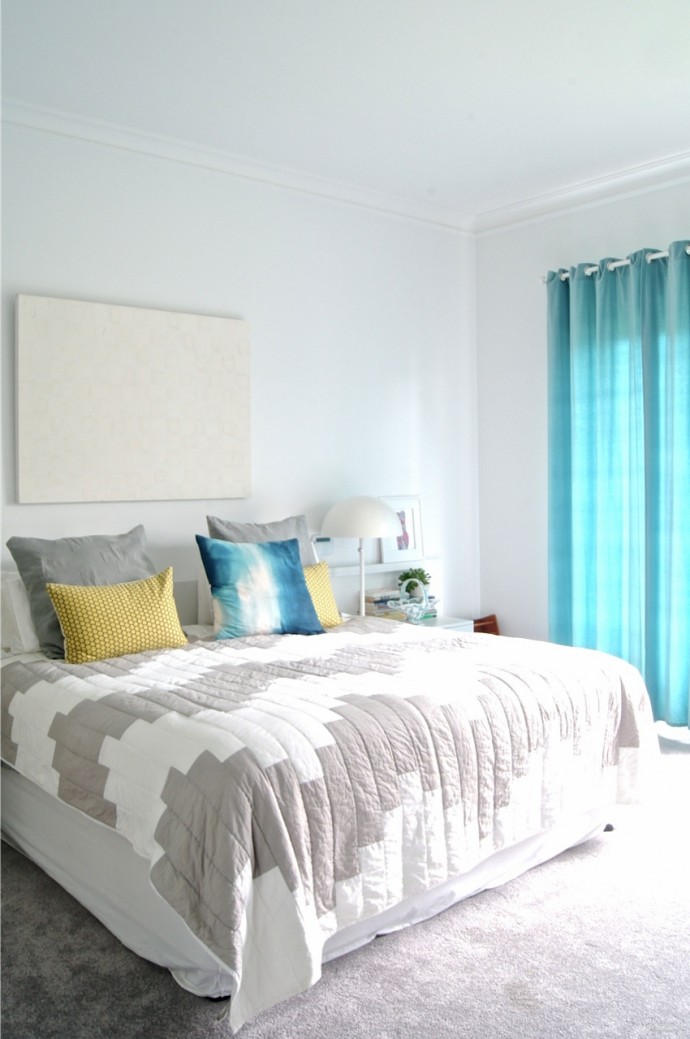 Sea blue curtains cast a hue across the room when drawn against the day.
"The house is bursting with colour, so our bedroom is a subdued relatively low-palette retreat when the kids noise and day-to-day vortex gets too much!"  Photo – Changwei Dean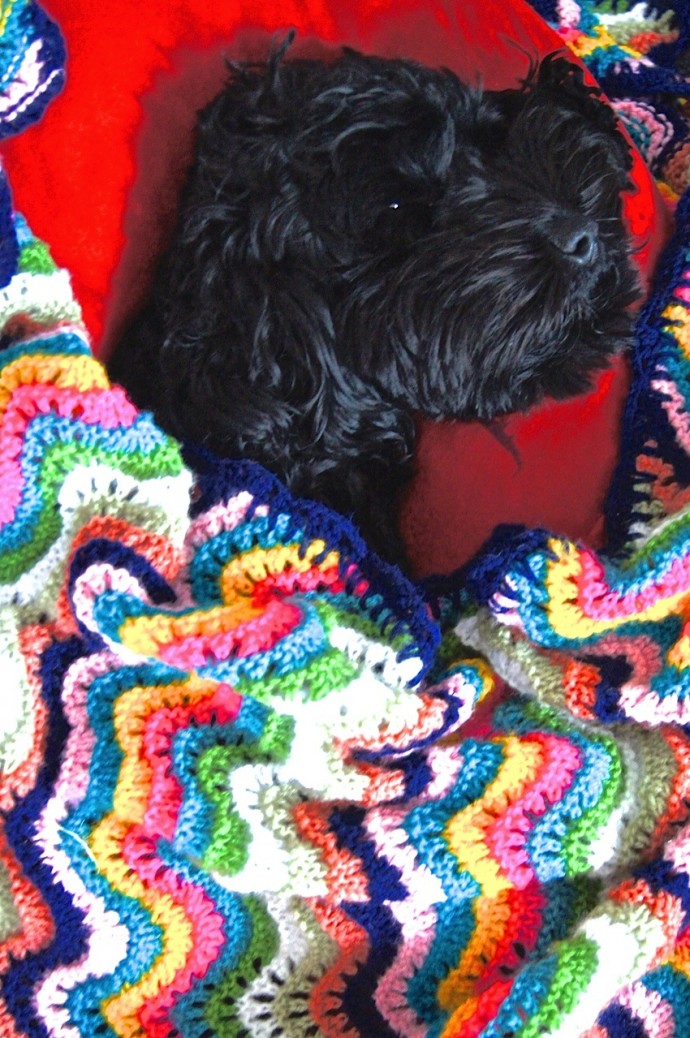 Lastly, we give you Noodle the Spoodle, even the family dog snuggles in style. Photo – Changwei Dean
Thank you Grummets for having us.
Whiz over to Do Re Me Creative if you want to hook up with Madeleine. I just signed my daughter and I up for one of her wire design classes and we are making a decorative piece at the South Melbourne market. Will show you the final product!