Di Gillett, executive search consultant.
Di Gillett is a passionate woman when it comes to expressing personal style.
Need any convincing? Hello shoe collection!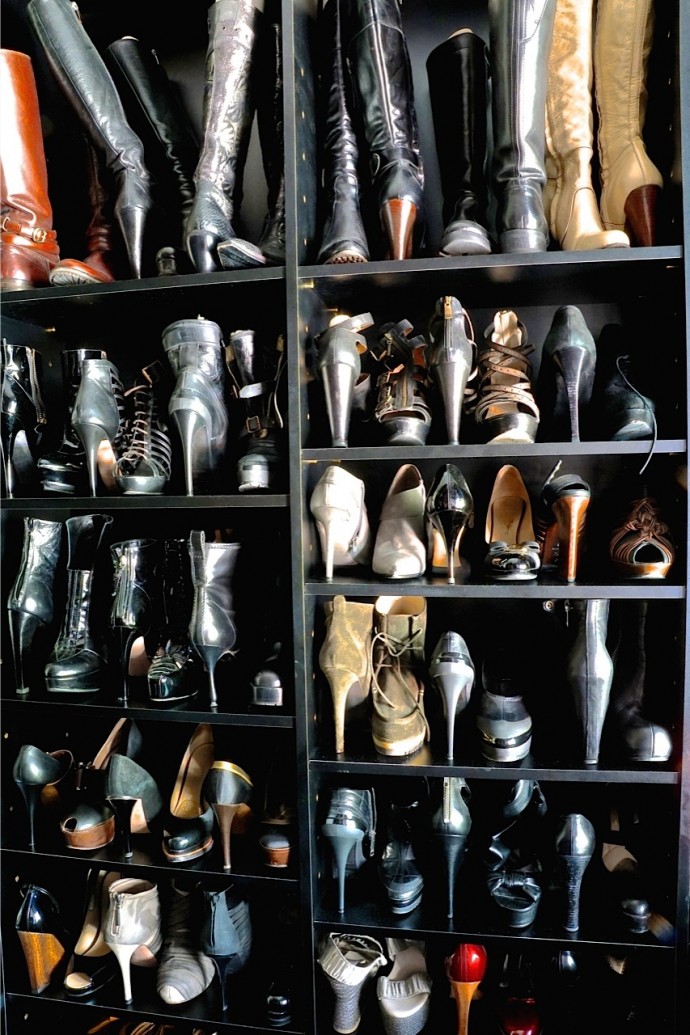 From the moment we stepped into her two-story townhouse on the edge of Melbourne's beautiful Port Phillip Bay she was keen to share stories of her at times "insane" renovation process,  interiors and the exact provenance her 'things.' Photo – Changwei Dean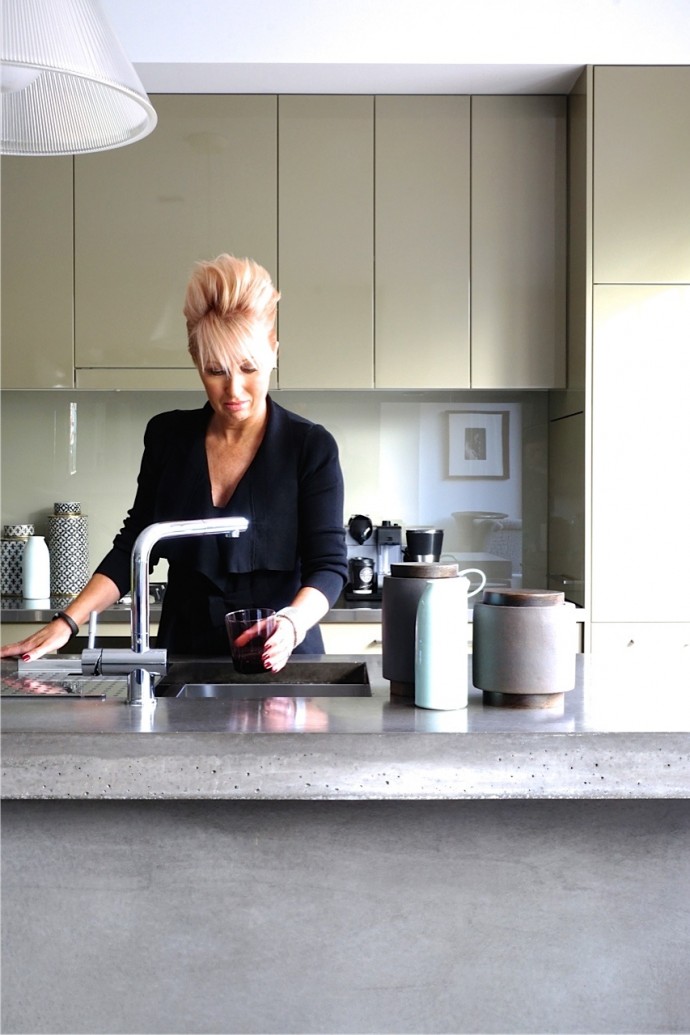 This now snug abode was originally owned by her husband (media personality George Donikian) and let's just say it wasn't always this slick. Photo – Changwei Dean
"It had a unique Greek handwriting, so it had lemon walls, it had blue walls, it had eggplant walls it had blonde timber floors instead of this rich liquorice," recalls Di.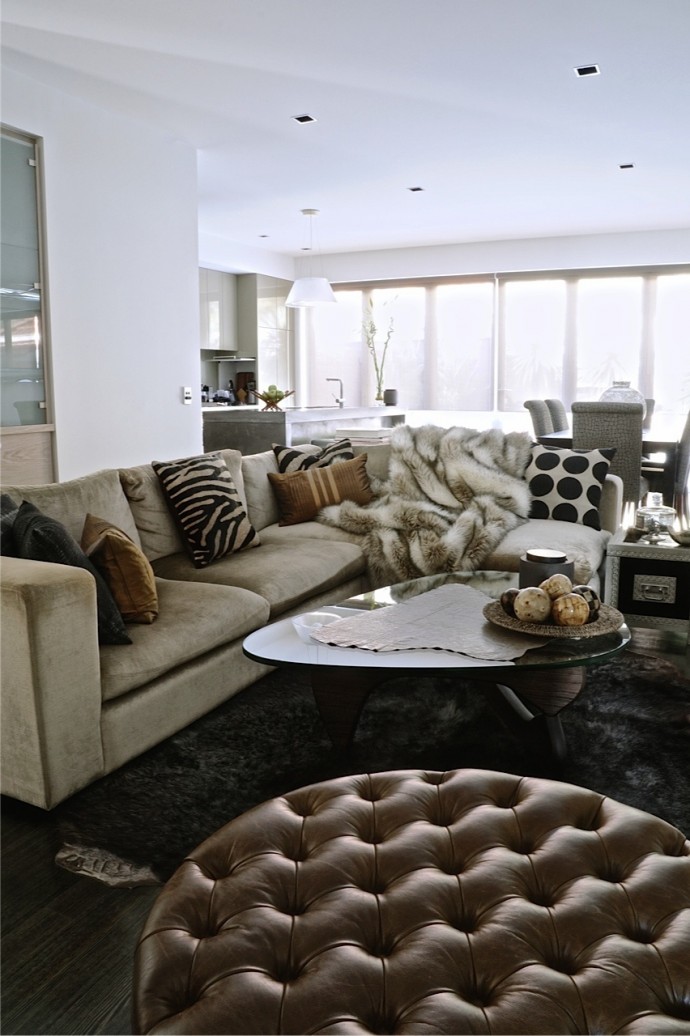 So the executive search partner approached the job in the same way she would negotiate a six-figure package for a high-flying C-E-O. Photo – Changwei Dean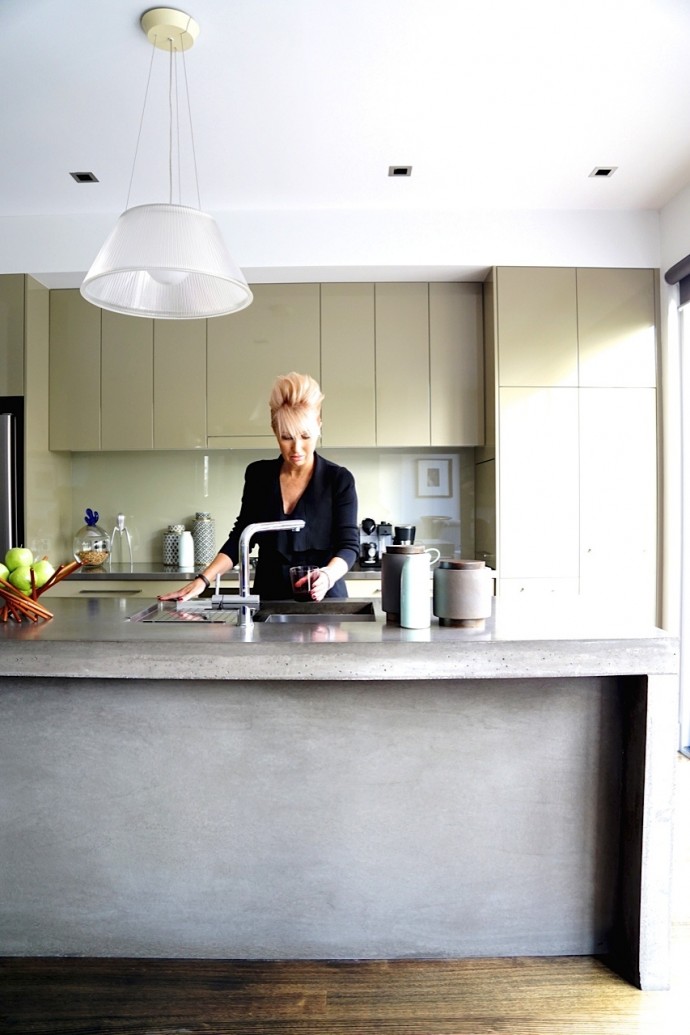 This incredible concrete bench is the homes signature design moment and Di's favourite piece; like all good renovations it has a story. Photo – Changwei Dean
IN HER WORDS:
"It wasn't poured on site. Hint for naive punters: pour it on site! We didn't realise that the guy who manufactured it was an alcoholic so the first front panel came in on this precarious trailer around the round-about near our home and he nearly had a woman drive through the back of him! He was clearly inebriated when he put it up and as he walked away the thing smashed!
The casting is incredibly complex and they have to cure. So it meant the whole thing had to go back into production again and it wasn't finished by the timeline we had to move back in.
I was negotiating an executive contract for a high profile role in Australia out of Exxon Mobil in San Francisco, so I'm on the phone trying to organise that and our bench maker was inebriated. I ended up helping with the heavy lifting of these concrete panels and putting it all into place, so I have personally invested in my favourite piece in the house."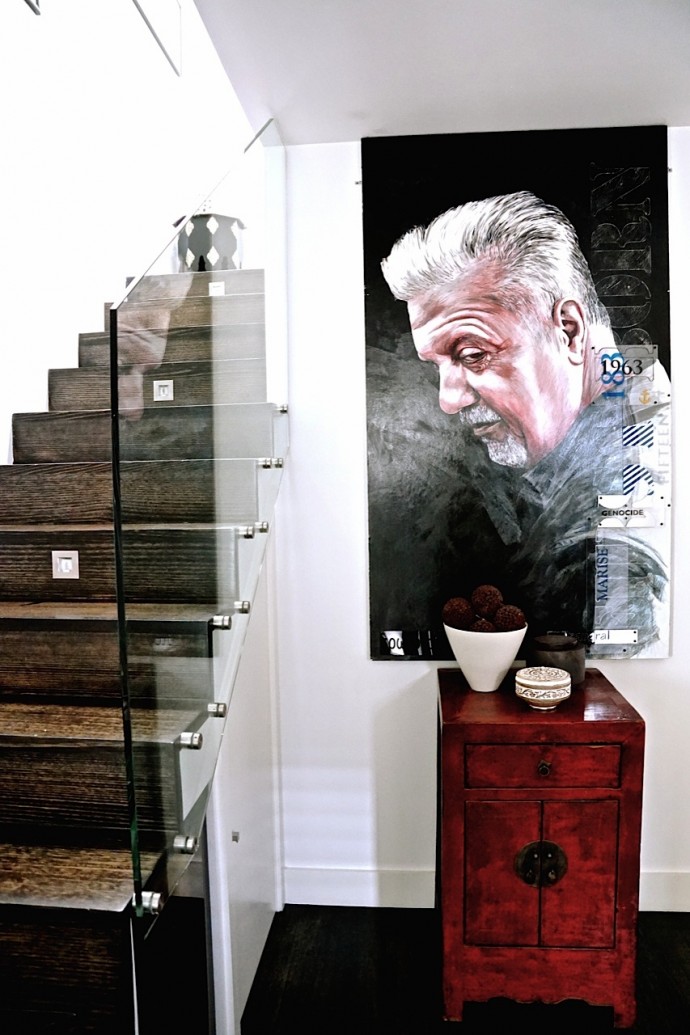 Artist and friend Phillip Barnes painted Di's husband newsman George Donikian for the 2012 Archibald Prize. Photo – Changwei Dean
"He very, very kindly afterwards gifted us the painting and came down personally and hung it in the house and since has become a friend of ours. It's quite a dark portraiture but it's reflecting George's Greek Armenian history and the story of that. So it's not meant to be a smiling shot."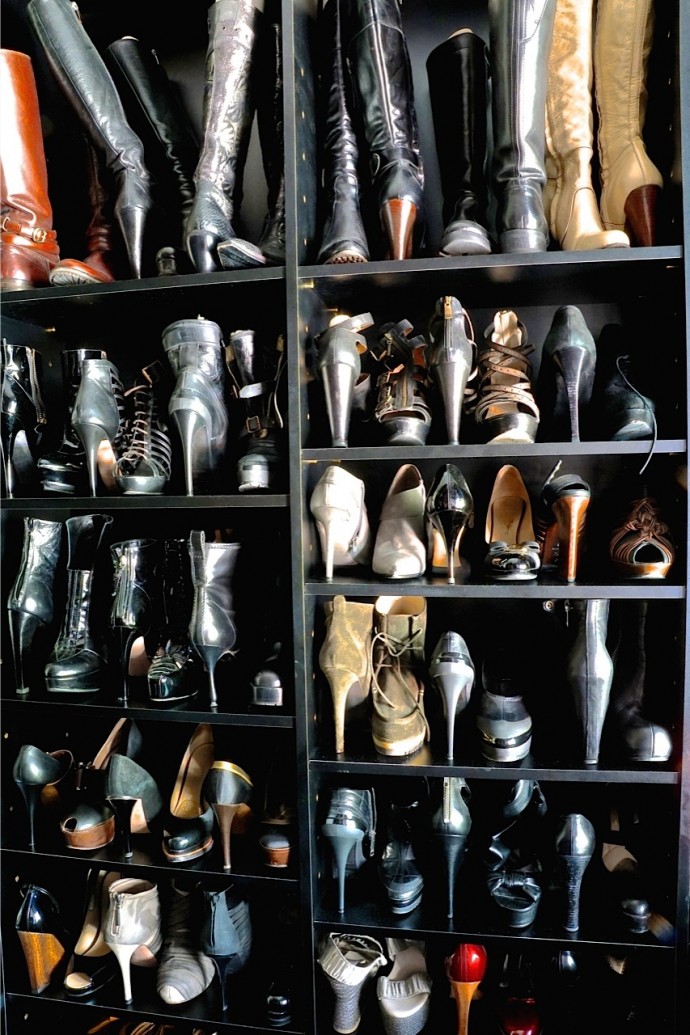 Upstairs Di "rather selfishly" converted a room into a dressing room. This is where the magic happens. Lots of designer soles are mixed with custom made wheels from Australia's Shoes of Prey.
Photo – Changwei Dean
"Design wise it isn't perfect but it's pretty good. After I'd just finished it they'd brought out the first Sex in the City Movie and the shoe wall and do you know I think I was probably inspired all those years ago by that stupid movie Clueless where she's got that electronic rotating wardrobe. It's not quite big enough but it's a reasonable attempt for a two-story space limited town house."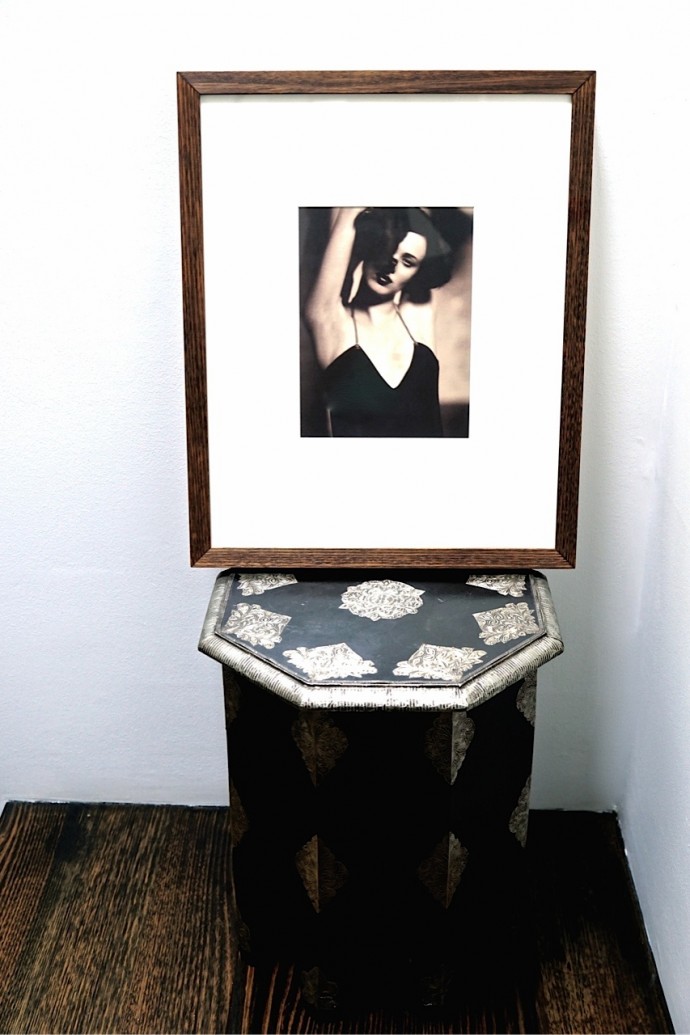 "Style is an expression of who I am, I have a very clear sense of who that is, how it looks, what brands resonate with me, what labels resonate with me, how I put it together. I live and work in a corporate world and just make it based on my personal style because I'm not classically corporate. I have a hair style that belies being 50 (laughs) and I then have a weekend wardrobe that is more of a casual expression of who I am." Photo – Changwei Dean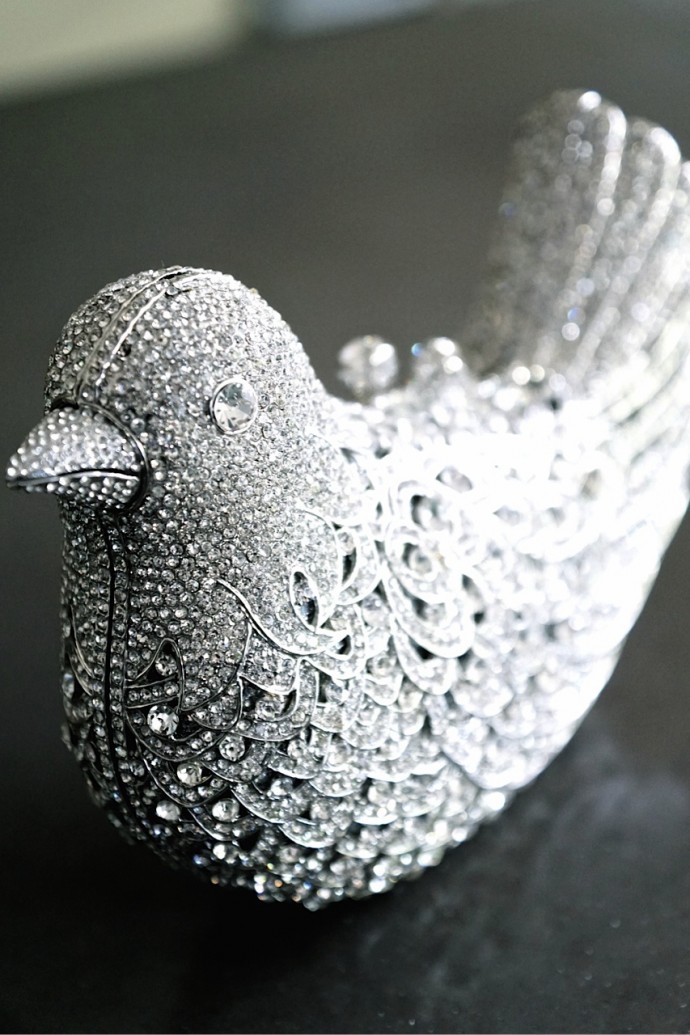 Limited edition clutch picked up a few weeks ago on a recent trip to Paris. Photo – Changwei Dean
Di says her interest in fashion was cultivated early. Her grandmother on her father's side was once a house model for Georges. Di also recalls her mother trying to encourage her to wear hand-me-downs from her sister who was eight years older.
Eight years is long time in fashion.
"I used to do a little bit of origami work on the garments so that they weren't terrible, with scissors. My studies were fashion design so whilst I'm an executive search professional these days and have been a partner in a firm for the past decade, my specialisation is consumer retail so I'm still connected to it."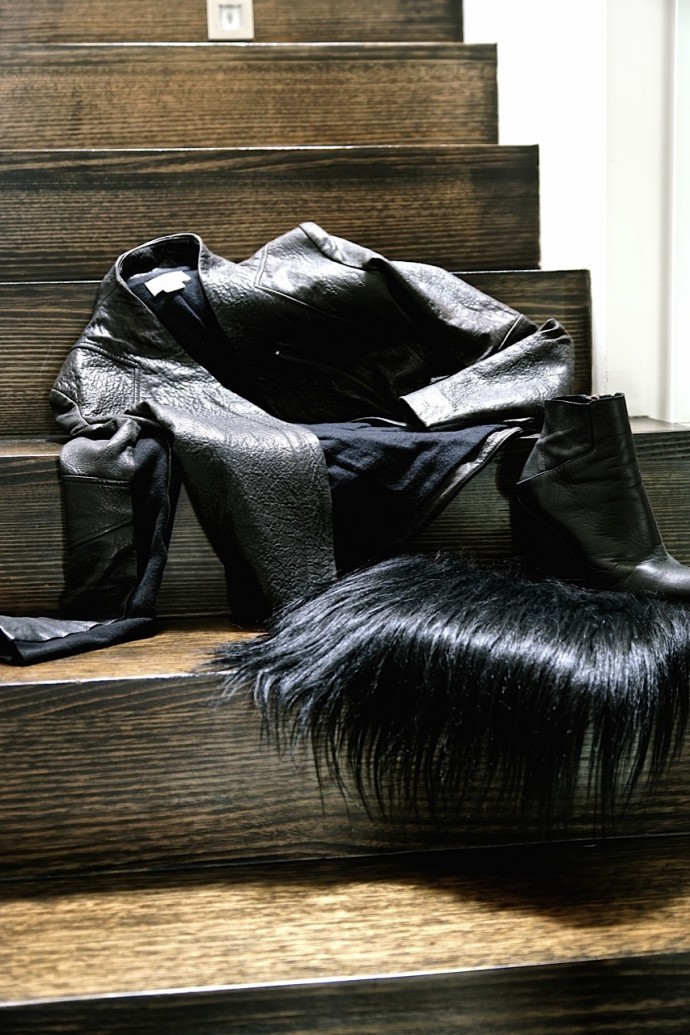 Helmut Lang leather jacket and boot, fabulous Scanlan and Theodore bag. Photo – Changwei Dean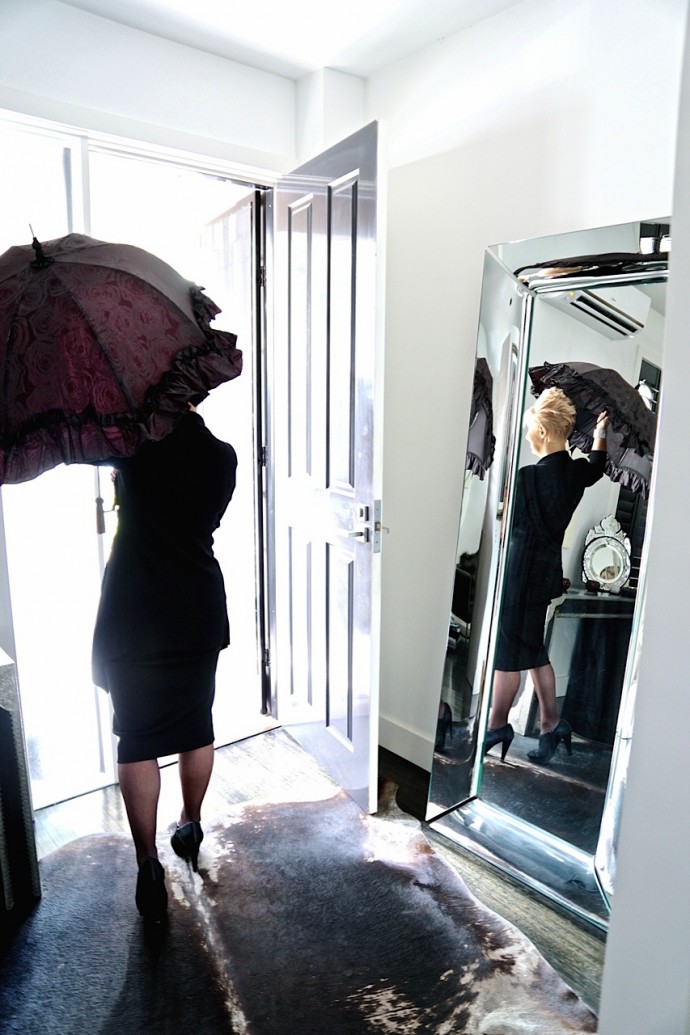 After searching for "the" umbrella for many years she recently stumbled across The House of Alexandra Sojfer in Paris. (as you do) The family has been crafting umbrella's for Parisian Haute Couture houses since the 70's. Photo – Changwei Dean
"This store is amazing. And Alexandra who is the 3rd generation of umbrella maker in the family was in the store and she shouldn't have been there but there was a staffing issue (classic in retail) so we spoke with her and this store just wraps itself around you when you walk it, it's full of umbrellas. Finally settled on this very beautiful one that is elegant and divine. She's yet to have an outing in Melbourne but she will. It's such a significant purchase that she now needs to be added to my will. It's an investment piece."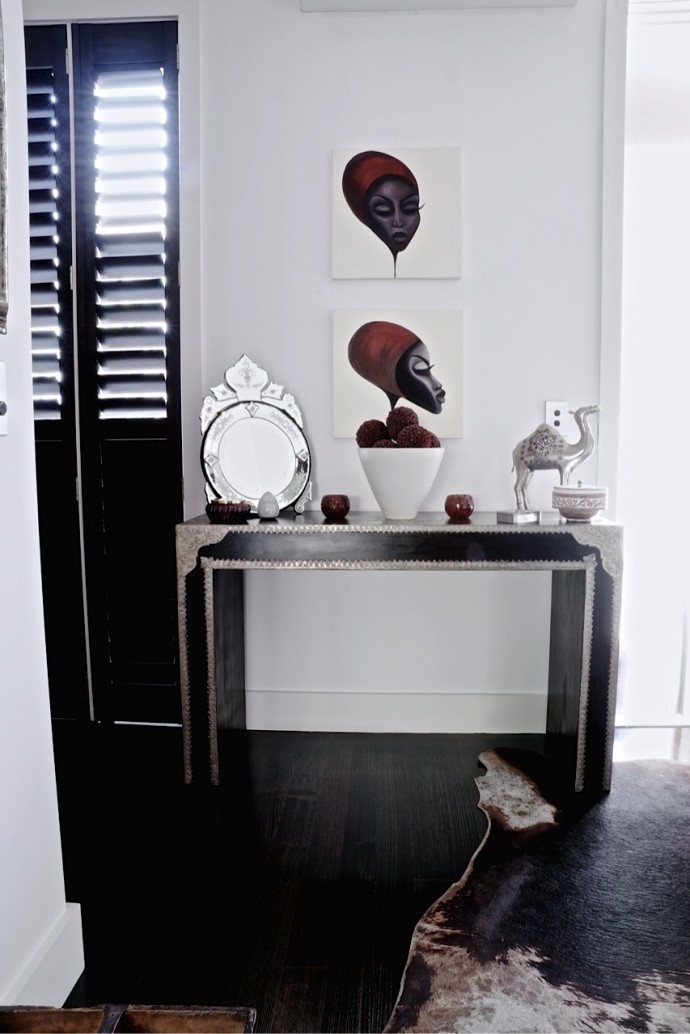 Photo – Changwei Dean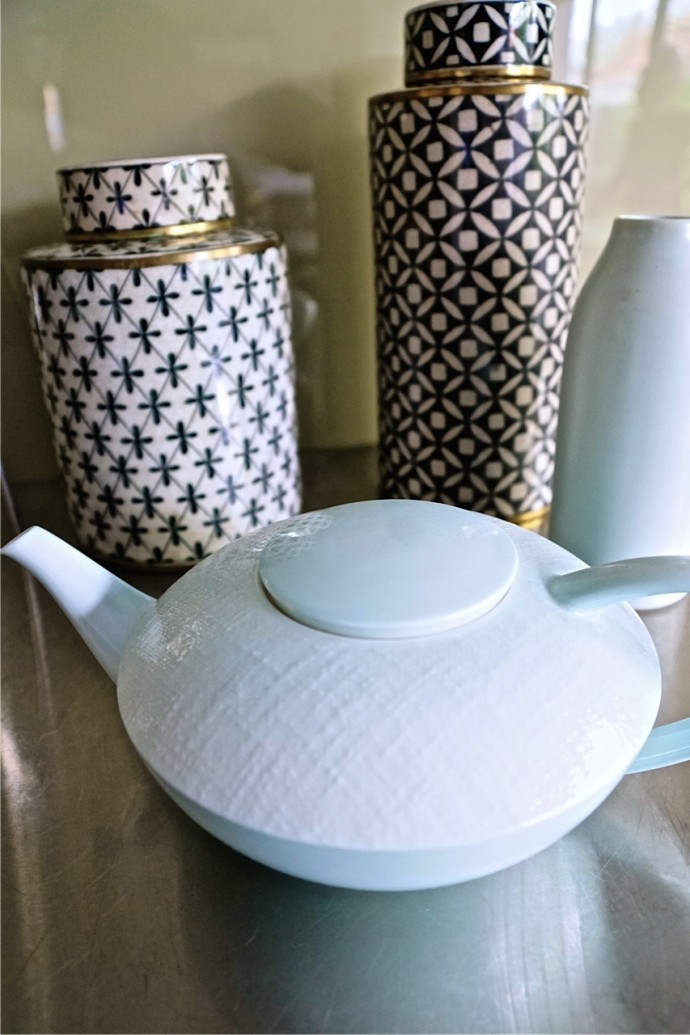 Teapot Villeroy and Boch, contemporary Chinese ceramic canisters from Spin Ceramics in Shanghai. Photo – Changwei Dean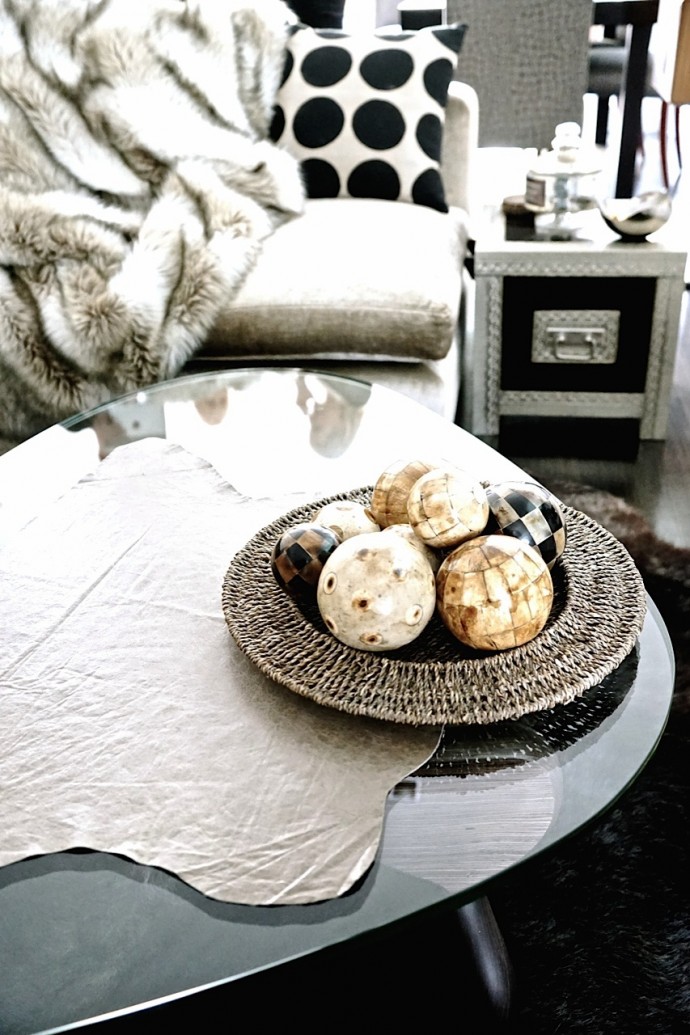 Photo – Changwei Dean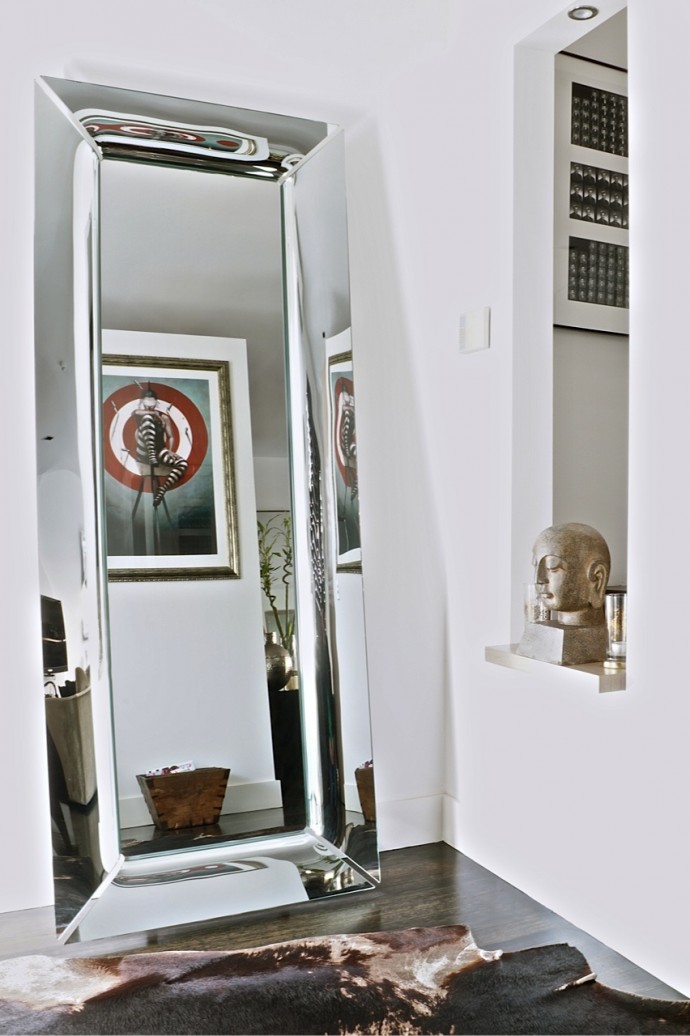 Mirror Philippe Starck from Space Furniture , cowhide rugs used to add masculinity to the space, Photo – Changwei Dean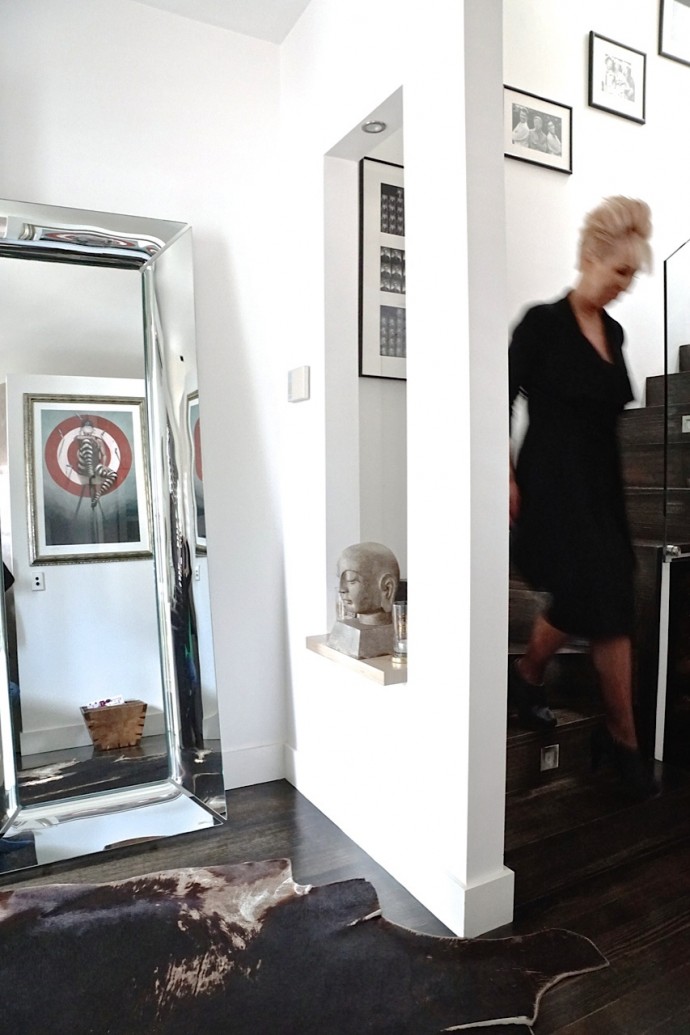 Photo – Changwei Dean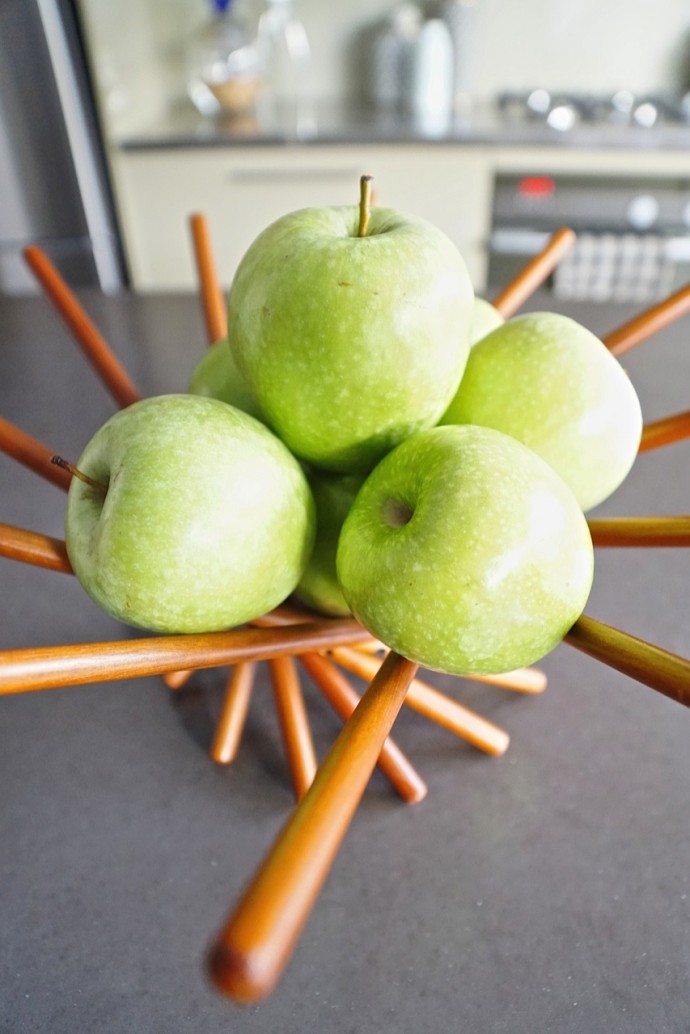 Photo – Changwei Dean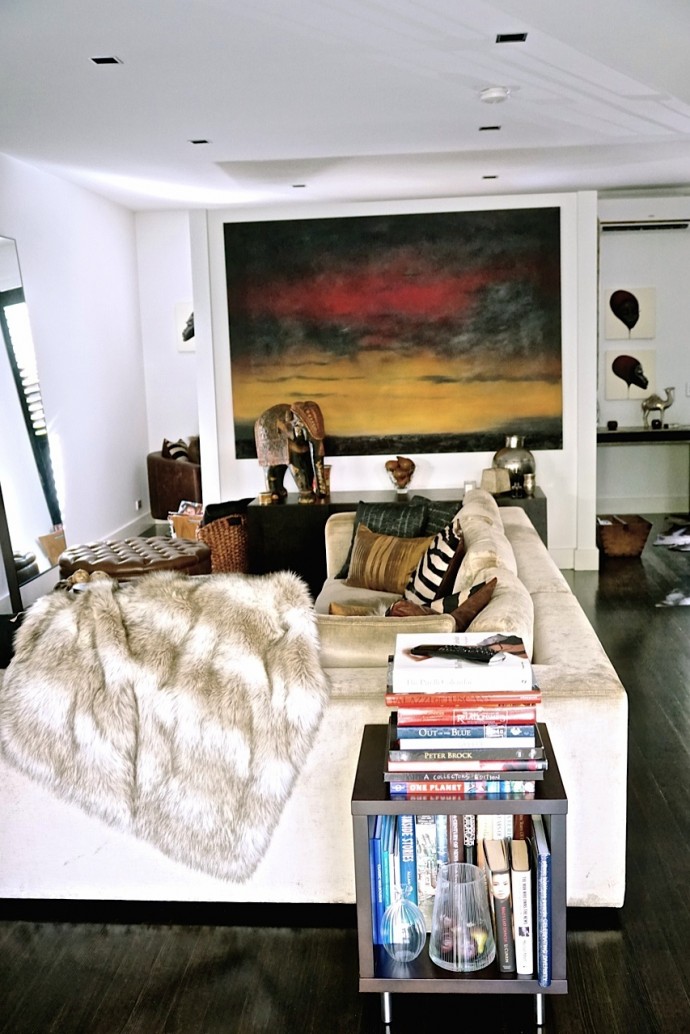 Photo – Changwei Dean
Thank you Di and George for having us
Want to hear beautiful, funny, wild stories from our next guests and of course see Changwei's beautiful pics? Subscribe.