Katie McKinnon, artist.
Katie McKinnon is barely two minutes into talking about her journey as an artist before she starts listing all her talented friends I should also feature on Engaging Women.
Anyone who has ever met her will be familiar with this generosity.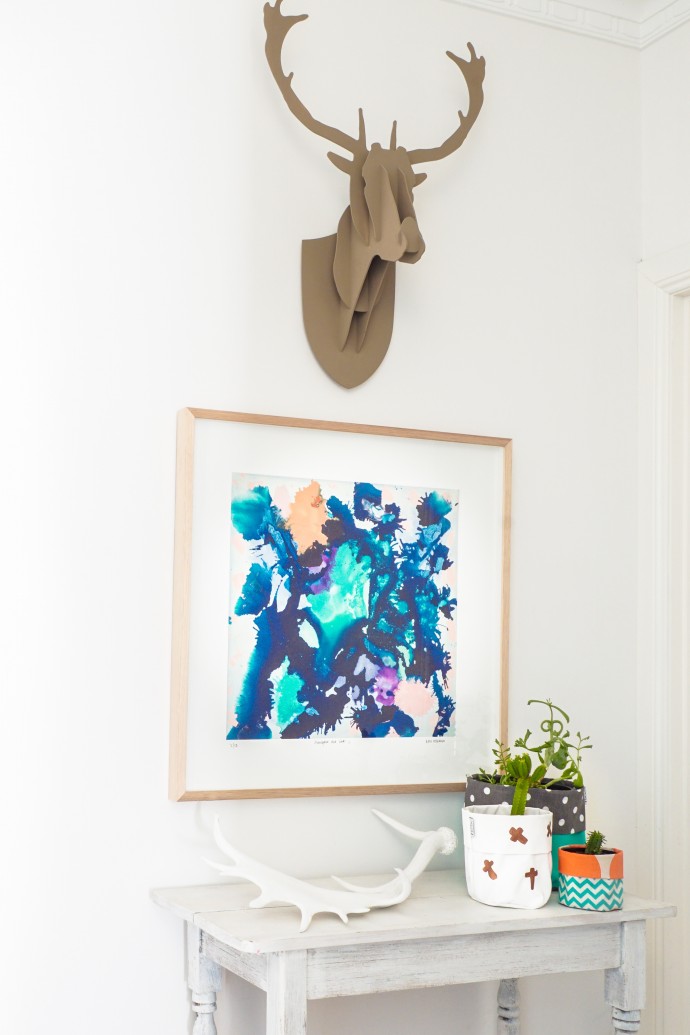 The home of Katie Mckinnon, her husband Chris and two boys (Taj aged 6 and Flynn aged 3) Photo – Changwei Dean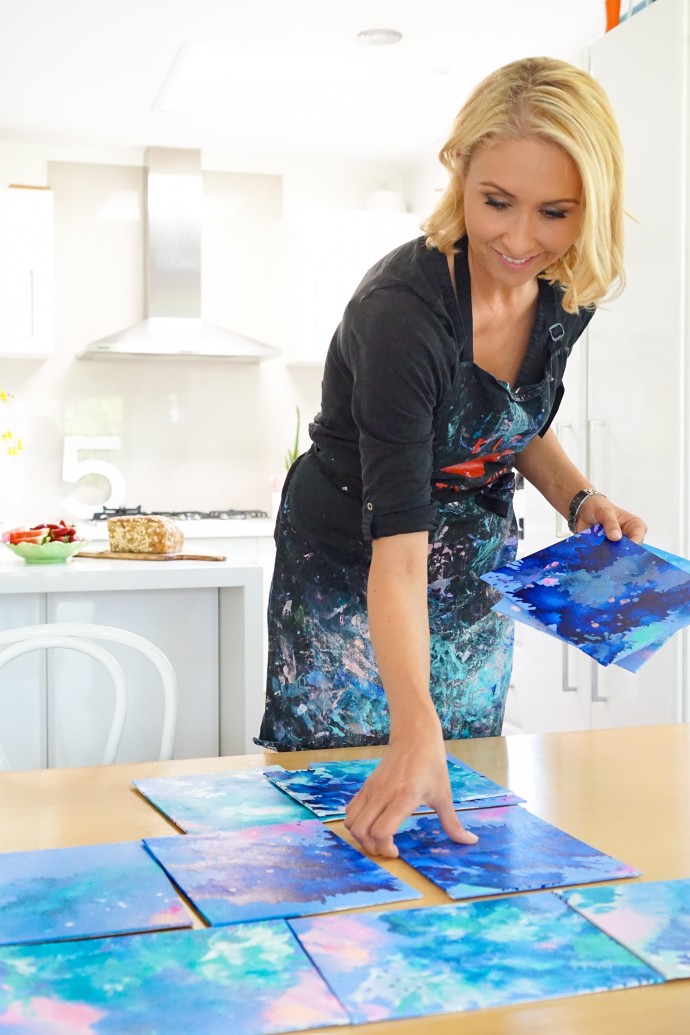 Working on her preliminaries. Photo – Changwei Dean.
After twenty years in corporate marketing roles (ten living in Switzerland) Katie and her family returned to Melbourne a couple of years ago to be closer to family.
And that's when her childhood desire to paint intensified.
"I would never have had the confidence to do this twenty years ago. I had the opportunity and chose to go down a business path but when I was a little girl I would always paint to express myself.
Now I have the confidence and the support of my family; especially my husband who's been amazing.
One night I was having dinner with my cousin and she said, "these pieces are so good why are they in your laundry?" (laughs)
So after a few glasses of wine I wrote an email and sent a pic to an interiors shop I really liked; they were able to sell the piece the next day," recalls Katie.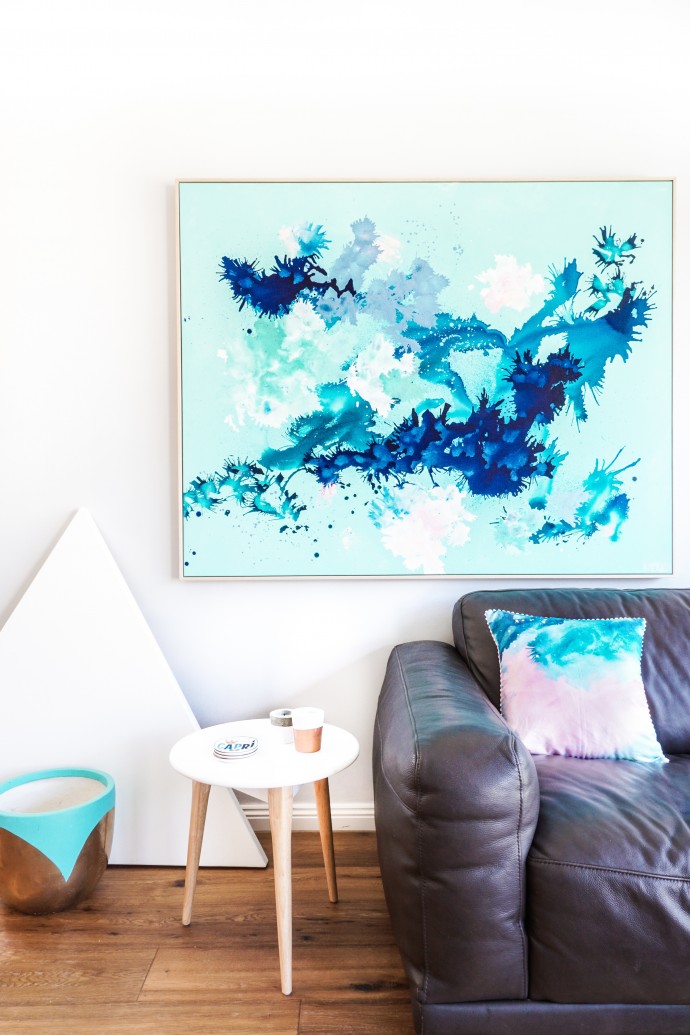 Cushion part of Katie's collaboration with Elk in the Wood, her calm Scandi-vibe home is full of treasures from Frankie and Coco. Photo – Changwei Dean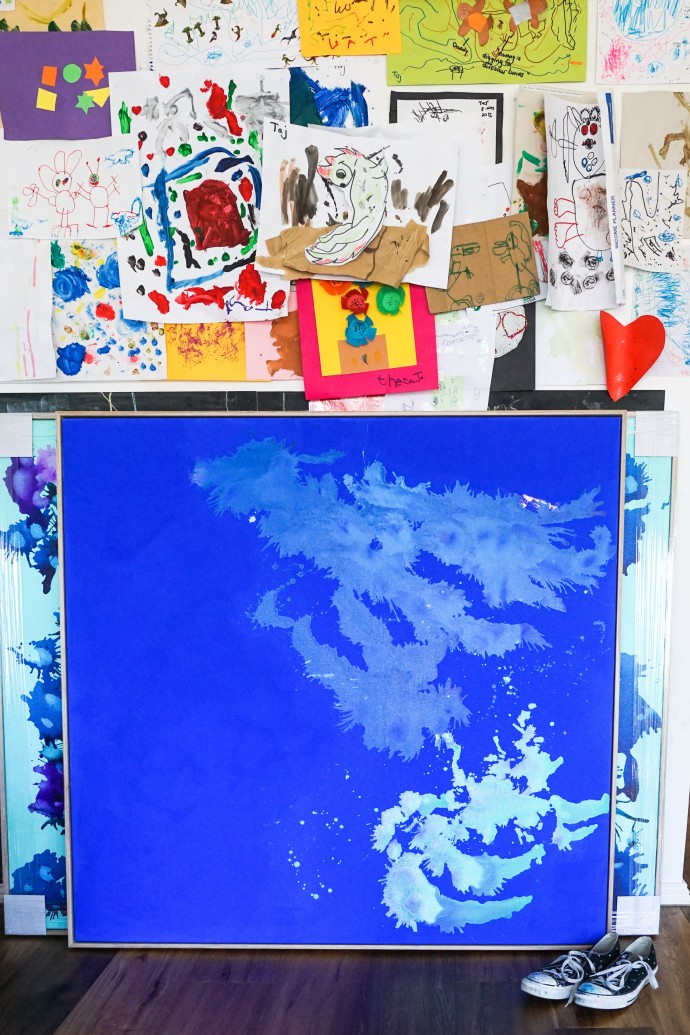 The ever-changing boys art wall and an unfinished work. Connies a tool of her trade. Photo – Changwei Dean.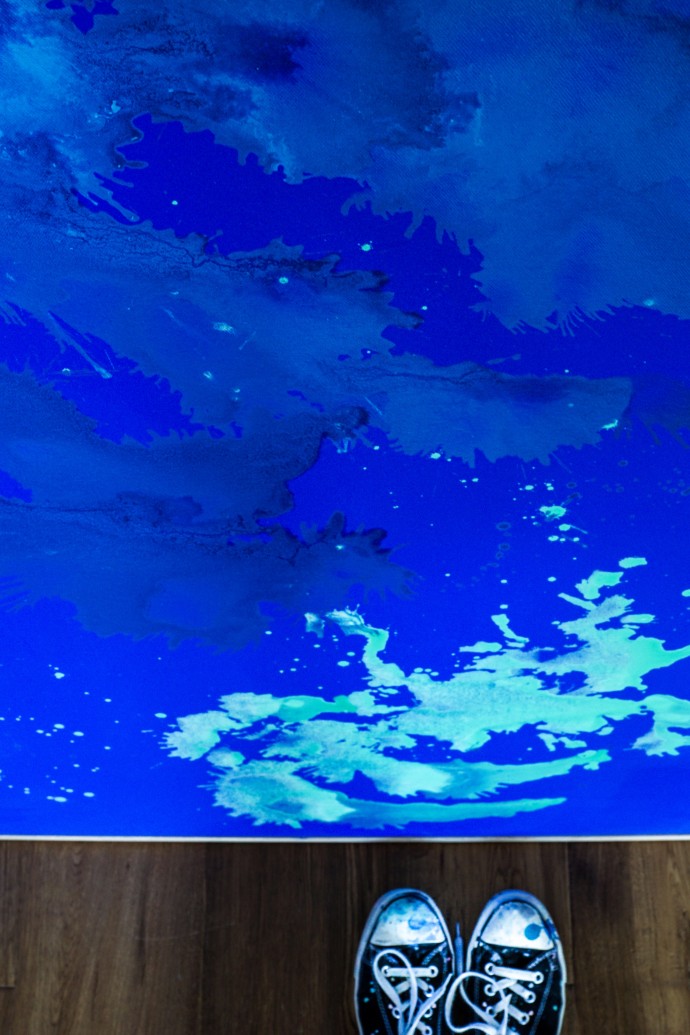 Intense colour using acrylics, shellac and ink. Photo – Changwei Dean
Clients across Australia are keen to bring these abstract marine life paintings into their homes.
"I've always been inspired by the underwater world. The colours are hyper coloured, more intense than you see them in nature but that's how I see it.
I have become very interested in marine life, I take my boys to the Melbourne Aquarium a lot.
My work doesn't have any narrative, although I'm keenly interested in marine ecology and preserving the beautiful Barrier Reef for future generations. If it brings light to the plight of these areas, then I'm happy as well."
Photo – Changwei Dean.
As many of us know working with little ones is no easy gig.
"I try to be as mindful as possible, having kids you're often taken away from the creative head space because you're tending to their needs (as much as I love being a mum).
I use a tool called Smiling Mind – it's an iPhone app, an amazing guided meditation – several times before I work. Sometimes I need a wine or a coffee when I paint late at night, through the night," says Katie who is also part of a 'positivity collective.'
"The positivity collective is an ad hoc group of women, we've gotten together – mostly creatives but some in the corporate world – because we were sick of the negative things in social media.
It can be very isolating working by yourself, so this is a way creatives can come together and support each other," she explains.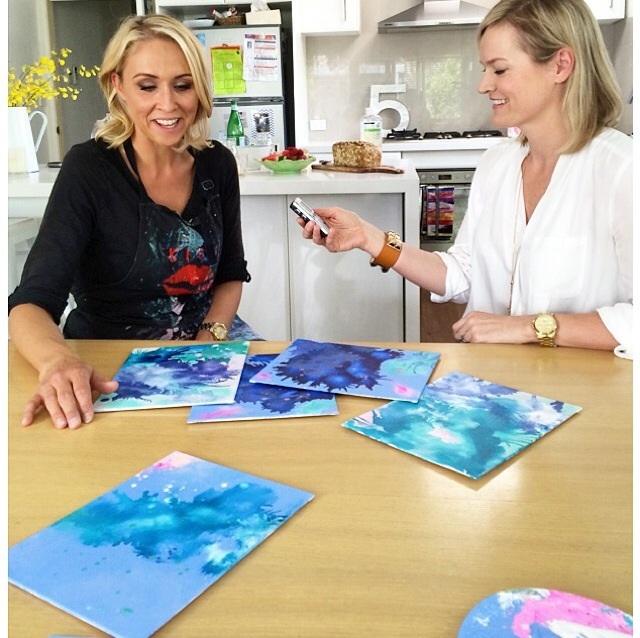 Martine Harte (right of pic)  just before we tucked into Katie's fresh strawberries in the background. The eye-catching marble number 5 in the kitchen is by CZAR in Design. Photo – thanks to Suzi Appel.
HOOK UP WITH KATIE McKINNON: pop over here
Her pieces can also be commissioned and are available through stockists Frankie and Coco and Meizai