Gold Coast mum-of-two Neva Elliott, who has been busy sprinkling her version of parenting magic into the world.
She's produced an adorable App with an extensive library of low-cost ideas to help little imaginations thrive, a book and website Busy Little Kids.
Martine Harte: Neva can you take us back to when the idea for Busy Little Kids popped into your head?
Neva Elliott: I guess in hindsight it was brewing for quite a while but one morning I was standing with my husband and had these little faces peering up at me and I just felt quite overwhelmed thinking, 'what am I going to do with you little darlings today? All day.'
Like most parents I found it easy to put the tv on or hand out an iPad. I found myself doing that more and more often and it just didn't sit right with me – obviously I love technology as much as anyone – but I started looking back to my own childhood which was filled with imaginary play.
Then we saw a documentary about apps and thought it would make a really good app as a resource tool for parents. I had a look and all I could find were awful games, but nothing to help parents be creative with their children.
I do see the irony in having an app for children's activities but I guess that's how you have to reach people these days! (laughs)
I had it designed overseas, wrote all the activities and took most of the photographs.
I approached a few publishers and one was really interested so we went from there.
When the kids reach the point over the school holidays of saying "I'm bored" should we intervene?
Neva Elliott: Oh that's a tricky one. I don't want to be the mum telling other mothers what to do. I think over-managing children's lives is stressful; it adds to their anxiety. Other mums may relish it, but I find we get home and we are stressed and cranky.
I try to under-schedule our lives and it just works so much better.
When you made the decision to simplify did you notice your kids were different?
Neva Elliott: I think the more they try to use their bodies and their brains during the day the better they sleep and eat. The book is designed for kids to flick through and pick an activity themselves.
How do you navigate social media with children?
Neva Elliott: That's something I've really had to stay on top of. My children want my attention but I'm busy writing about spending time with your children! (laughs) 
I really try to only be on my computer or my phone when my kids are asleep. I don't like my daughter seeing me staring at my phone when she walks in the room. Like anyone I check my emails every day, but I try to do it in the morning and then put it away.
I don't want my children's memories of their childhood being my husband and I looking down at our phones. I love Heidi Middleton's 'Family Investment Bucket' idea. You put your devices in the bucket from 5-8pm.
You studied photography at uni. What's something people may be surprised to learn about you?
Neva Elliott: That I started the whole thing for myself, to try and make a conscious effort to be present with my children. I'd love to be one of those mum's who's "on" all day.
I don't believe they exist! 
Neva Elliott: That's probably right, I don't play with my children all day. (laughs)
Me either! (laughs)
WANT TO WIN A COPY OF THIS SUPER GORGEOUS BOOK? JOIN OUR TRIBE FOR A CHANCE TO WIN BY TAPPING HERE
Squeak: fingerprint painting.
Thinking green: nature collages.
Oldie but a goodie.
Costs nothing: magic sticks.
Dino dig: hide away some plastic animals and the mini archeologists will be busy for hours.
Want to learn how to make magic flowers? Download the App here.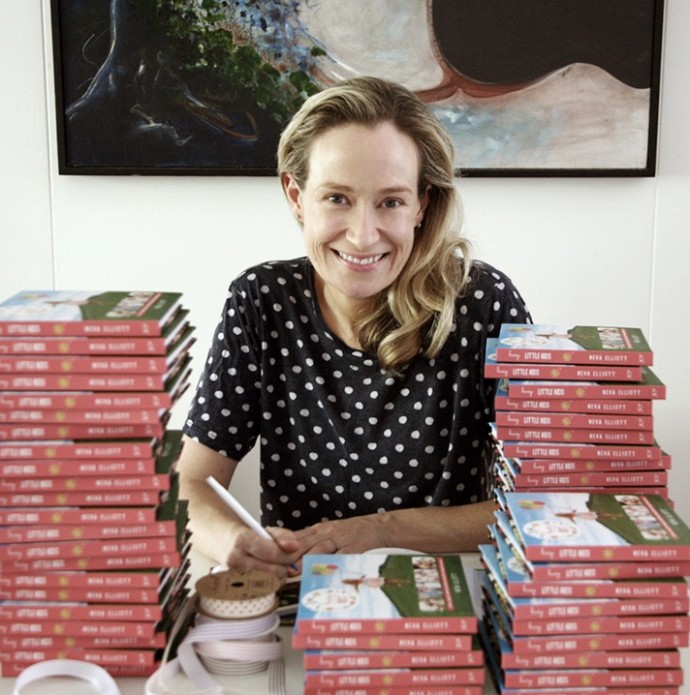 You can purchase Neva's book by popping over here.