"Embrace your uniqueness. Recognise that you are one of a kind and that your differences are what make you special.
Showcase your individuality and focus on what makes you stand out, rather than trying to confirm to societal expectations."
Body positivity speaker Jess King.
Body positivity speaker Jess King is passionate about connecting with purpose.
With hundreds of thousands of followers on social media, she has worked in the curve modelling space for 13 years.
Working with brands across Australia, Europe, Asia and the United States.
She was the first curve model to represent a national campaign for a major Australian jeans brand and collaborated with The Arts Centre Melbourne.
Based in Melbourne, Jess has most recently addressed hundreds of girls at Firbank Grammar School and received praise from students and teachers alike.
Engaging Women highly recommends Jess as an authentic, personable, reliable speaker who connects with young audiences.
FEEDBACK
"Her speech was wonderful and truly inspiring, we are very lucky to have her talk on such an important topic in such a comforting way.'
Wellbeing leader, Firbank Grammar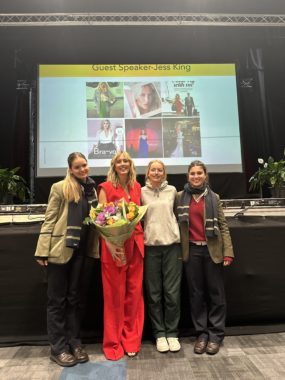 TOPICS:
Debunking the social media 'highlight reel'
Don't base #bodygoals on what you see online
Why diversity is here to be celebrated
The changing Australian fashion landscape
How to practice self-compassion
Feeling worthy in your own skin
ENQUIRE to bring Body Positivity speaker Jess King to your school or event.
Jess is represented by Bella Modelling which was formed to challenge the notions of beauty and body image.