Anastasia Fai
Huge congratulations to Anastasia Fai Kogan after being appointed youngest director in the history of the
Melbourne Opera Board. 
She will serve as a Non-Executive Director and is expected to bring energy and fresh, connective thinking to the role.
The 37-year-old is considered as much an entrepreneurial force as her prominent husband, founder and CEO of Kogan.com Ruslan Kogan.
As founder and creative director of digital agency Style & Image she has created strategies and executed content for some of the best known Australian and International luxury and premium lifestyle brands including: Diageo, Mumm, Audi, Shangri-La, W hotels and Sony Music.
The agency focuses on strategic development video production and results-driven output.
Her experience is expected to be an asset to the not-for-profit company to help it reach new ears.
Ms Kogan is an experienced digital creative and holds an MBA from Melbourne Business School and a Bachelor of Music from the Australian Institute of Music.
She is also a graduate of the Australia Institute of Company Directors and has lectured in business strategy at the AIM since 2015.
Anastasia Fai Kogan Melbourne Opera
The Coronavirus pandemic has had a disastrous impact on the Arts in Victoria, the digital age offers many platforms for artists and others associated with the industry.
Engaging Women featured Anastasia a few years after she founded the agency.
"It was scary but I knew I had the skills, so I packed my equipment, jumped on a plane, landed in the concrete jungle and headed straight to fashion week." Anastasia Fai Kogan.
Anastasia Fai founded video production company Style & Image which services big name clients internationally with projects including New York Fashion Week.
I met her at the Telstra Women in Business awards where she shared some terrific insights.
Martine Harte: Let's rewind to 2008 when you started out and were working for Sony music, can you name the pivotal points which helped your career?
Anastasia Fai Kogan: I loved it. It was so exciting working with amazing artists and on music video sets. I was jumping out of bed every morning but it was still very corporate; very different to what I thought.
So I realised to be where I wanted to be would probably take me ten years.
Only a small fraction of artists could do music videos because it was so expensive.
There were amazing super light cameras and so many up and coming directors which the labels hadn't heard of shooting world-class quality beautiful videos for a tenth of the price.
So from there I went to a small management agency and they just signed Jessica Mauboy who I got to work with full-time. Just being in that agency I knew I had to do this.
So you then produced the videos and started to upload them to YouTube? That was a great springboard.
Anastasia Fai Kogan: I started doing fashion styling and other artists began approaching me and fashion designers. Then it was fashion week and someone saw our videos on YouTube and they hired us to do New York Fashion Week.
That was a great springboard.
Anastasia Fai Kogan: Yes it was a massive step for Style & Image. They were like, "do you have people in New York?" I was like, "of course we do!" (laughs)  
It was scary but I knew I had the skills, so I packed my equipment, jumped on a plane, landed in the concrete jungle and headed straight to fashion week.
We shot 12 videos that week that we broadcast globally; the busiest craziest job I'd ever done. This was the biggest break for us.
You seem to have not limited yourself to a niche?
Anastasia Fai Kogan: We shoot anything from fashion runways and music videos to business conferences and cancer research seminars. I started in music and fashion but as we grew I was introduced to a lot of young inspiring people and all their stories were so interesting.
How do you define your creative direction?
Anastasia Fai Kogan: You know for me it's really exceeding expectations and getting results. Looking at obstacles in a different way.
Anastasia Fai Kogan: I went to UNSW. At first I was doing a Bachelor of Arts but it wasn't very 'arty' so I took a bit of a risk with the Institute because my mum was worried what career I was going to have. (laughs)
I realised very early on that the most useful thing I would gain is the connections and the experience.
I then lobbied for about six months to get an internship at a major label; I always had this dream to get into music. After six months I got in and now an internship is actually compulsory at AIM, which is great.
What editing program do you use to cut your videos?
Anastasia Fai Kogan: We use Premier Pro and Final Cut for simple editing and other programs for more complex work like 3D rendering and animation.
If you're starting out – FCPX is the one to go with.
For beginners: use your iPhone – it has a great camera.  Just make sure you position it horizontally and ensure good audio by getting yourself a fifty dollar lapel mic.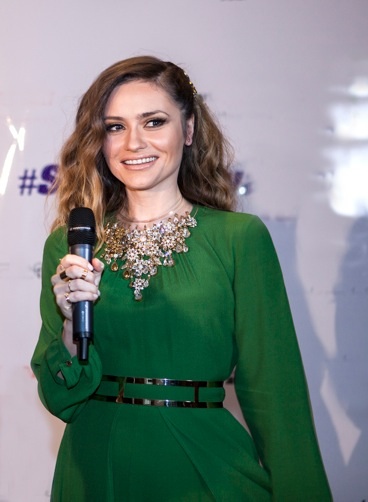 Hook up with: Anastasia Fai Kogan
Check out her projects at the Style & Image site
Twitter: @anastasiafai
or on YouTube here