Maria Flores Say Hola.
Intuition can be a very powerful thing.
Melbourne artist and designer Maria Flores from Say Hola has harnessed hers to great impact: on her family life, through her art, spirituality and even the way she has put together her soulful home in beachside Aspendale.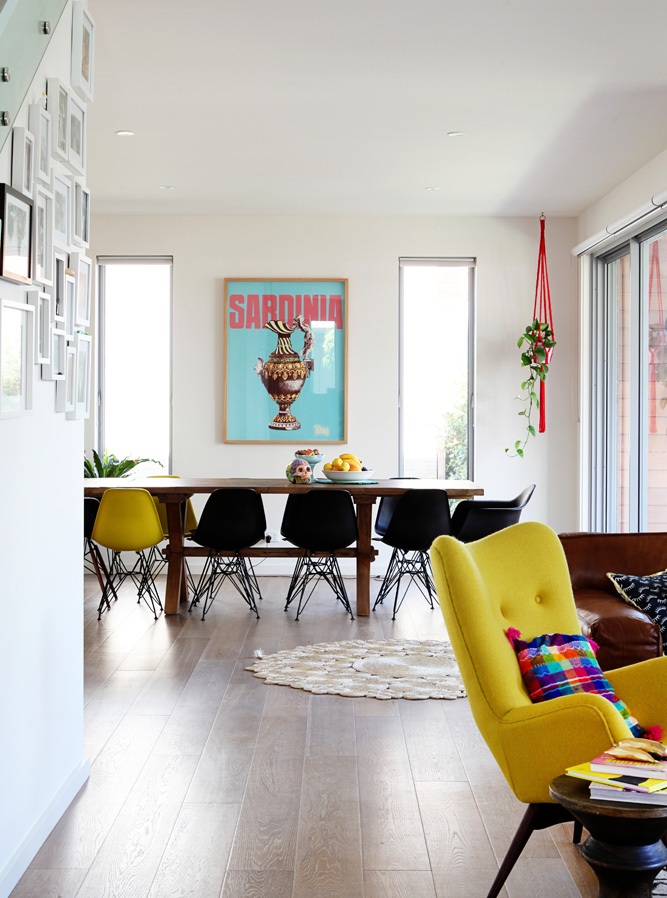 Open living invites us in to the home of Maria Flores, her husband of 11 years Marcello, daughters Allegra aged 8 and Matisse, five. 'Sardinia' is by friend of many years, fellow artist Maurice Golotta 
Photo – Tania Savage  Words and stuff – Martine Harte.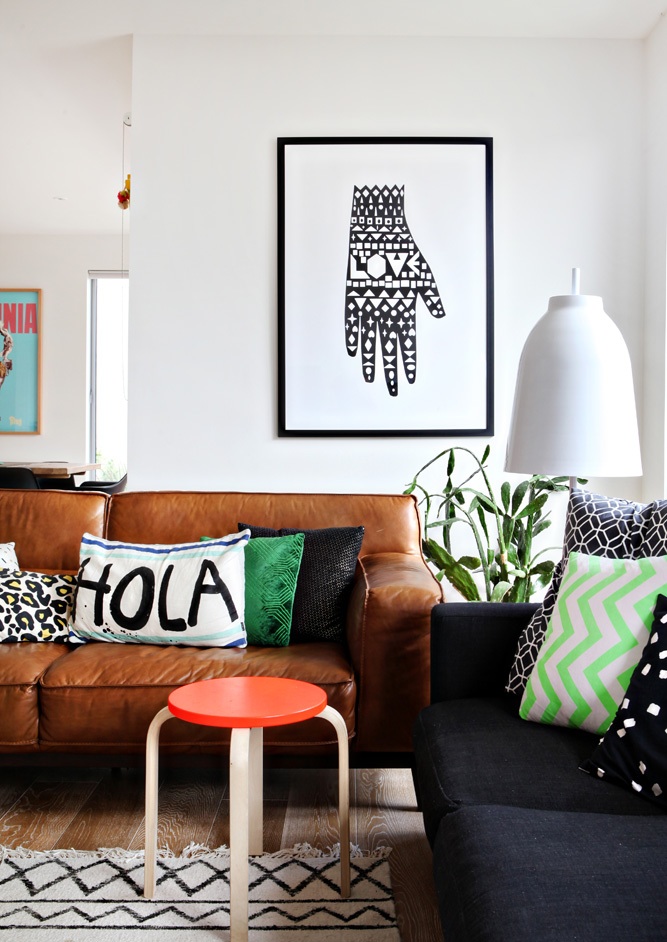 The living area boasts one of Maria's stunning hand screen prints inspired by the intention of the Hand of Fatima. Photo – Tania Savage Production – Martine Harte.
Born in El Salvador, Maria moved to Australia with her family when she was eight.
The women in her life, her mother and grandmother Antonia,  ensured her culture's beautiful traditions continued.
Ancient mexican folk art informs her screen prints, paper cutting, illustrations and design.
"I wanted to mix all the things that inspire me, from folk art to spirituality, giving, balance, yin and yang and my Latin American culture," recalls Maria.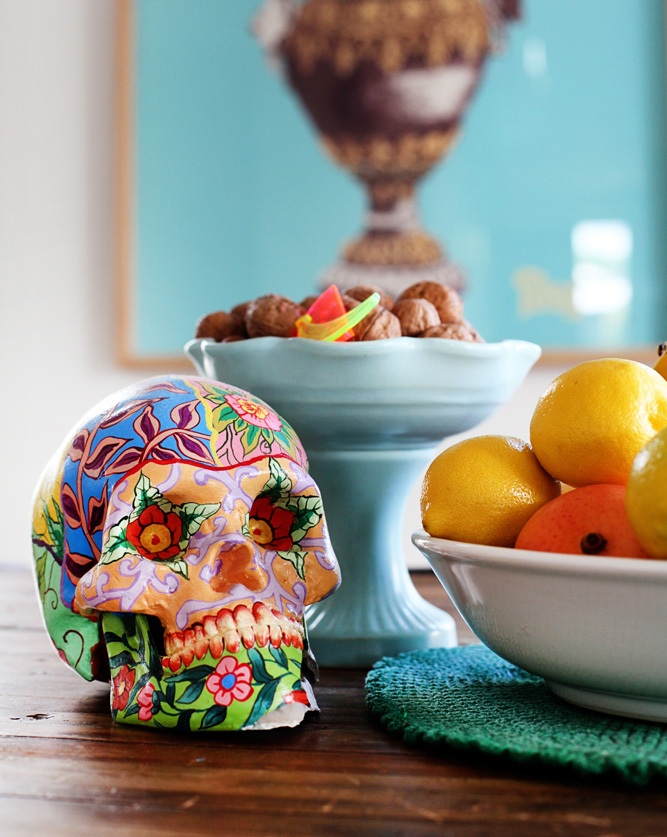 Photo – Tania Savage Production – Martine Harte.
After years in hospitality and corporate jobs which left her uninspired, it was after the birth of her first daughter Allegra that Maria resolved to pursue her art.
Something began to stir when she began drawing sweet illustrations for her baby.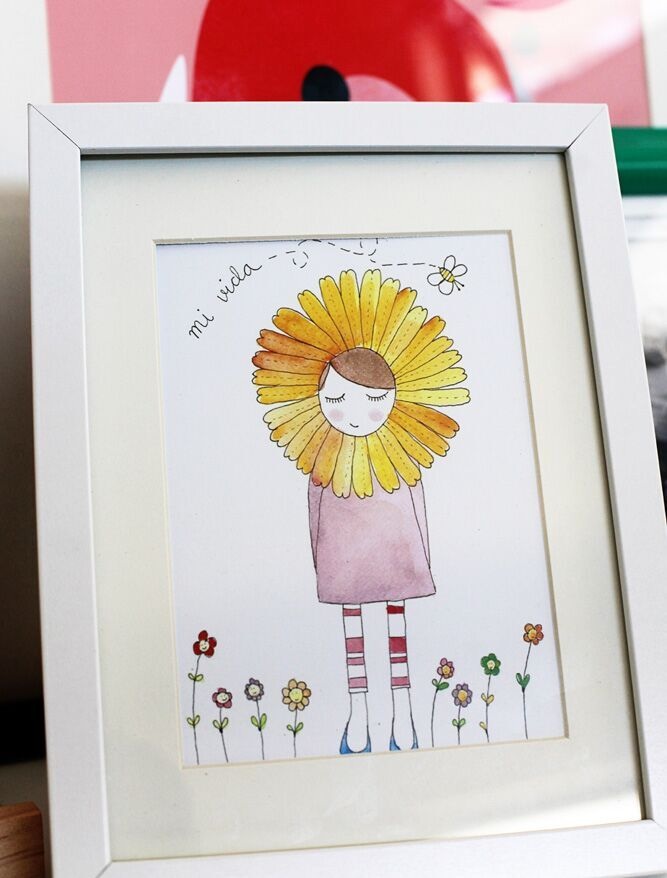 "I'd always been into art as a kid,  but I didn't want to be restricted to graphic design because my idea of it was that I'd be in an office and I'd be on the computer and I didn't want that. I felt strongly that my hands were my tools and I wanted my art to be raw."
Her light-filled home studio is a visual feast of screen prints, illustrations, paper cuttings, religious icons, symbols and anything else which amuses her spirit.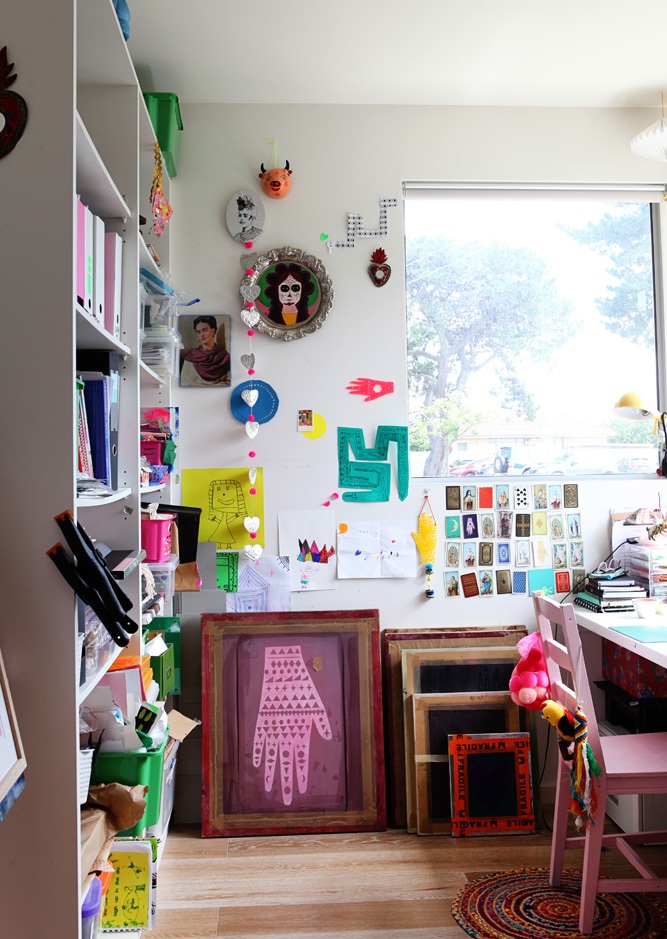 On most days when her "chicas" are at school you'll find her somewhere between the jars of paints and brushes. Photo – Tania Savage – Production – Martine Harte.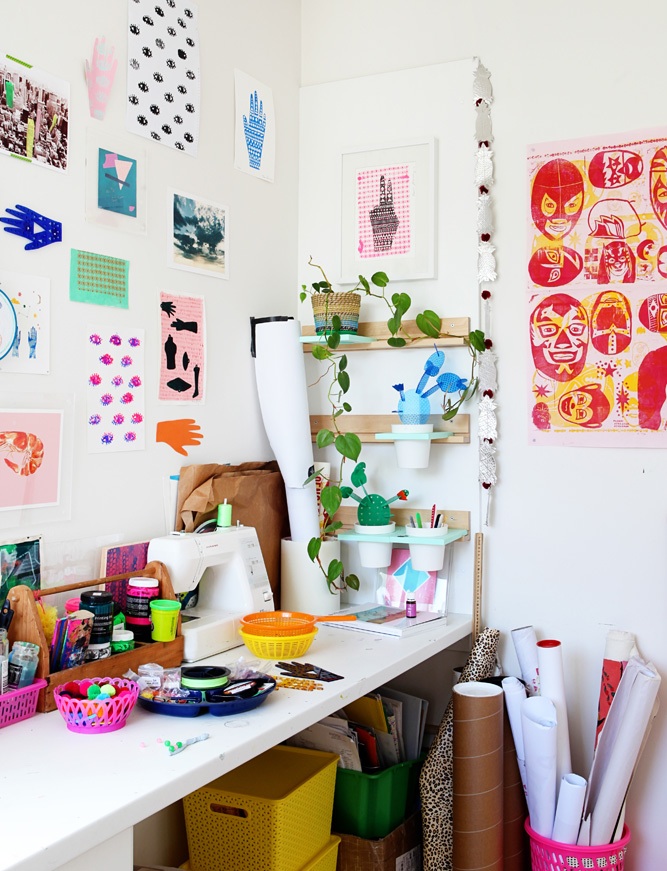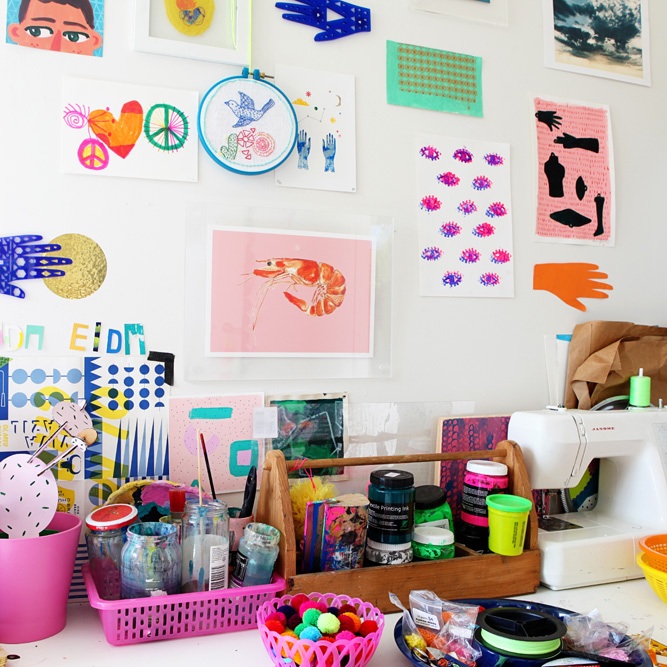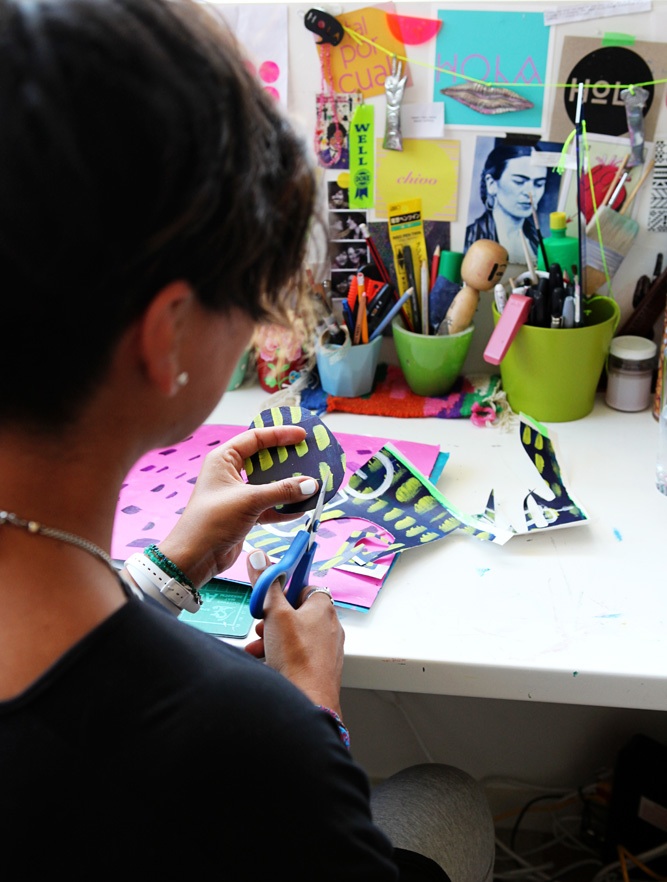 Maria works under the gaze of one of her heroes Frida Kahlo. Photo – Tania Savage Production – Martine Harte.
As a guest, it's pretty obvious she's drawn to religious icons including mother Mary her "peace" and the Middle Eastern symbol, the Hand of Fatima, which is thought to offer protection and guidance.
Maria explains, "It's about being surrounded by the right things and the right people so you can have simplicity and you can move forward. There's a story behind all the symbols a code behind symbols like the palm reading technique. It's a representation of giving and receiving moment for me.
I went through a stage in my life which was quite a dark stage; nothing made sense, I was angry even though I had everything around me I couldn't focus my energy and once everything becomes simple and you let go of a lot of things everything comes."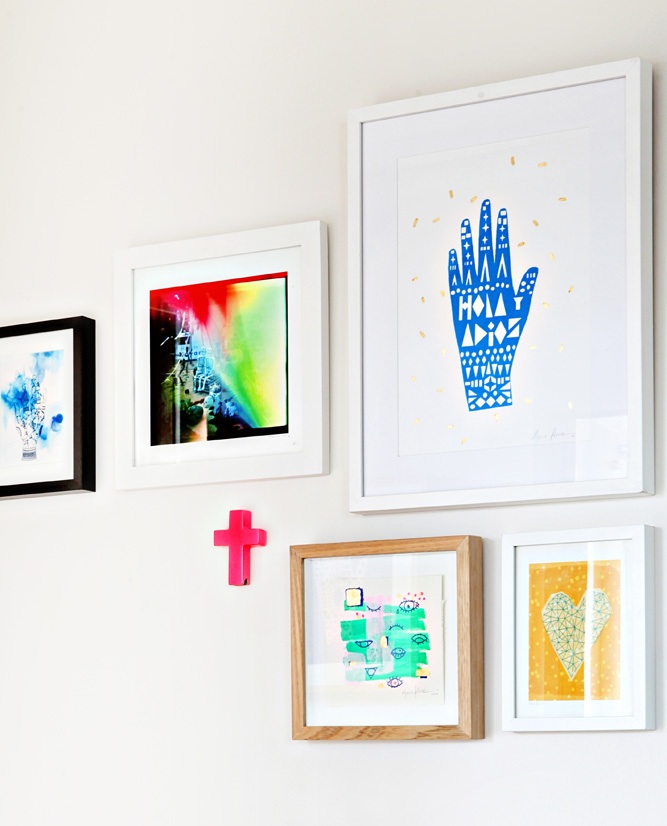 Most walls of the home sing with the work of her friends as well as her own creations.  From left – Ice cream print by Maurice, skull by her "lovely" friend Madeleine Stamer of Little Circus Design The 3D cubist house print is by another good friend Jasmine Mansbridge. Photo – Tania Savage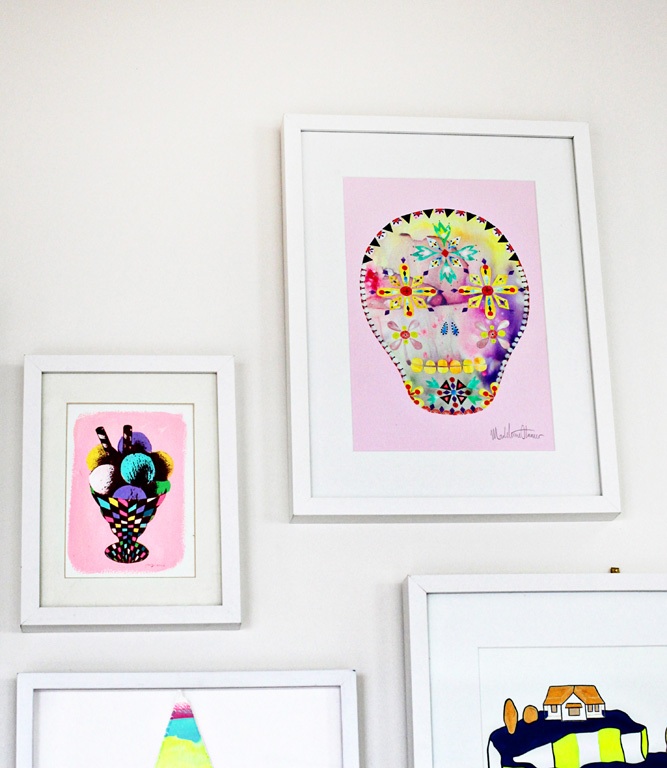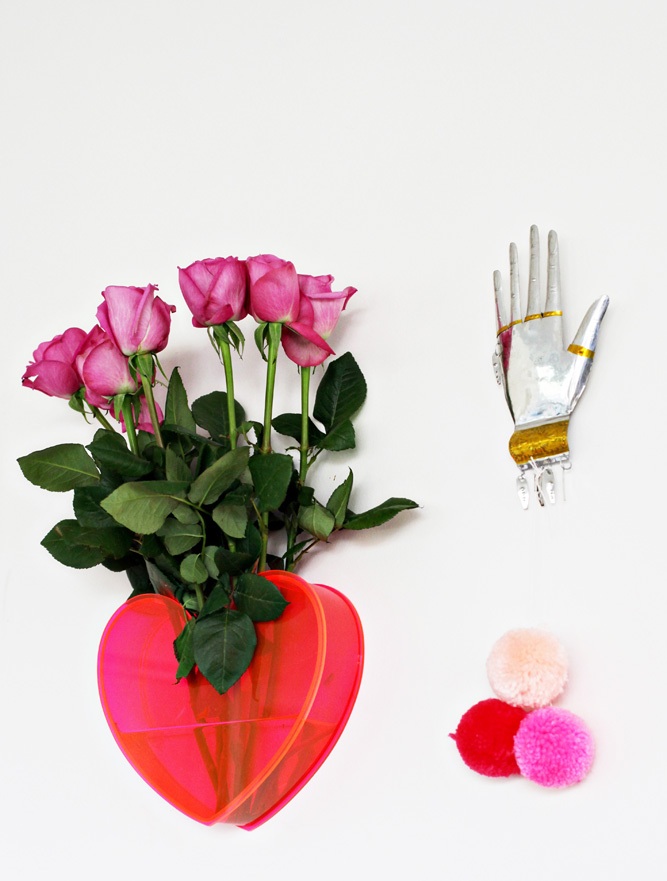 Find more of Maria's work here – Photo Tania Savage. Production – Martine Harte.
But what stopped me in my tracks during this shoot, was the exquisite offerings.
The family creates space to express gratitude for their blessings, their abundance, for the time they have together. Which I think is such a brilliant idea worth spreading.
"We're mad crystal collectors, my girls really enjoy finding about them and what they bring. Mary is my peace and there's reference to her all over our home which is so beautiful.
This is how we celebrate every day, we light up the candles or we bring a new flower, or a shell and it's a way we collect our thoughts or release something we don't need any more," says Maria.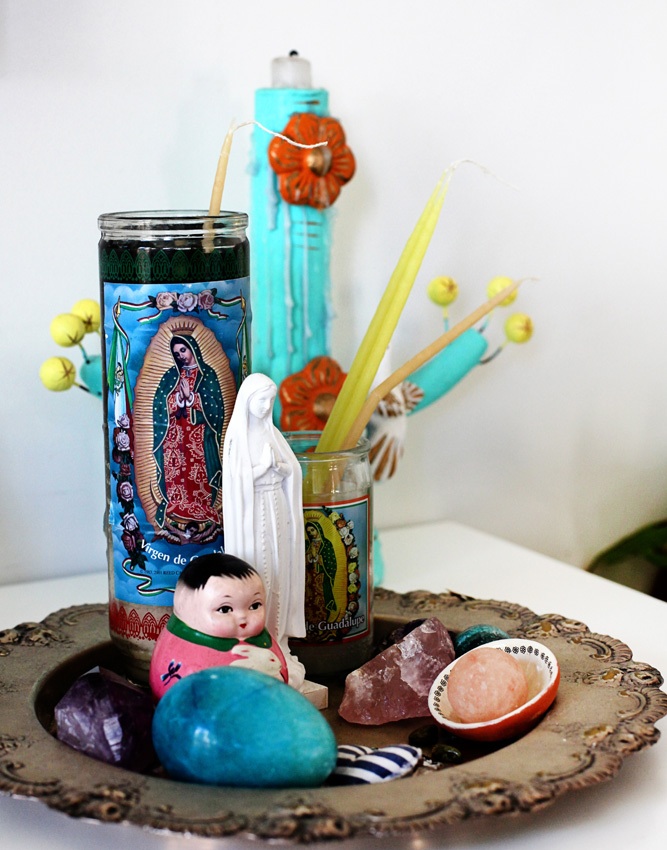 The ritual is even observed by her little ones in their bedrooms.
"We travel to Bali and they have offerings every couple of hours, it's about gratitude. It's about saying please and thank you and we love giving our kids an outlet to express themselves."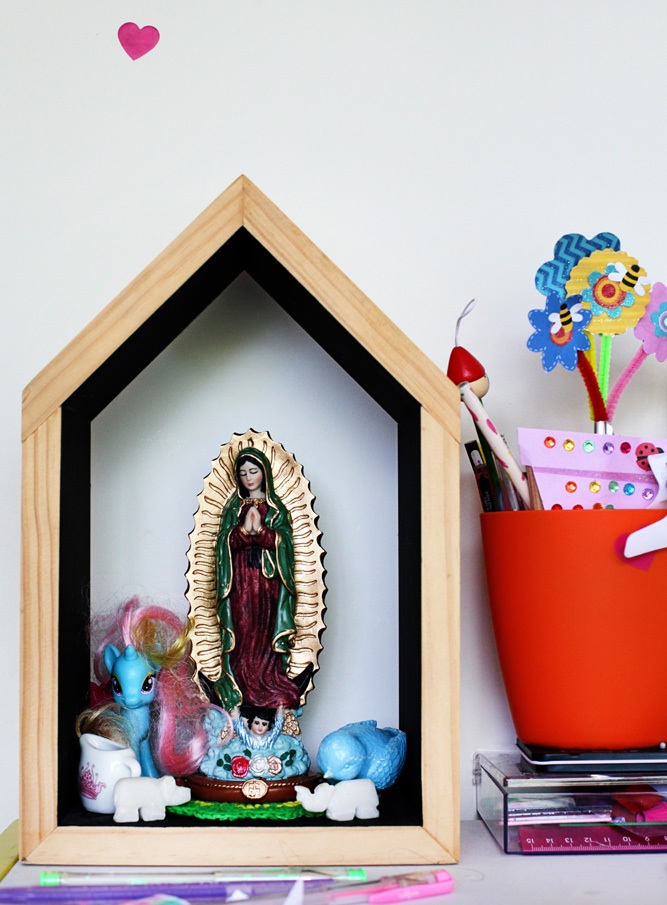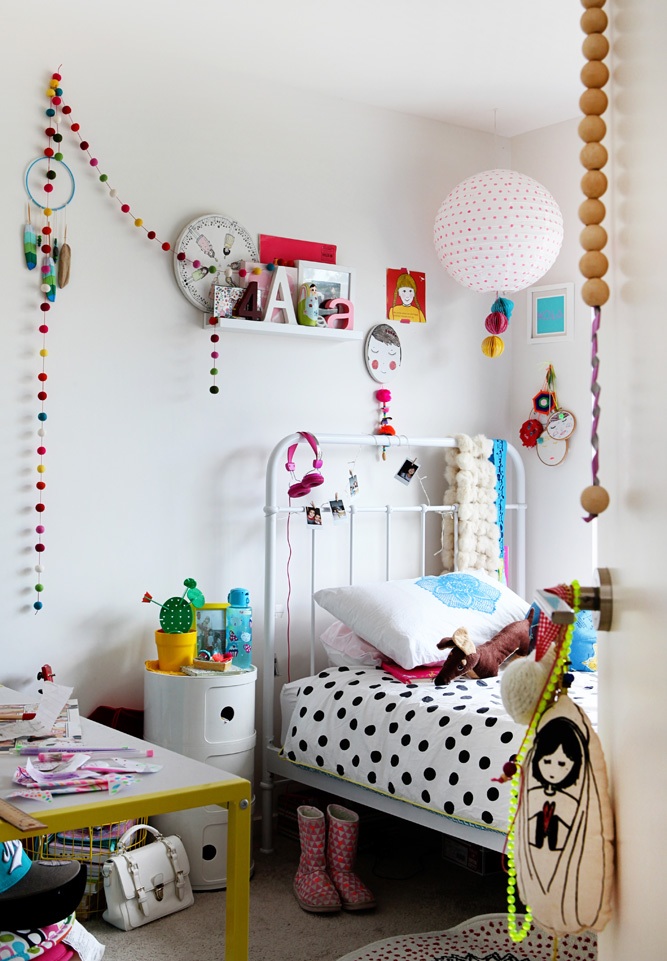 Allegra styled her own room, right down to wanting to hang her mum's beautiful engagement scarf over her bed head. Photo – Tania Savage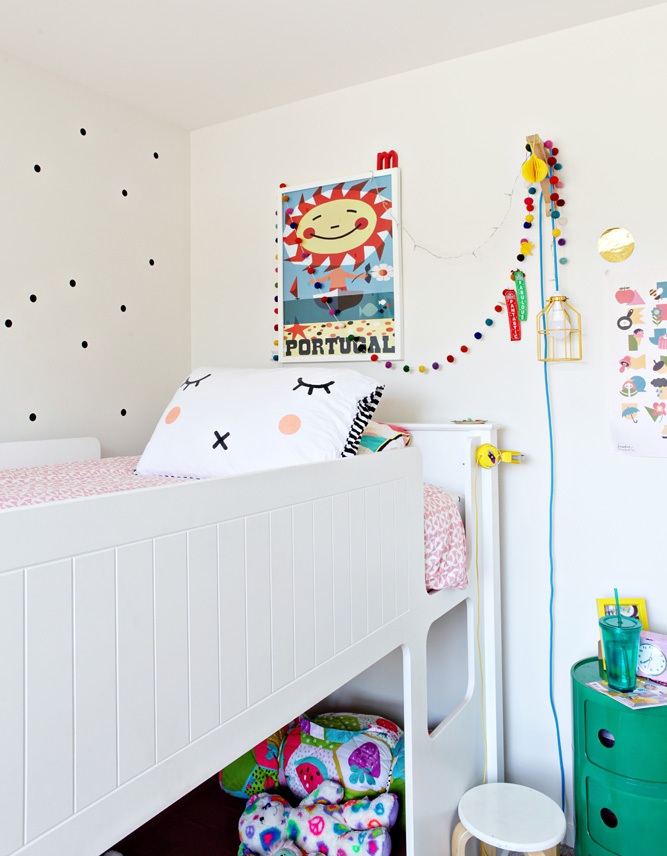 Matisse's nest. Photo – Tania Savage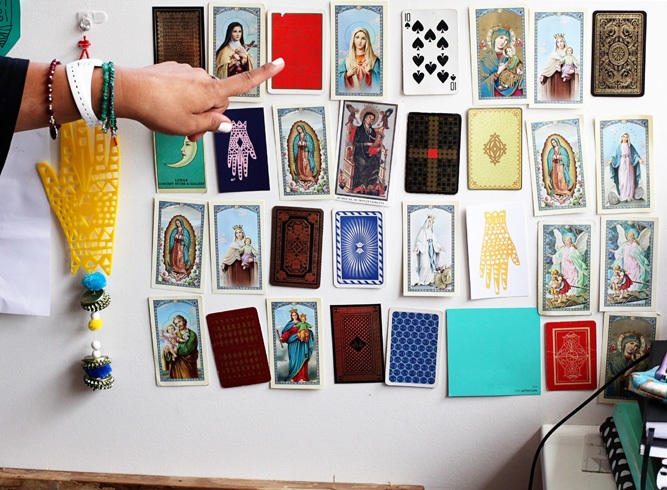 "I'm obsessed with Mary, my grandmother Antonia gave me these cards. I either put them in a book, sometimes I need my angels around me and I need to celebrate." Photo – Tania Savage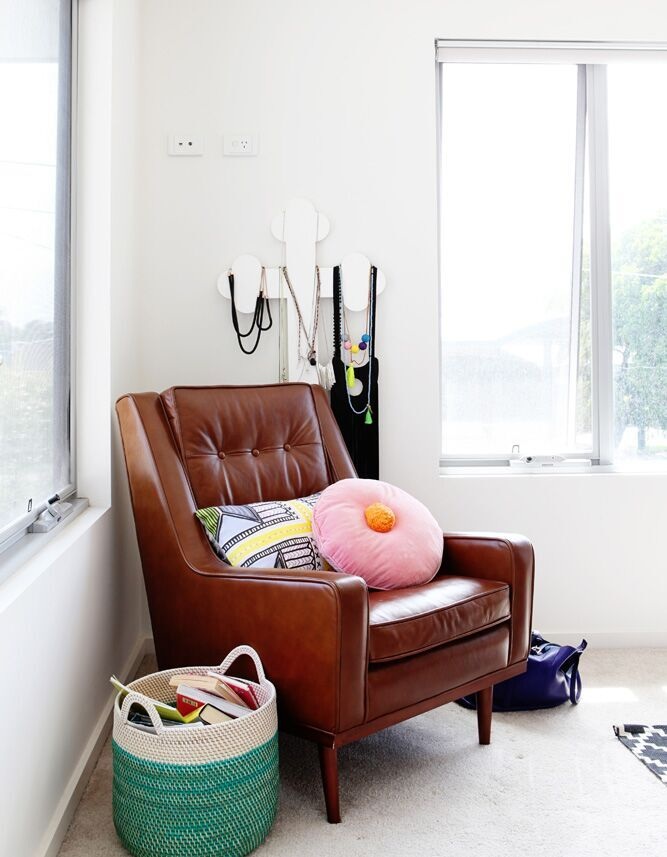 The last stop of our shoot was the master bedroom where heard about her latest business move – a collaboration with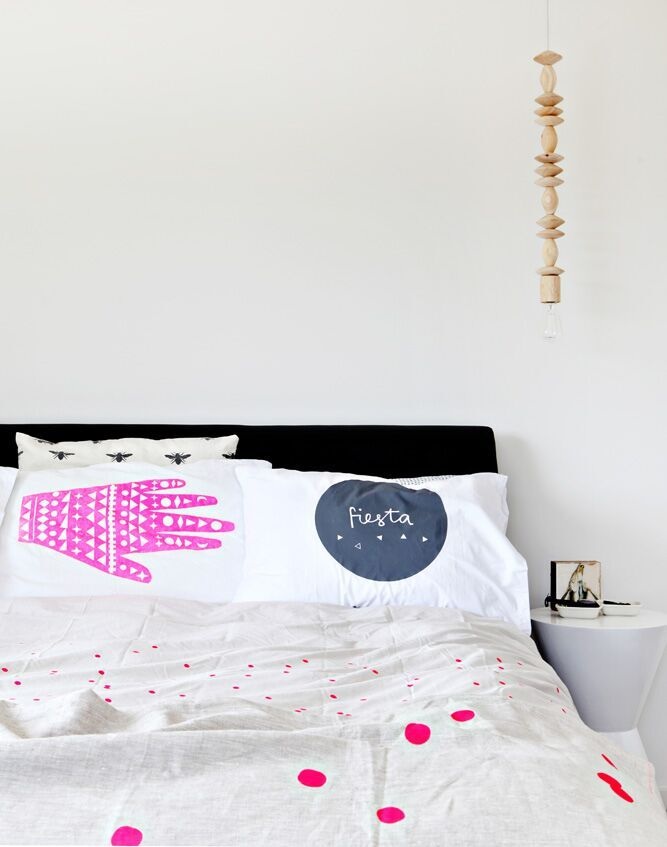 Feliz home – felix means happiness in Spanish.
"Their homewares are just lovely, lovely, lovely and I got these for Christmas and I hadn't put them on and I actually thought today is a special day."
It seems her gut was at play again.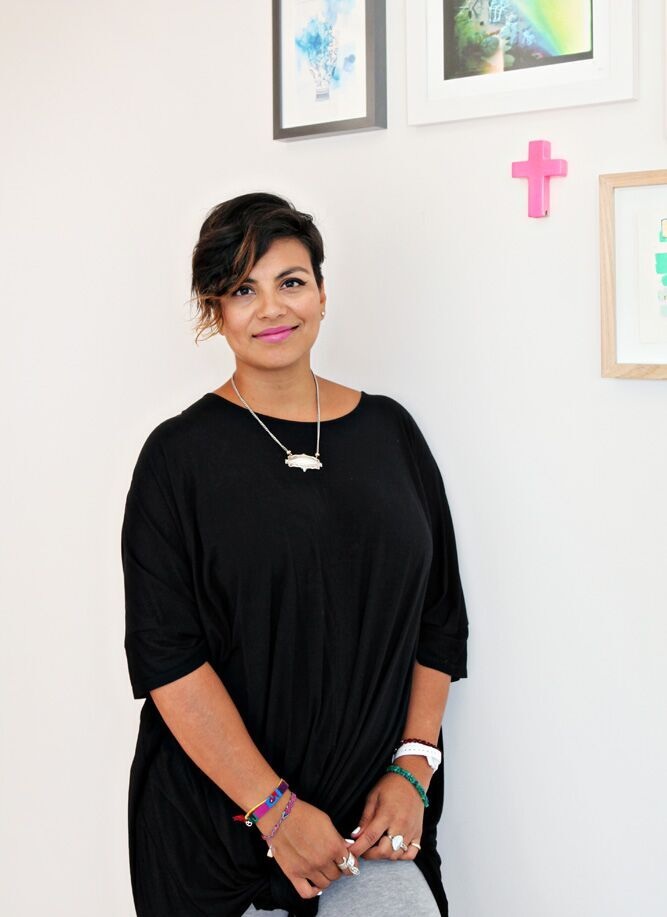 HOOK UP WITH MARIA:
If you want to pick up one of her pieces pop over to her Say Hola website here