Nights are chilling off here in Melbourne, so it must be time for another cosy, awesome Engaging Women movie night?
Gather your tribe and join us for a special opening night screening of SNATCHED with Goldie Hawn and Amy Schumer.
Proceeds will go to the incredible Our Watch organisation which is doing great work fighting violence against women in Australia.
Our Watch is making a difference.
WHEN: FRIDAY, 12th MAY 2017
WHERE:  PALACE CINEMA DENDY, CHURCH ST BRIGHTON
TICKET: $30 includes champagne, beer or soft drink on arrival.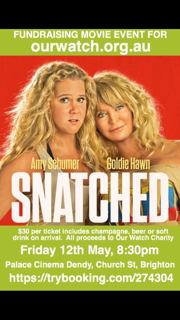 This event is for women, men and those who fall somewhere in-between!
Snatched is an Action/Comedy.
After her boyfriend dumps her on the eve of their exotic vacation, impetuous dreamer Emily Middleton (Amy Schumer) persuades her cautious mom, Linda (Goldie Hawn), to travel with her to paradise.
Polar opposites, Emily and Linda soon realise that working through their differences as mother and daughter is the only way to escape the wildly outrageous jungle adventure that they have fallen into.
Release 12 May 2017.
OUR WATCH FUNDRAISING EVENT TO HELP END VIOLENCE AGAINST AUSTRALIAN WOMEN AND CHILDREN.
BOOK HERE. 
Engaging Women does not profit from its ambassadors program.
Check out our other awesome nights here.  Or mail info@engagingwomen.com.au to find out how to hold your own event..
Got five? Check out our recent video content here.