Nicolette Fraillon was just 12 when she set her sights on becoming a conductor. The only problem was all of her role models in the world's orchestra pits were men. Fraillon's dream profession was steeped in tradition and females were persona non grata.
So what did she do?
She studied: music, languages, literature, art, history, politics and psychology. She embraced every opportunity life presented, was flexible and became a student of the world.
Today she's Chief Conductor and Music Director at The Australian Ballet, prior to that she was director at the School of Music at the Australian National University.
But those first years after graduating from uni in the early 1980's she was confronted with a range of women in the workplace issues.
And that must have sucked.
Nicolette Fraillon: What I hadn't reckoned on at that time was there were very few female conductors, there was maybe one working professionally in the world (perhaps two).
Certainly in the early to mid 1980's when the Vienna Phil (Vienna Philharmonic Orchestra) was all men – the idea of a female conductor was totally taboo and in many of the institutions to which I applied for further study, when I went to pick up the application forms I was told, "You can apply, but they won't let you in because you're a woman. It's not written policy but it's unspoken and you haven't got a hope."
Martine Harte: You must have found that incredibly confronting?
Nicolette Fraillon: Not confronting in a daunting sense, but confronting in really making me think of issues in a very different way …  The majority of students were women; the majority of students who were getting the top marks and topping the courses in every respect were women and yet that wasn't then translating anywhere, certainly not in Austria or Germany, it wasn't translating into the workplace.
MH: I'm deeply curious to know what characteristics you believe helped you in the early days, why did you 'push on' when almost everyone was saying you didn't have a hope?
Nicolette Fraillon:
Courage: to try, to do, to succeed, and, most importantly, to fail.
Obstinacy: a kind of perverseness if someone tells me I can't do something (for no good reason), I'll do everything to prove them wrong
Optimism
MH: You've mentioned to me that you are relieved the place of women in society is on the agenda? 
Nicolette Fraillon: ..I was very frustrated at ANU (Australian National University) at how non radical the young women were and they thought they were advanced when they actually weren't. And in terms of my own career as a conductor it has been bloody difficult being a woman. It's a really difficult pathway anyway, and it has been a thousand, million per cent more difficult as a woman. For a lot of the same reasons it is for a woman in any kind of leadership position.
The former P.M.(former Australian Prime Minister Julia Gillard)  besides what I may or may not think politically – watching what happened to her as a woman has made me incredibly angry. It is relevant and we haven't been speaking about it enough.
MH: You have blazed the trail for many younger women, thank you for being one of the first, what is your best advice for the female conductors of our future?
Nicolette Fraillon: To any conductor I would say: prepare immaculately or you do not have the right to stand in front of a group of highly trained experts and try to lead them to a communal, high level outcome.
To a female: be aware that, in addition to the enormous obstacles facing any conductor, you WILL have additional ones based on your gender. Do not give up. Do not let them discourage you, but be aware that in order to achieve the success of your male colleagues, you need to be 300% better!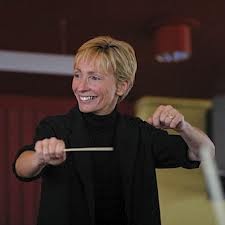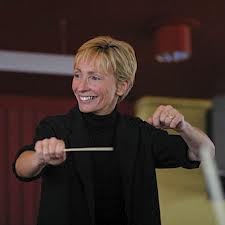 WANT TO HEAR MORE? Head to the ballet   www.australianballet.com.au/.