"The volunteers seem to get as much out of it as the families. The simple act of giving has an incredible flow-on effect. These girls are determined to get the job done." St Kilda Mums.
Thanks to the good people who support St Kilda Mums, this little poppet gets to ride in a top quality, safe car seat.
It was a proud moment for her mum who sent St Kilda Mums this thank you note:
"Elara in her new car seat thanking you guys very much. Happy for this to be shared or used as a thank you and others can see the joy you always give to all. Thanks xxxxx"
For disadvantaged, young families the cost of essentials like car seats, cots, prams and clothing is often impossible to meet. That's where St Kilda mums steps in, it reuses and re-homes quality babies and children's gear to meet growing demand from welfare agencies and health nurses. It not only supports vulnerable mothers but plays a part in sustainability by stopping wastage.
After dropping in to their immaculately organised warehouse I have seen first hand that it's a win, win. The volunteers seem to get as much out of it as the families. The simple act of giving has an incredible flow-on effect. These girls are determined to get the job done.
Martine Harte: Can you take us back to the beginning, how was this baby born?
St Kilda Mums: There were five mums visiting the local maternal health nurse and they noticed people were dropping in saying, "I have some clothes to donate" and the nurses (who were really busy) replied, "just put them in the closet and we'll deal with them later." Of course they never got the time, so Jessica Macpherson – who we've recently employed as our CEO – asked, "would you like us to take the stuff home? We'll give the clothes a wash and put them into nice bags and perhaps that is going to be a better way for you to hand them out."
The nurse handed the clothes out to women in need and then the word spread like wildfire.
So it initially started out of your homes, you had working bees to make sure the prams and cots met National Safety standards and now you have your super organised warehouse. 
St Kilda Mums: Yes between 2009 and the end of last year we'd rehoused around 4,100 items and this year alone we've rehoused the same amount, so we've just been able to say yes to so many more things and turn it around faster.
You can volunteer for a shift for two hours a week  or you can take clothes home and bundle them into the bags, or come and fix prams on the weekend, it just gives us that flexibility. We now have more than 443 volunteers.
That is all kinds of excellent! 
St Kilda Mums: We've got a lot of skilled volunteers; we have a dad called Ross for all our website design, flyers, the sign on the front of the warehouse. There are grannies who knit booties and cardigans from their homes and then come and drop them off once a week. There's a group called the digital divas who do all our data bases and excel spreadsheets – it's such a huge community effort. We were very lucky to get a grant earlier this year (from Perpetual Trustees) we've been very lucky to put Jess on as CEO which has been fantastic.
Some of us can live in a bubble but the truth is that for many women day-to-day life can be hell. Many are fleeing violence, they're trying to put breakfast on the table and obviously there's the crisis that ensues if a family member becomes sick. Is this something that is obvious to SKM?
St Kilda Mums:  We work with over 130 of the social service agencies and can help women fleeing domestic violence or who are in some sort of transition in their lives. We work with refugee families, sex workers, with the sacred heart mission, it's quite a broad range of agencies that we help.
Even if you're just looking at the basics: a pram, cot, baby basket, car seat, you are easily looking at 400-500 dollars to buy those new. It is a luxury to those that can afford it but it is also an essential for people who are having a baby and often these women don't have support networks. They don't have a sister to pass it on or a friend to pass it on. I would hate to imagine people would have to go without it and put their baby in a drawer to sleep or something like that. Instead of me passing it on to a friend it means passing on to someone that's really in need. We rehome the items so quickly so if you donate this week, within two weeks it could be with a family who needs it. It just goes through a safety check, might get a clean and within two weeks it can go out.
You try your best to present the packages beautifully like gift packages it's not just the dregs whats the reasoning behind that?
St Kilda Mums: The catch phrase we always use is we wouldn't rehome any clothes that we wouldn't be comfortable with our own children wearing. I think we really always wanted to feel it was a gift and presented beautifully so the families receiving it saw it as beautiful clothes packaged up nicely, not second-hand clothes that no-one else wanted. We are really strict about our standards so we won't accept anything with stains.
We're very strict because we do really want the people receiving it to feel it is a gift for them and their children are just as valued as anyone else's children. The girls who do the bundling just do such a beautiful job, it's by age and gender and there's enough in for at least for a season.
Why did you not think we've already got the wonderful Vinnies and Salvos and other crisis groups why did you guys not have a "she'll be right" mentality?
St Kilda Mums: Because they don't rehome the cots and you still have to purchase the items. We are very focussed environmental sustainability we don't want people to throw those things out.  We actually have developed a really great relationship with Port Phillip and Stonnington tips, they get things that often still in boxes. They call us to say, "we've just found this cot which is in immaculate condition come and get it."
You guys all have busy jobs and busy family lives, how do you stay motivated with St Kilda mums?
St Kilda Mums: I think that's probably the easiest part of the equation because we hear the stories of the families getting the goods or we talk to the case workers or we get feedback through emails or notes, we have a notice board in the warehouse where we pin that up. It's the instant gratification that what you give will be with a family next week and a child who needs those clothes will be wearing it. And then you'll read a thank you note; the mum that you gave the clothes to cried or the mum had never had new manchester in her life and was just so overwhelmed to be able to put clean sheets on her kids beds.
The feedback is constant and you know you're helping more and more families each week. Finding the time can sometimes be challenging but again one of our things with our volunteers is you can bring kids to your shifts.
You guys offer a solution to the feeling that a lot of us mums experience, where we just want to protect little children, you've come up with a way to do that broadly, so congratulations.  
St Kilda Mums It's been a collective effort but yeah it's been a great experience.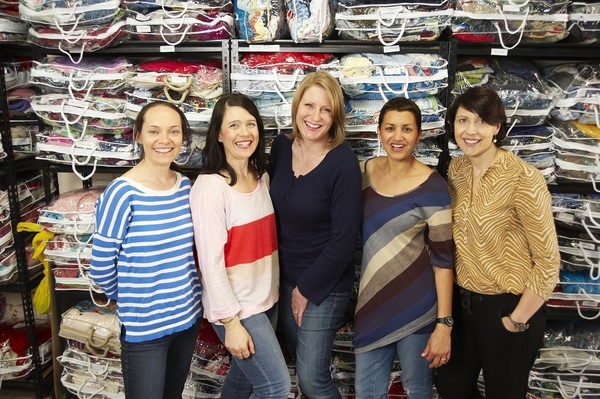 Thanks to photographer Bec Walton for the warehouse images 
WANT TO HELP?
       Head to www.stkildamums.org/
The girls are opening their warehouse in St Kilda Melbourne for the first time this Saturday. Check it out if you are in Melbs.