"It's so hard. When I had my son I was so excited and so happy but then when I got him home I had so many questions, "what do I do with this thing? I can't breastfeed!" … I was thinking, "I just want my mum."  Cheryl Strong.
Fourteen years ago Cheryl Strong's heart was broken by the death of her mother Lorraine (the lovely brunette in this picture below).
Cancer stole her strong, beautiful mum; we all know the disease is brutally unfair.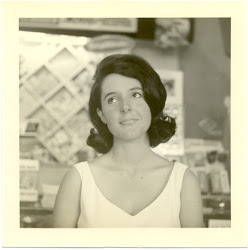 Lorraine missed her daughter's wedding and the birth of her grand children. But her nurturing character traits are clearly living on.
You see Cheryl has channelled her grief into creating a comforting blog to help others going through the same thing.
I'm so happy to be able to shine a light on her good work…
Martine Harte: Cheryl I'm sure many readers have friends who are grieving or maybe they're even going through it themselves. Is there anything we can do to help motherless daughters?
Cheryl Strong:  Definitely. Just say, "I'm here if you want someone to listen."
When I launched my blog, a girl sent me an email and two weeks later we just met up and had breakfast together. I swear we did not stop talking for 2.5 hours, the common thread was the loss of a mum. We still keep in contact and I ask, "Are you ok? How are you travelling?" Just being able to reach out is good. That's why I have this dream of trying to bring these women together, I've started by doing it on my blog and hope to take it to another level. My dream is to one day start a charity for women who have lost their mothers.
You are careful to point out that your blog is a happy, positive space, why is that so important to you?
Cheryl Strong:  I really wanted to create somewhere that was happy and full of inspiration and paid tribute to the mothers that we've lost. It's about sharing beautiful memories, love and quotes, so if you're having a bad day or bad week you can go on there and not only see that you're not alone but also feel inspired.
If there was something you wished somebody could have said to you when you were grieving what would that be?
Cheryl Strong:  I do remember my dad saying, "do whatever it takes, whatever you need to do to grieve just do it, don't hold it in."
If you need to minimise your life and go and live on organic food in the middle of nowhere just do it and be true to yourself. It's better out than in, that's what I've learnt from my grieving process.
That's really good advice because there are no expectations.
Cheryl Strong:  Yeah exactly, and I think it was also directed at my brothers – males in society often hold things in and you hear stories of people who have withheld their grief and all of a sudden they harm themselves or someone else. He was saying, "if you don't deal with it, it may come out in some other way.
Was it difficult when your children were born?
Cheryl Strong:  It's so hard. When I had my son I was so excited and so happy but then when I got him home I had so many questions, "what do I do with this thing? I can't breastfeed!" … I was thinking, "I just want my mum."
I just wanted to be able to ask her questions and get answers and then I wanted to know what I was like as a baby. My dad would say, "well you never bloody cried that much." (Laughs)
I was so happy to have a baby but just yearning to have that connection with my mum again. I never feel jealousy (I hate the word)  but when I'm having coffee and I see a girl walking with a stroller having a coffee with her mum… again it's not jealously but I just think, "I want that."
That's understandable…
Cheryl Strong:  And when I had my daughter I missed my mum like there was no tomorrow because my mum knew how much I wanted to have a daughter. From day dot – as much as I love my son – there's a whole new level of connection with my daughter. She's 19 months but for someone who can't talk she just knew how to communicate with me. Every night I thank my mum for her.
… Probably one of the hardest things I find is I was 24 but I was still very young and I wasn't in a good space. I was finishing uni, I had no idea what I wanted to do, had broken up with my first boyfriend.  I remember lying in bed with her and talking to her but not talking to her like I would talk to her now. I'd love to take her out spoil her, take her to high tea and pamper her, now that I have a different appreciation and understanding of women. Anyway … that's something I'll never get the chance to do.
Some people don't ever reach that point, that's the irony, the more you love someone the more you miss them…
Cheryl Strong: Yes and I was very lucky to have our relationship. It's hard to explain; it wasn't the type of relationship where we sat down and she knew everything about me and I knew everything about her it was just an energy that I can't explain.
If you had to name the best thing that your mum Lorraine (an award winning Real Estate agent) taught you, what would it be?
Cheryl Strong:   She just taught me to always respect others really, to love myself and to believe in myself. I can't succinctly put it in one sentence but always taught me to respect other people.
Does it make it easier having dealt with something like this to understand that life is comes to an end for us all and we should try to appreciate every day?
Cheryl Strong:  Oh yeah definitely. My darling husband is the eternal optimist, he wakes up happy every day! I think she put him in my life. The flip side of that is I just know how much it hurts to lose someone, I just don't want people to go through it, it's heart wrenching but I've learnt that's life, bad things happen to good people.
If you were able to speak with her now what would you say?
Cheryl Strong:  I just would thank her for being such an amazing mother and just thank her so much. I think if she was here I'd want to kiss her feet and surround her with flowers.
I know how challenging it is as a mother and she was so inspiring.  If she was here I would just thank her for being such a beautiful mother.
As you can see Cheryl is lucky enough to have her own beautiful family now, husband Darren, son Lachie and little Ella. Brilliant!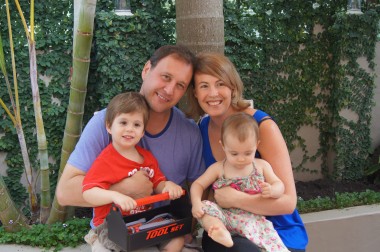 ABOUT: Cheryl Strong
Busy mum of 2 and creator of an inspirational little corner in a very big cyberspace motherlessdaughtersxo.blogspot.com.au/
You can also contact the Australian Centre for Grief and Bereavement www.grief.org.au/