Bayside Melbourne women honoured
If the pursuit of gender equality is to be successful it needs to be propelled by women and men.
The Engaging Women platform was grateful for the acknowledgement of Federal Member for Goldstein, the Honourable Tim Wilson on the floor of the nation's Parliament in 2018.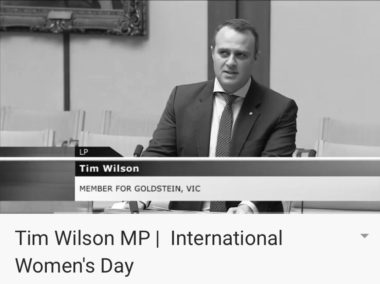 In a speech to mark International Women's Day Mr Wilson singled out role models working towards gender equality and expressed how important it is for men to stand up for women's rights.
He rightfully began the speech by honouring one of the most influential suffragettes in Australian history Vida Goldstein.
"I have the privilege of being able to represent an electorate that is named after one of Australia's most well-known women, Vida Goldstein.
In 1984, the division of Goldstein was founded to honour a particularly courageous woman, Vida Goldstein, who was instrumental in winning the right to vote for Australian women, two decades before the United Kingdom.
Vida Goldstein's legacy was not just as a suffragette; she was one of the first women not just to vote but also to buy property and enter into marriages on the same terms as men, "Mr Wilson told the house.
Vida (pronounced Vy-da) was one of four female candidates at the 1903 federal election, the first at which women were eligible to stand. She was born in Portland in Victoria in 1869.
Despite women such as Vida Goldstein fighting for foundation rights we still have much progress to make.
Find full speech in Parliamentary hansard here.
Honour roll
Beryle Campbell Foster OAM – for services to women including legal service, the National Council of Women Victoria and League of Women Voters Victoria.
Faye Haskin-Durbrowin OAM – for service to interfaith relations and community.
Millicent Roper – 2018 Young Citizen of the Year for work to create an inclusive culture at Bayside schools.
Stevie-Lou Answerth – 2018 Young Citizen of the Year for work to create an inclusive culture at Bayside schools.
Hatice Basarin – for dedication to preservation of Australian and Turkish military history.
Cara Morgan – Young Citizen of the Year.
Michelle Ayuce – for her work ensuring women are able to successfully manage career breaks and family commitments and to continue their careers without disadvantage.
Mr Wilson highlighted the collaboration between his office and Engaging Women on the Bayside soiree to celebrate and advance women in the Goldstein electorate.
Thousands was raised to support the work of family violence organisation Our Watch.
Engaging Women was honoured got have been given a special mention.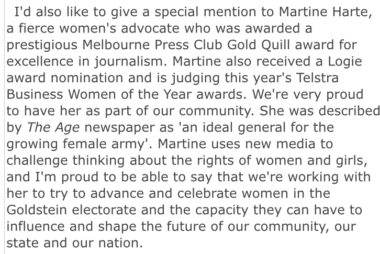 See the results of this collaboration between the office of Tim Wilson and Engaging Women here.
https://engagingwomen.com.au/shared-stories/bayside-womens-soiree/