"For me, the most beautiful thing watching a show is being able to see a person's soul. I don't think you can hide that when you're out on stage." Leanne Stojmenov.
Leanne Stojmenov is a mesmerising Cinderella before and after the clock strikes midnight.
The Australian Ballet's principal artist recently took out the 'Outstanding Performance for a Female Dancer' at the 2014 Australian Dance Awards held at the Sydney Opera House. The Australian Ballet swept the awards.
Judges noted her emotional depth and stamina.
I discovered passion and pilates have informed her stunning performance.
Delighted to introduce Leanne…
Martine Harte: Leanne what's it like playing Cinderella in this glam production choreographed by Alexei Ratmansky?
Leanne Stojmeov: It's quite demanding physically. Alexei Ratmansky pushes his dancers to the extreme physically and also gives us a lot of information on how he wants the ballet to be done; so there's no really any second guessing of character. The two words that come into mind are: intense and focussed.
He received great comments on how well he made our company move.
We're all so curious to know, what does it feel like when you step out on stage?
Leanne Stojmeov: I try and let go of all the things I've been working on, trust the rehearsals and let myself be taken away with the music.
For me, the most beautiful thing watching a show is being able to see a person's soul. I don't think you can hide that when you're out on stage.
There's so much to be said about the mental benefits of watching an unfolding performance, I'd argue it's a form of meditation.
Leanne Stojmeov: It's interesting you say that because I went to see Sydney Theatre company perform on the weekend – it's not often I get to see a show – I thought, "for the last two hours I've been entranced and haven't thought about my own life."
How do members of your company stay motivated?
Leanne Stojmeov:  Everyone in the company has a passion for dance. It is our life. You just keep striving.
If you're lucky you get a job and go straight into professional life. There was a time in my career – I'd been in The Australian Ballet for four years and previously I'd been in another company for two years – and I was playing a chicken for 21 shows. (laughs) My inspiration was waning.
People would say, "ok, do something about this, make something happen." I applied for a scholarship in the company and received a travel scholarship throughout Europe.
Every time I returned that little bit richer and had a broader perspective.
Sounds like you created your own destiny. Awesome. Do you have any techniques to help us improve our confidence on the big stage of life?
Leanne Stojmeov: I'm not the most confident person but I'm driven by a curiosity to see if I 'can' actually do something. I've always had to work really, really hard to get a role. Being as prepared as possible helps confidence.
What's the best part about being a dancer?
Leanne Stojmeov: The times you can feel an audience is loving what you're doing and you're on top of your game, I think they are the moments you are always striving for.
They don't come often but it's a feeling of elation. I think many occupations could relate to that.
Your husband, former Australian Ballet dancer Marc Cassidy, and yourself are into pilates, tell us, tell us..
Leanne Stojmeov:  Marc had quite a few injuries when he was a dancer so it was a necessity for him.
Now that's he retired he's opened a pilates business. I've also been doing a course. I started pilates ten years ago, the physical changes helped me so much in my career; kind of refined my technique and transformed my body to be at its best functionality.
To do a full length ballet you need stamina and endurance. Pilates strengthens the right muscles; stops you wasting energy.
It was a really transforming thing for me, I really believe in it.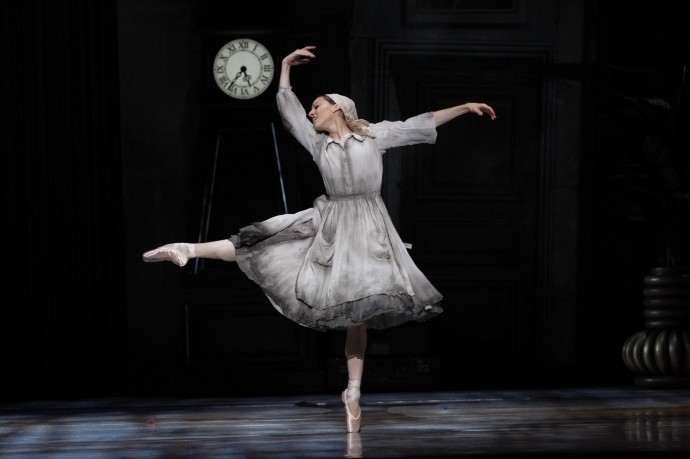 Images: thanks to James Braund and Jeff Busby.
Next week we find out how Leanne fuels her body for a performance. Thank you so much Leanne.
WHY NOT SURPRISE SOMEONE WITH TICKETS TO THE BALLET FOR XMAS?
Cinderella is back for an encore Melbourne season June 2015 find out more here.
It is set to Prokofiev's beguiling score and features Surrealism-inspired sets and costumes by French designer Jerome Kaplan.
Tickets go on sale for Giselle tomorrow morning.. pop across here.
Got two minutes? Why not check out my interview with Natalie Bassingthwaighte?