"It was tough for sure, as the dancers were tearful, but I'm so fortunate to have so much respect, support and camaraderie at The Australian Ballet, plus I've spent more than half my life there so deciding to leave was always going to be emotional." Lucinda Dunn.
Australian Ballet's longest-reigning ballerina, the brilliant Lucinda Dunn performed for the last time in 2015.
Deciding to give up the stage was inevitable for the 40-year-old mother of two; injury had taken its toll, but retirement is something many dancers grieve.
A sold-out Sydney Opera House gave the tearful Dunn a 10-minute standing ovation.
After meeting her I know she will forge another interesting chapter with her two little girls centre stage.
Yet there's no glossing over the fact that the decision must have been very hard.
Here's Luci…
Martine Harte: What kind of emotions has retirement stirred for you?
Lucinda Dunn: I'm an emotional person anyway, so telling my director that I have made my decision was difficult and I was teary for a few days, but then I felt relieved. I've had a fulfilling and lasting career, so it's not like I haven't done it at all!
And it's no surprise that a ballerina's career won't last forever.
This has been your life for 23 years. How tough was it telling the company?
Lucinda Dunn: It was tough for sure, as the dancers were tearful, but I'm so fortunate to have so much respect, support and camaraderie at The Australian Ballet, plus I've spent more than half my life there so deciding to leave was always going to be emotional.
Describe for us the moment when you thought it was time?
Lucinda Dunn: It wasn't one moment as I've been considering retirement for some time. I wanted to end my career on a wonderful ballet that suits my physicality. Once I had my debut of Manon earlier this year, it was apparent that this was the perfect vehicle to bid farewell.
What was the conversation like with your husband?
Lucinda Dunn: Danny is incredibly supportive of me, and knows first hand the struggles of this profession and the reality that I can't dance forever. So I think the reality of retiring was always going to be an emotional one.
How did you tell your little girls?
Lucinda Dunn: I just said that, "mummy won't be doing ballet anymore," a little difficult for a 2 and five-year old to understand as that's all they know I do.
My eldest daughter is relating to it just like a summer holiday where I don't dance for a few weeks, but then return to the studio and the stage.
When you are an 80-year-old woman how will you look back at this chapter?
Lucinda Dunn: So many memories! I can imagine sitting by a radio with classical music playing, me recalling the choreography, tours, coaches and wonderful partnerships. Remembering what a fairytale chapter I had with the Australian Ballet, and the fact that I shared my career with my wonderful husband and returned to the stage after my beautiful daughters, makes it even more incredible.
By then I would have forgotten the disappointments and injuries that are part of a ballerina's life.
In 2015 I will take up artistic directorship of the Tanya Pearson classical coaching academy and Sydney Youth Ballet.
What do you make of the media's pre-occupation with women in the public eye turning 40 and 50?
Lucinda Dunn: Everyone ages, it's a number!  If you haven't achieved what you want before you're 40 or 50 then you can beat yourself up about it, or you can just get on with life and celebrate where you're at.
I don't understand the concern about older women being on TV, they've got more experience, if they're in front of a camera and interviewing people that's a good thing. We all have wrinkles, we all have age spots. I'm happy for what I've achieved.
4 QUICK QUOTES:
ON MOTHERHOOD AND CAREER
Some days I think I can cope but I'm not ashamed to admit that other days I feel like I'm sinking: thinking about rehearsals, doing my choreography, what's in the fridge, oh my goodness is there enough milk? My personal time is zero… but it's also the most wonderful thing that a woman can do.
ON STAYING IN SHAPE
I'm lucky I don't like 2 minute noodles, fried foods, I couldn't eat a pizza. I know I work really well on good proteins, a few carbs and I love fruit and vegetables. I cook all my own meals and we hardly ever eat out. I'm very big on grilled steak before a big show, it's such good fuel for the body.
ON HER POST-BABY BODY
I don't believe in the bikini 6 week body, god knows what those women have to do! I did lots of pram walking: pilates, a daily ballet class. It's about putting back together your core. I did bounce back but it was through me wanting to do it the right way and also the hard work.
FAMILY LIFE
Oh chaotic, absolutely! (laughs) I got home after the show last night and my five-year olds' up at 10.45pm, having a tea party. I've never been one to be on a strict routine.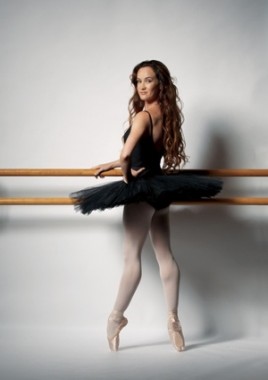 Image: James Braund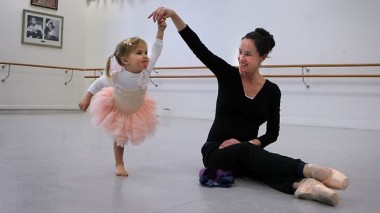 Images: theaustralian.com.au, Lynette Wills and Justin Smith
Many thanks Lucinda, virtual bouquet from all of us. M.