Be resilient. I'm yet to meet a writer that hasn't been rejected at some point. It's like a dirty secret bottom drawer that we keep.
Kirsty Manning Australian Author The Jade Lily.
Kirsty Manning's popularity on the Australian literary scene is no surprise given the passion with which she lives her life.
Kirsty lives amid an old Chestnut Grove in Victoria with her husband Alex and three children. She charms her readers with beautiful tales of female friendship, love, identity and courage.
Her second novel The Jade Lily  explores these themes as well as Jewish and Chinese history.
Friends, meet Kirsty…
Martine Harte: Kirsty huge congrats on the launch of your second novel, what has the response to 'The Jade Lily' been so far?
Kirsty Manning Australian Author The Jade Lily:
People have been pretty universal in their responses. Like me, very few people are aware that Shanghai was one of the only places in the world (aside from the Dominican Republic) that allowed people to enter port without a visa.
People say the following two things:
1. They had little idea of the Shanghai story of World War Two and the Japanese Occupation. Over 20,000 European Jewish refugees made their way to Shanghai in 1937, 1938 and 1939 and most ended up confined to the Jewish Ghetto under the Japanese Occupation.
2.  Reading about all the street food, the markets and the dazzling modern Shanghai in The Jade Lily has made them want to book a trip to Shanghai. So far, five people have confirmed  booking!
Martine Harte: It must be an amazing feeling to have your creativity received in this way?
Kirsty Manning Australian Author The Jade Lily:
To be honest, I'm still a little stunned!
It may sound strange, but I have always felt that this particular story felt much bigger than me …
I spent so much time doing the research, talking to former Jewish refugees who lived in Shanghai during the war. These men were so generous, taking the time to share with me their experience and explain Jewish rituals.
In one moving email, a reader told me her great aunt had escaped Germany in a hot air balloon during World War Two. Her aunt was always so resilient, so loving, and The Jade Lily had in part captured, and explained her courage and her nature. I was touched.
If people read The Jade Lily and feel empathy for refugees, for those who have been (or continue to be) stateless, then that is the best feeling of all.
Many women who read Engaging Women dream of writing their first book, can you share your top 5 insights about the process?
Kirsty Manning Australian Author The Jade Lily:
1. Give yourself permission to make time to write.
Nurturing our creativity is often not a priority. But writing a book requires a certain time commitment. Elbow out a corner of time to make this project possible —even if it just starts on the commute to work, in a lunch break, or when the kids are in bed or playing sport. Make time.
2. Your early drafts will not be perfect.
Early drafts can be a bit of a mess. That's normal.
The American author of one of the greatest books on the writing process,Bird by Bird,Anne Lamott has a wonderful phrase: 'the shitty first draft.'
Lamott writes:
… shitty first drafts. All good writers write them. This is how they end up with good second drafts and terrific third drafts.
People tend to look at successful writers who are getting their books published and maybe even doing well financially and think that they sit down at their desks every morning feeling like a million dollars, feeling great about who they are and how much talent they have and what a great story they have to tell; that they take in a few deep breaths, push back their sleeves, roll their necks a few times to get all the cricks out, and dive in, typing fully formed passages as fast as a court reporter. But this is just the fantasy of the uninitiated.
There are very few writers who have the story just pour from their fingertips. Most rewrite and re-work and massage until it is 'just so!' It will likely take far more time, and far more re-writing than you expected.
Keep going.
3. Be passionate and be fixated because it will take up an enormous amount of headspace and so you need to make it count.
4. Learn the craft. There are so many amazing writing courses around, along with online writing communities. Try both, if you can.
5. Surround yourself with positive people. Writing can be a lonely business and requires a certain degree of solitude. It's important to spend time with people who understand, who cheer you along.
What about your top 5 insights when it comes to having a book published?
Kirsty Manning Australian Author The Jade Lily:
1/ Be an avid reader and know your market.
Most writers I know are great readers across every genre, not just the area they write in. I read biography, historical fiction, commercial, literary fiction, poetry and crime. Study how great writers perfect their craft and then step away and find a way to make it your own. Also, knowing the market is important because agents and publishers always ask what the 'likes' are …
Get your manuscript in peak condition.
2/ Respect the publishers and agents you are giving your work to, and clean up typos and scrappy copy.
3/ Don't hand in that first draft, hand in something polished. Also, only send the chapters and synopsis they ask for … any extra will be deleted.
4/ Don't assume that your Mum and your best friend are the best judge of your work. Join a writing group, get some well-read beta readers to give you feedback. Be gracious and say thankyou—even if you don't agree.
But listen closely … you are not asking readers to tell you how to write—you are watching for their emotional reaction to a character, to a story.
The publishers are on your side.
Working with publishers, editors, publicists and marketing people is the most wonderful privilege. Never forget that. They want the very best for your book so enjoy that relationship and that chance to make your book the best it can be.
But remember that they also publish hundreds of other authors too, so don't get flouncy!
5/ Be prepared for rejection.
Be resilient. I'm yet to meet a writer that hasn't been rejected at some point. It's like a dirty secret bottom drawer that we keep.
Just because a particular agent and publisher doesn't like your story, doesn't mean it's rubbish! It just means it's not for them at the moment.
Don't quit at your first attempt.
Having said that—if the rejections say the same thing—it might be worth paying heed. I've learnt as much from the rejections as I have from the love.
Favourite book shop globally?
Kirsty Manning Australian Author The Jade Lily:
It is a specialist bookshop in Saint Germaine, La Maison Rustique. It's a bookshop totally devoted to all things botanical books and illustrations. Gardens, garden design, prints, flowers, rare books, growing food.
Bucket list now, thanks for planting that Parisian seed! How instrumental was your previous role as an editor and publishing manager in informing your work?
Kirsty Manning Australian Author The Jade Lily:
Very. I know that a manuscript can really benefit from the feedback and attention of a great publisher and editorial team. It is crucial to surround yourself with these clever people and have the right team.
Allen & Unwin have really nurtured my writing and I'm so grateful for their care. I feel the lessons I learnt on my first book have really been invested in The Jade Lily tenfold.
One of my favourite elements to your story is that you live with your hubby Alex and 3 kids amid an old chestnut grove in Victoria's Macedon Ranges. You planted an orchard, veggie patches and created herbal walks, nature seems to play a major role in your world?
Kirsty Manning Australian Author The Jade Lily:
I love being in my garden, doing hard physical work. It forces me to slow down. Gardening is a little like writing in some ways—it's not instant results. You have to have an idea, and break it down to plant out or weed section by section. It's easy to be overwhelmed if you try and do it all at once.
In my writing, I try to capture that old-school idea of how plants can uplift us and create something special.
I adore being in different landscapes, and I'm always peeking at gardens down laneways and over fences when I travel. I just can't help myself. Plants and landscape really inspire me every day.
Chinese Gardens are extraordinary and I feature them in The Jade Lily. I love both the contemporary and the ancient ones. These deceptive, simple gardens forced me to focus, change perspective. They teach us the Confucian philosophies of order and balance and the Taoist teachings of simplicity and restraint.
You are also partner in the Melbourne wine bar Bellota and the Prince Wine Store in Sydney and Melbourne?
Kirsty Manning Australian Author The Jade Lily:
My husband Alex works in the business. We specialise in teaching people about the best European, American and Australian wines available. Bellota Wine Bar was a natural extension of that. Food, wine and travel have always been part of our lifestyle, and our passion so I guess it was quite a natural evolution for Alex to make that his career. I'd love to say what a dream it has been, starting and running a business—but that's another whole article of challenges!
Business experience has given me the ability to dig deep, ignore the naysayers and cling to my personal dream to be a writer.
Many of us are plugged in 24/7 (for all its promise and peril) how did you find your voice?
Kirsty Manning Australian Author The Jade Lily:
I try to write about things I love.
Forgotten corners of history that weave through to contemporary times. Writing is a long game. I spend at least a year lost in the story and characters. (Dare I use the word, obsessed?)
Before I started writing novels, I had a clear idea of what I wanted my voice to be. I wanted to be a cross between A.S. Byatt, Geraldine Brooks and Michael Robotham.
You won't be surprised to learn that what came out on my page was very different! I had to write enough words to know what my voice was starting to sound like, then embrace my difference.
Hone your writing style, like you would your fashion style.
Sometimes when I'm struggling with writing, all the writing groups and noise online can make me feel quite like I'm never going to measure up. That I'll never be a 'good enough' writer. But I've learned that the elated feeling of a finished manuscript beats unfinished dreams and perfection.
Sometimes you just need to give yourself a break from the advice, and find your own solutions to a problem.
There will be a few gems of sentences among all the pages of writing. Use those moments to inspire you to keep going.
Be kind to yourself.
Ah yes, I find being kind is the answer to many of life's challenges. How do you combat that pesky inner critic?
Kirsty Manning Australian Author The Jade Lily:
With hard work. I make sure I research my story properly. I've learnt there is no divine inspiration involved in the writing process.
For me the key is discipline. It helps when I start on the book to dive in and stick at it until I nut out the characters and the plot.
Each book presents its own challenges. With The Jade Lily, I was stymied with nerves and self-doubt.
What right did I have to tell this story? I'm neither Chinese nor Jewish. And yet it kept calling. A chance meeting with the talented and generous Jodi Picoult when she was promoting Small Great
Things gave me some inspiration. I asked how she thought I could do justice to the stories of people less privileged than I.
Picoult's wise words, with apologies for any misquotes, went something like: Check in your heart you are telling this story for the right reasons.
Make sure it's a yearning to get to the heart of the matter – not to exploit it. And do your research properly: find the people who were, there, Jewish or Chinese, who had been cast out and desperate, and speak with them.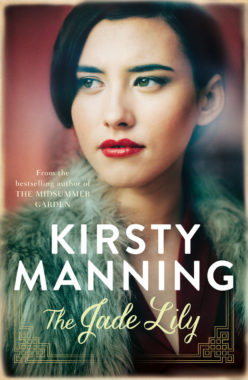 WANT MORE?
Buy The Jade Lily (in time for Mother's Day!) by popping over to Allen and Unwin here. 
Get in touch with Kirsty at her website here.