Justine Kuran, Artist.
There's something fascinating about the way many women inspect the world and try to make it a better place.
Justine Kuran first came to my attention through her intricate paper designs. Three-dimensional artworks which draw strongly on symbols and are collected by the Australian Jewish museum in Melbourne and Sydney.
Creativity is her drug, and she delights in her vibrant studio at her Melbourne home.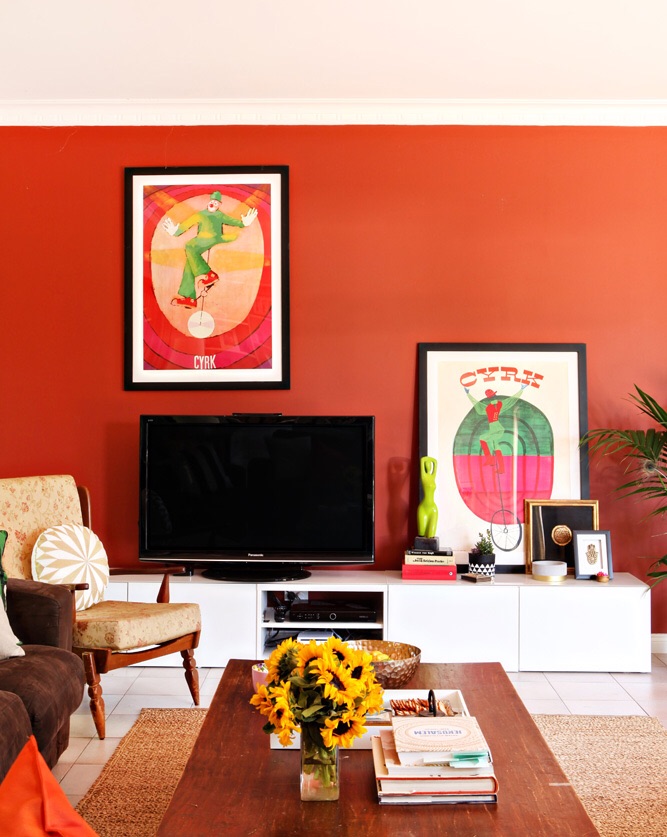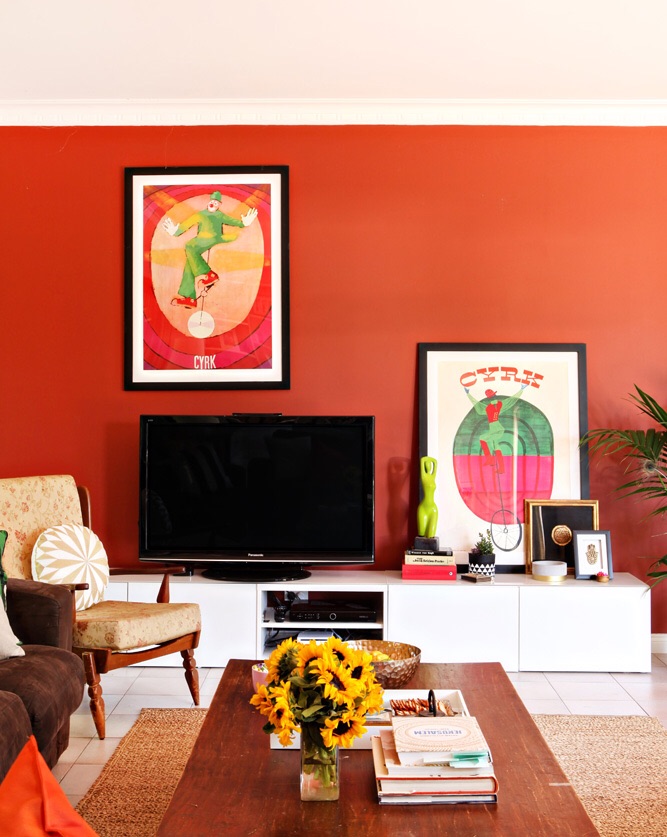 The warm Caulfield home Justine shares with her husband Bernie, 12-year-old Marley and 11-year-old twins, Shaini and Peri. Vintage Polish Circus prints pop in the space. Photo – Tania Savage Production – Martine Harte.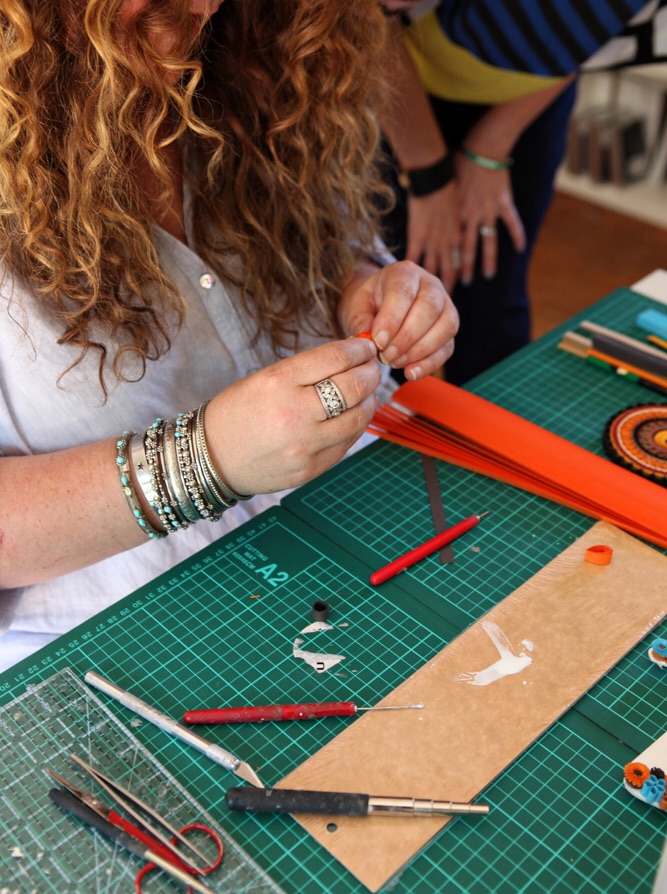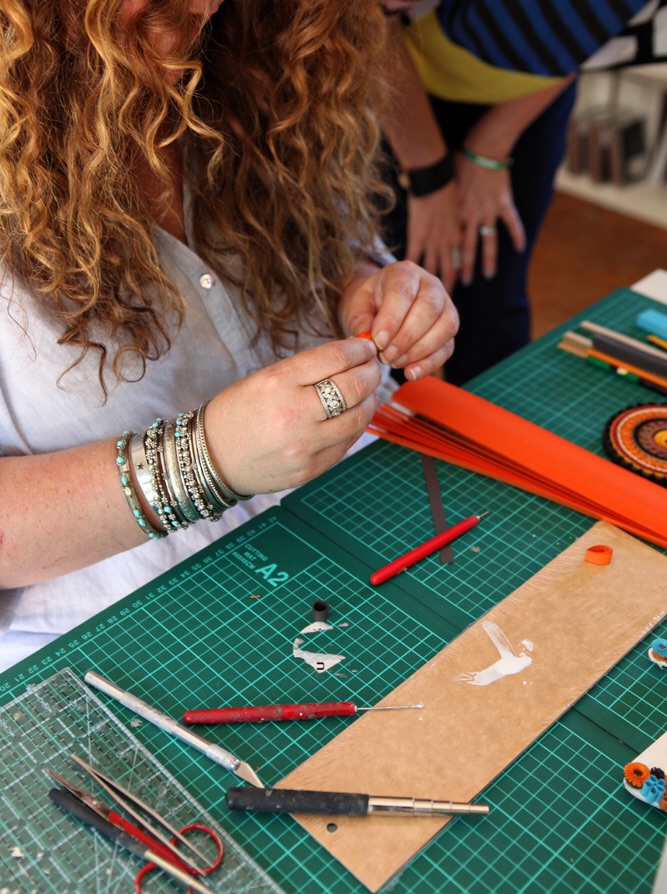 A self-taught artist, Justine started out collaging. After posting a few of her quilling works on social media she was soon commissioned and has had a steady flow of work ever since. Photo – Tania Savage Production – Martine Harte.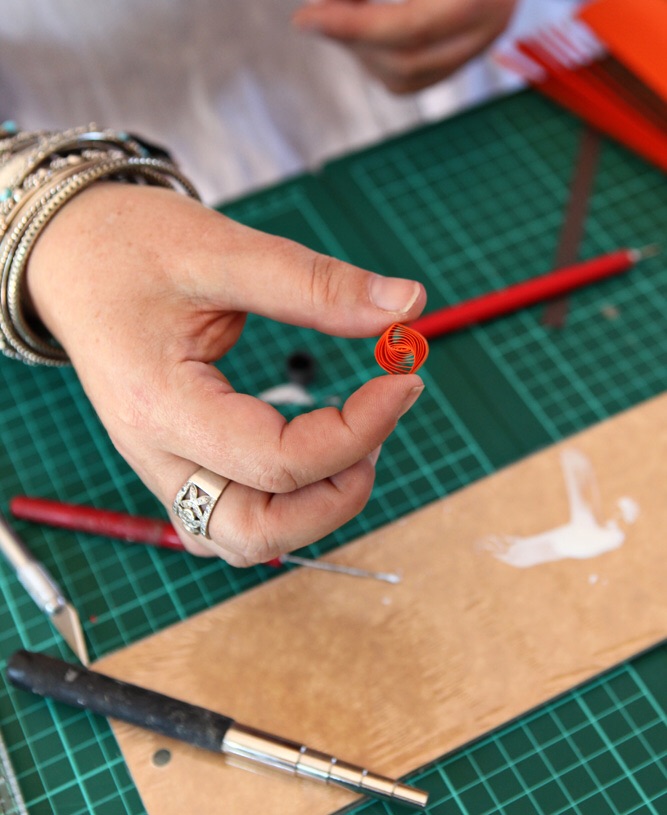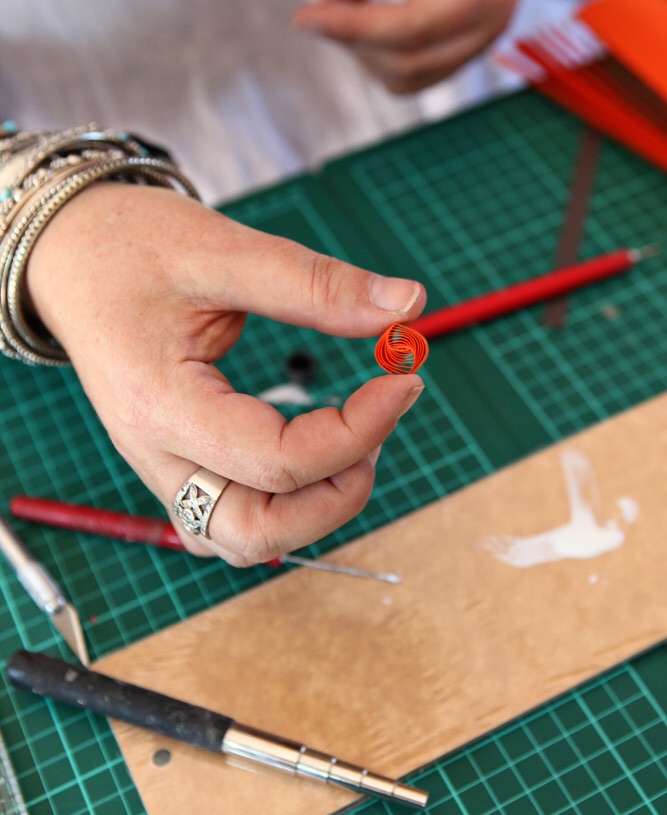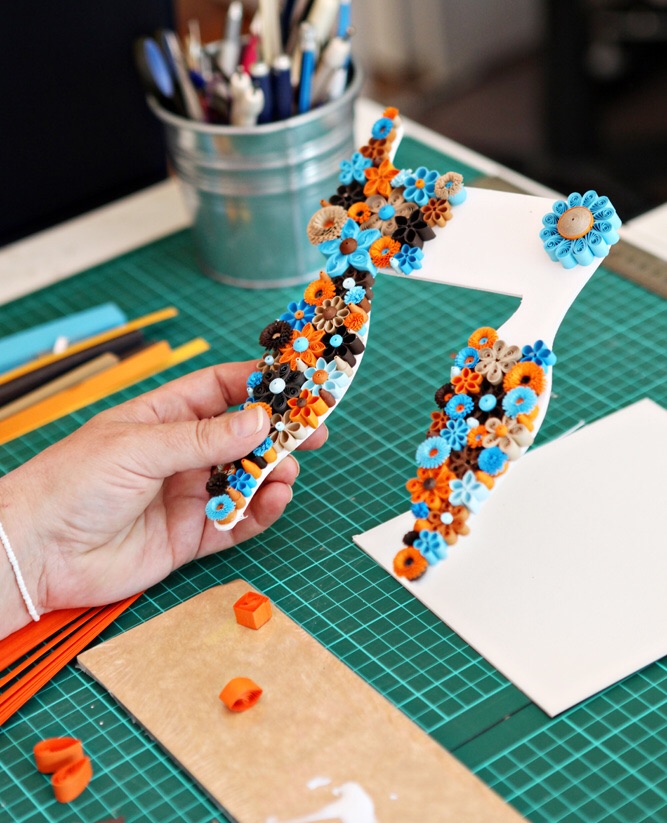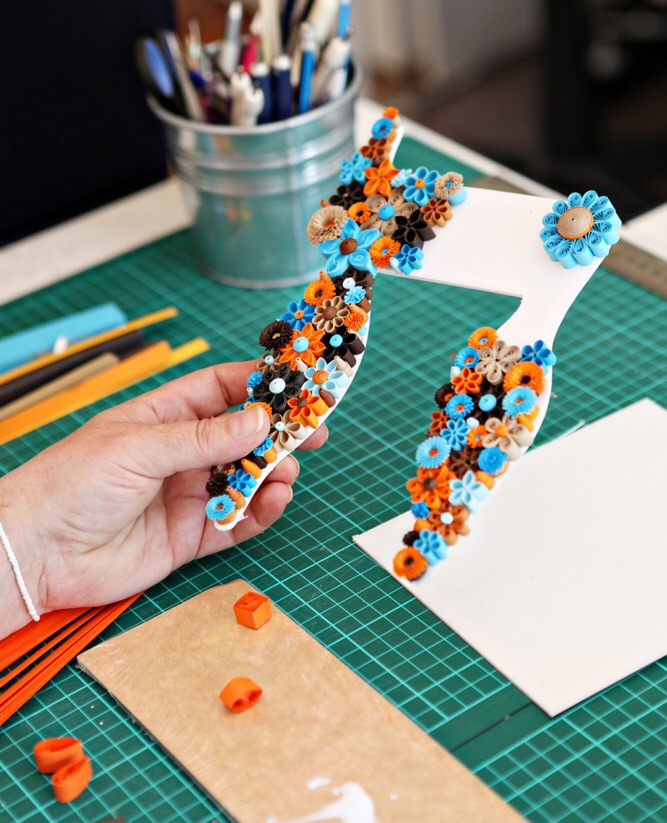 Photo – Tania Savage Production – Martine Harte.
While making art lifts her spirits, the latest terror attacks left Justine and friends questioning what they could do to help build a more tolerant world.
With the support of friend and celebrity stylist Henry Roth, they co-founded 'Breaking Challah' an annual dinner 'movement' which sees Jewish families invite people of all faiths to their tables.
Through breaking bread and explaining customs, they are helping break down the cycle of misunderstanding… one table at a time.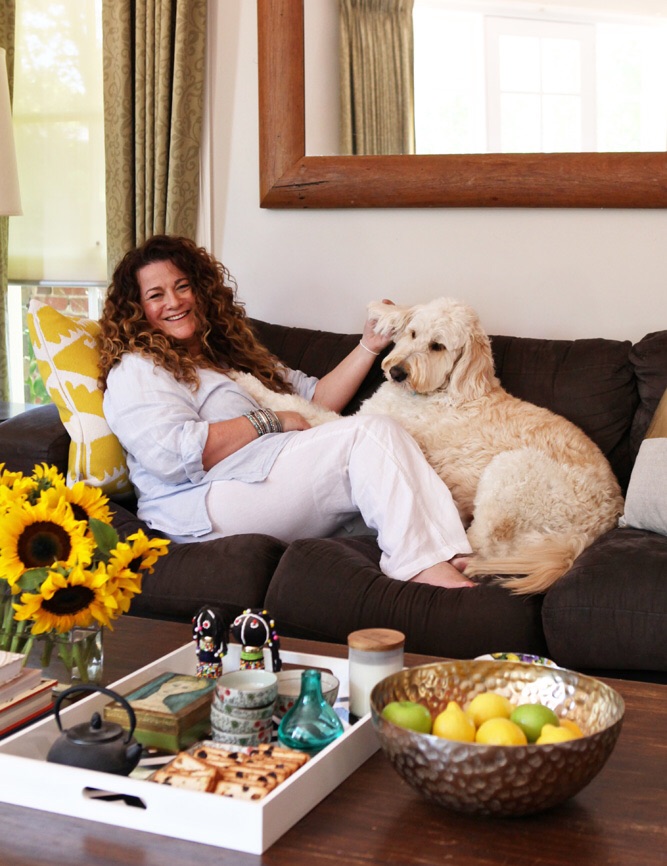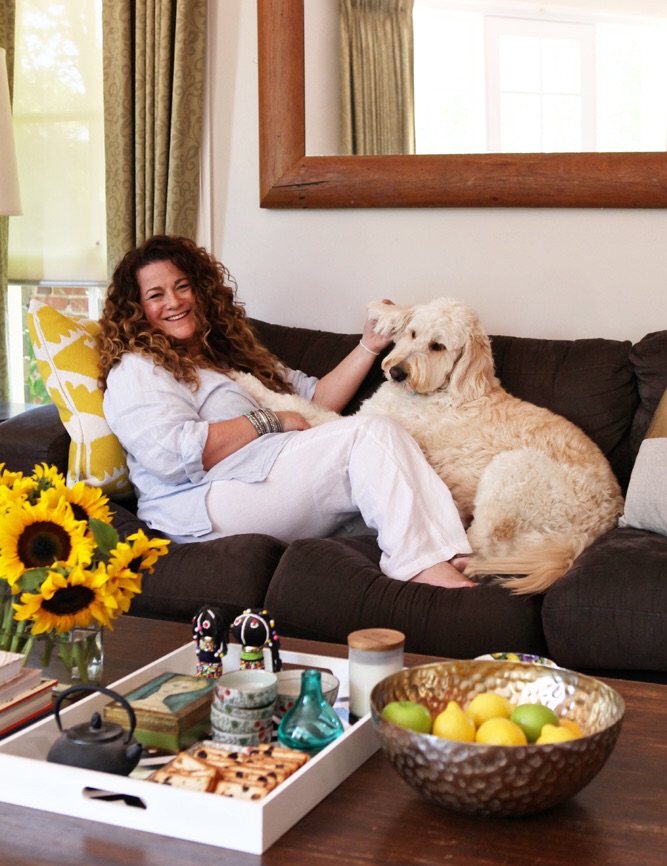 Justine Kuran and 'Mo" Photo – Tania Savage Production – Martine Harte.
Martine Harte: Justine how did the wonderful idea of 'Breaking Challah' come about?
Justine Kuran: With the rise of anti-Muslim, anti-Jewish, anti anything people don't understand, I felt I needed to do something. It is overwhelming to think of how we can make a difference on a global scale, but if we just look within our own community, we can make a difference.
A while back I had a Shabbat dinner here on a Friday night and invited about 30 people (half Jewish, and half not) which is standard at my table.
We had the most beautiful dinner, most of the guests were social media savvy and were posting photos; the next day it went viral!
The feeling of goodwill that came from this dinner party was amazing! It left me thinking, 'I wish I could bottle this and give it away to the world because everyone would feel great.
It evolved into 'Breaking Challah.'
Challah is the braided bread we eat on the Sabbath on Friday nights and the saying, 'to break bread' with someone comes from a place of peace.
This year we've got about 15 tables in Israel, Melbourne, Brisbane, Sydney – and next year we're aiming for 1100 tables.
Great idea! Where does your quest for social justice come from?
Justine Kuran: I was bullied for being Jewish, I went to school in Brisbane and was the only Jewish kid; it was gut wrenching.
I think the effects of bullying never leave you. I think because my family was so different – we went to the synagogue, we came home on a Friday night.
I always felt different and it has stayed with me my whole life. I feel like I don't fit in, even in my closest friendships; they're precarious. I'm always feeling someone is upset with me and I do feel that is the result of bullying.
How do you get to a point where you broke free from their judgement?
Justine Kuran: You become better than they expect you to be, you achieve more, you make a great life for yourself and you say, "screw you."
Which takes us to your beautiful quilling art how did it begin?
Justine Kuran: I started off collaging , it took off organically and it wasn't planned."
I started in a little local cafe, went and showed them a few pieces and they loved them so they put them on the walls – at the time my trainer was Shaynna Blaze's husband and he commissioned me to do a piece for her. That was really exciting.
I love, love, love what I do.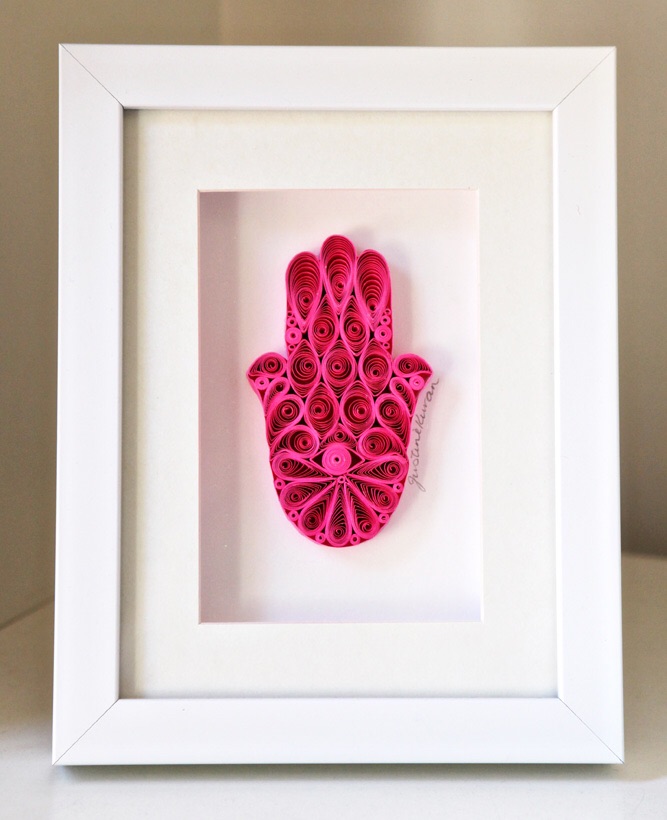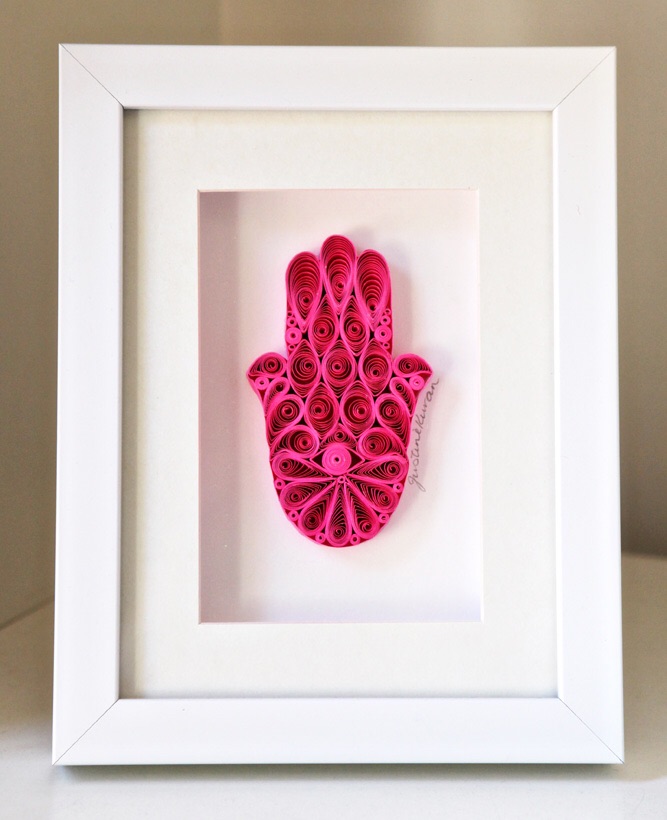 Hamsa design. Photo – Tania Savage Production – Martine Harte.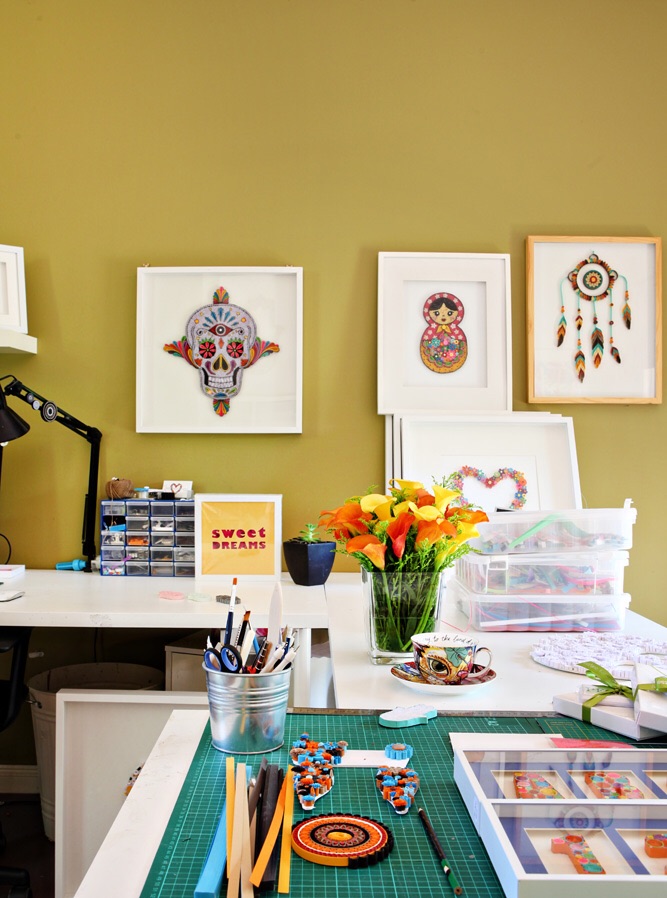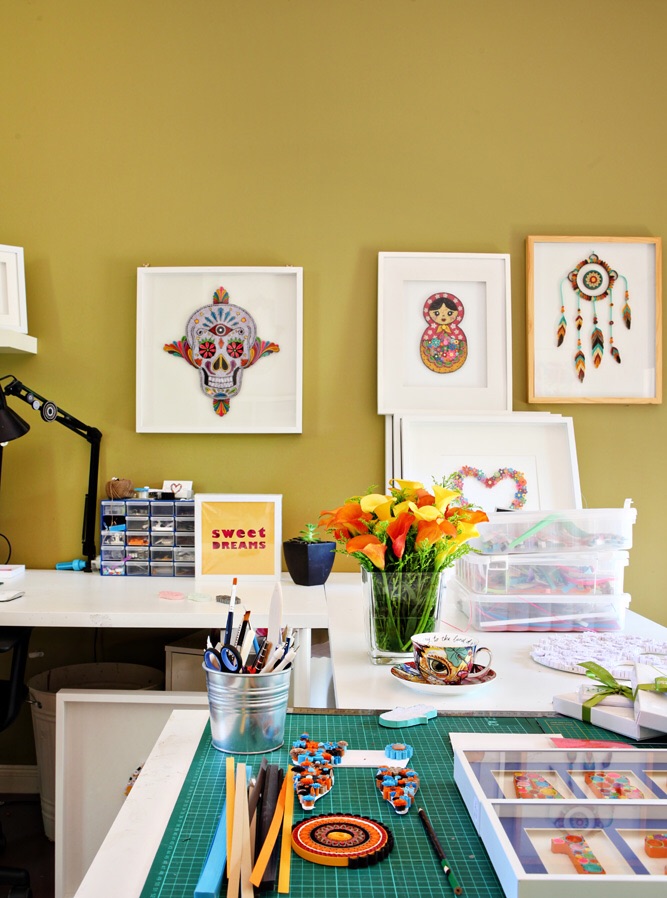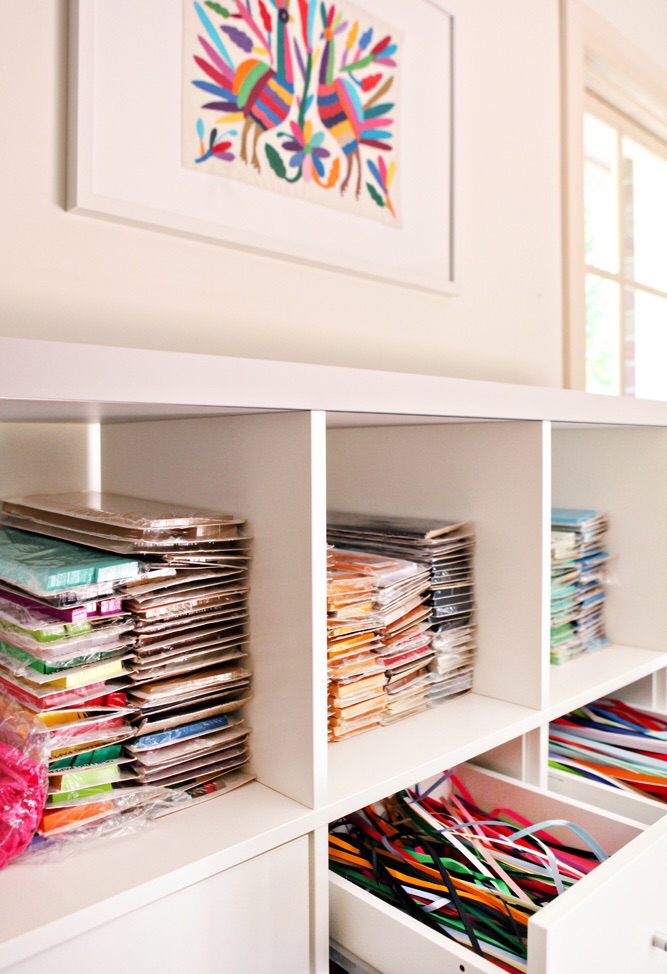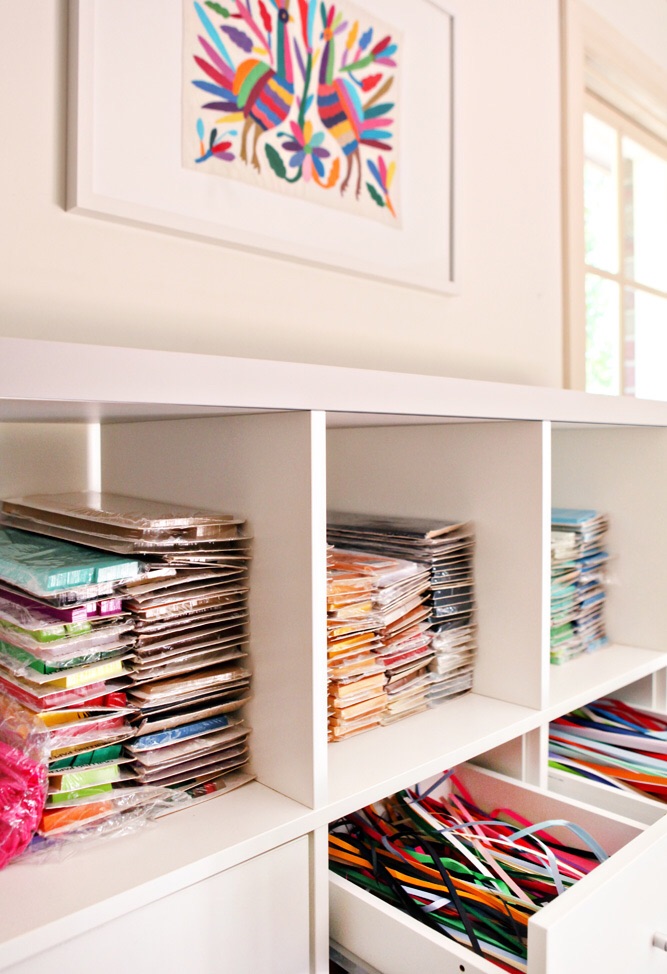 Drawers are heaving with paper, Justine's range includes limited edition prints, and cards. Photo – Tania Savage Production – Martine Harte.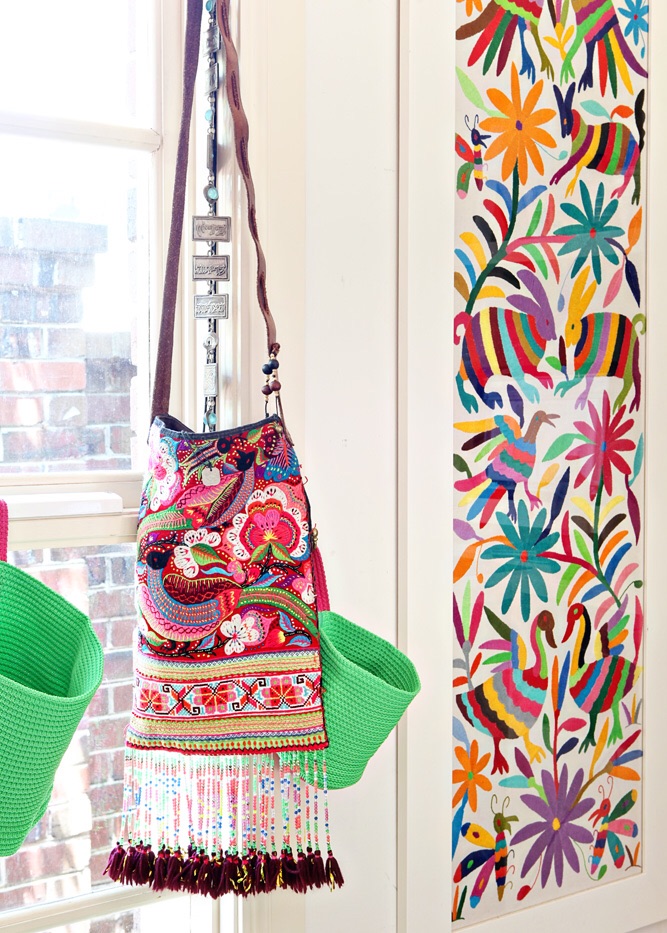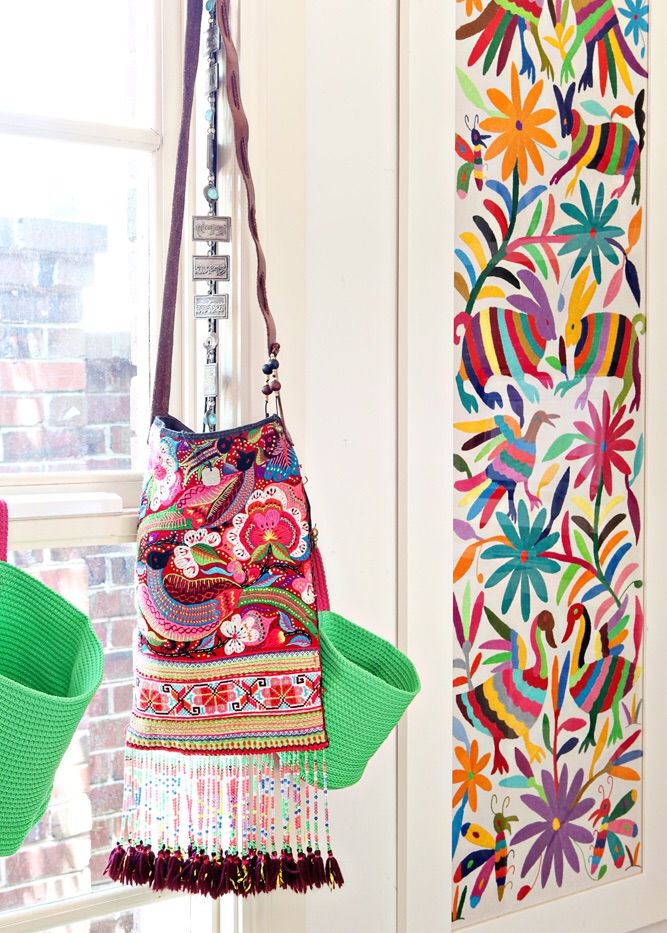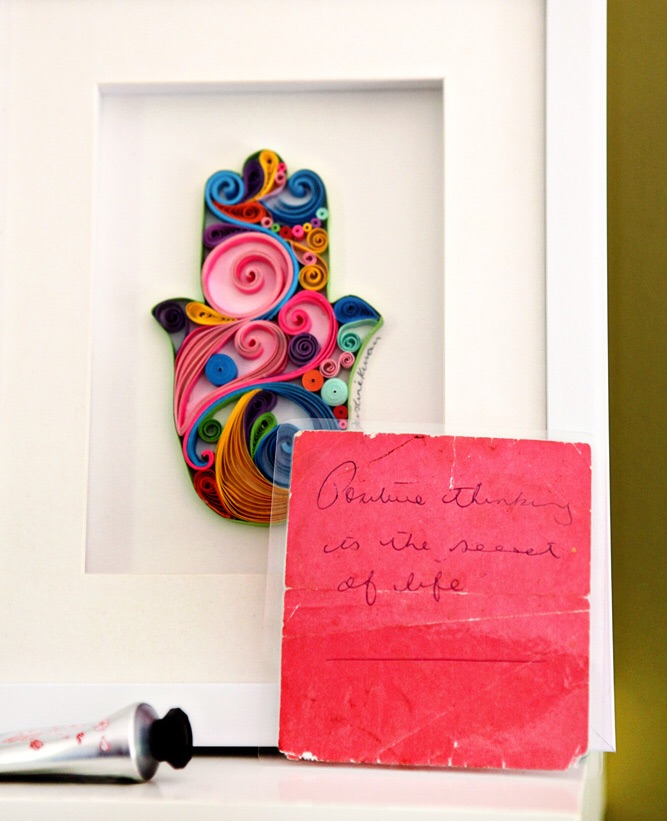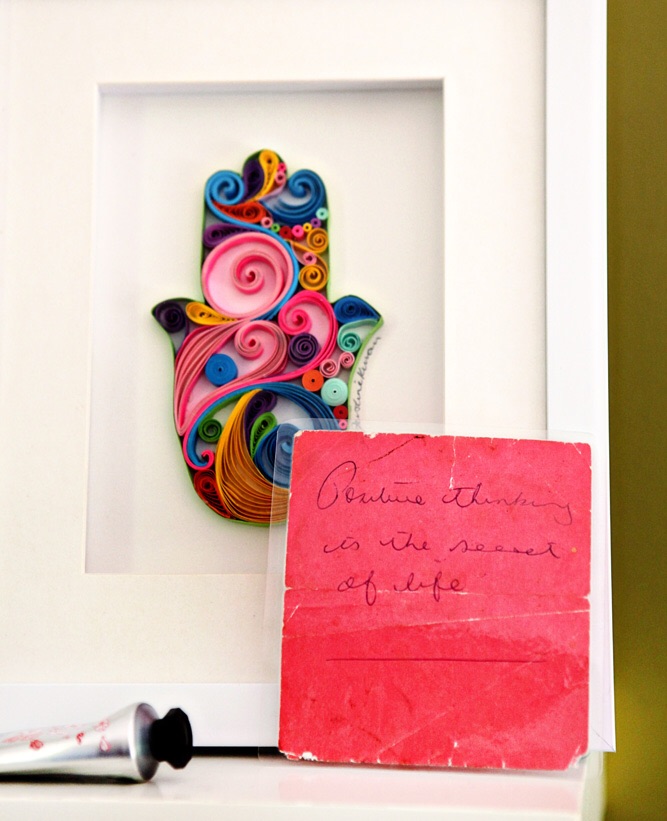 A note from Justine's late mum, 'Positive thinking is the secret of life.' Rests near her artworks. Photo – Tania Savage Production – Martine Harte.
How important is having your own dedicated space been in your productivity?
Justine Kuran: Vitally important, it is my space. It's my haven.
I love seeing the paper – that raw paper in packets has so much potential (laughs)  I get inspiration and I just think, I can't wait to get my hands on that paper and roll it and turn it.  The paper really inspires me.
I like textures, 3D art, I love art that makes you want to put your nose up against the glass and take a really, really close look. Things that pop.
A lot of the inspiration for my work comes from symbols: hearts, peace signs, the hamsa. It's a middle-eastern symbol, if the hand is up it's a symbol of protection. If the fingers are pointing down it's actually a symbol of luck.
So most of my pieces you can hang either way. I think people connect with symbols it's that touchstone.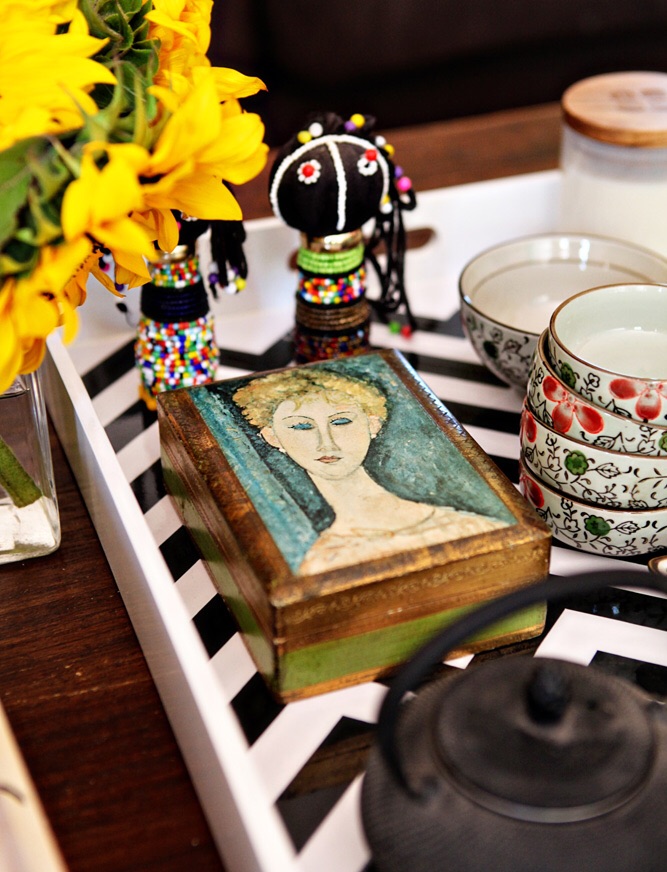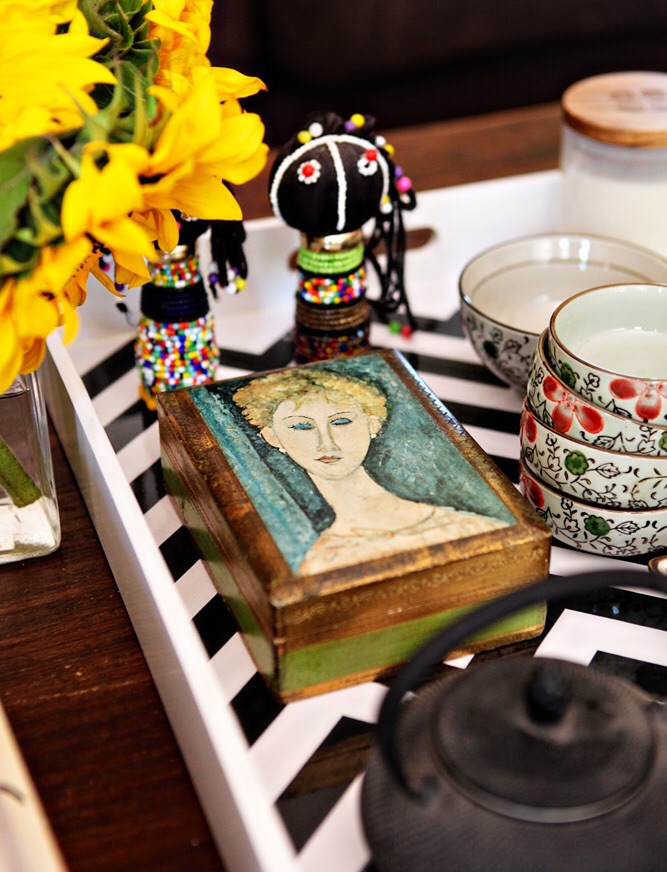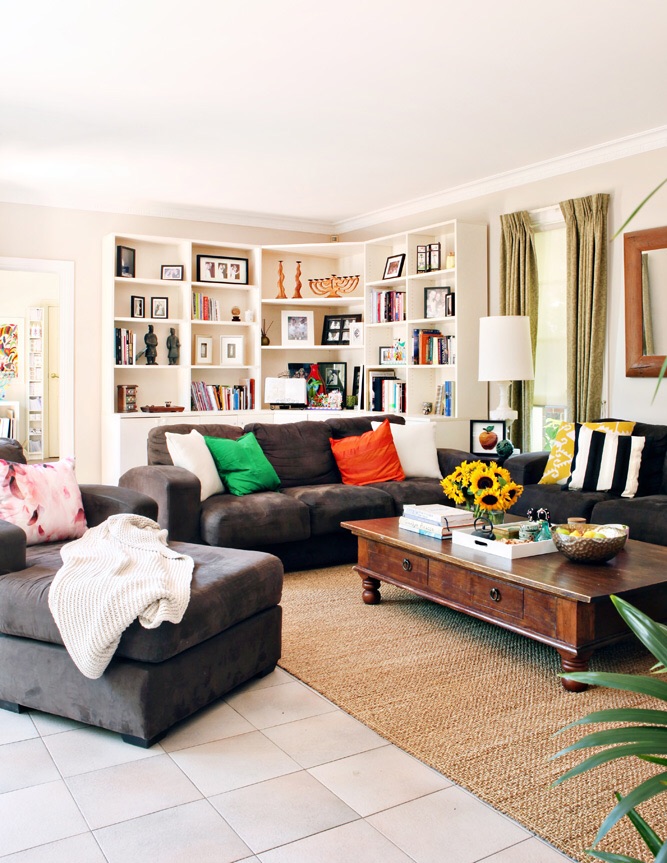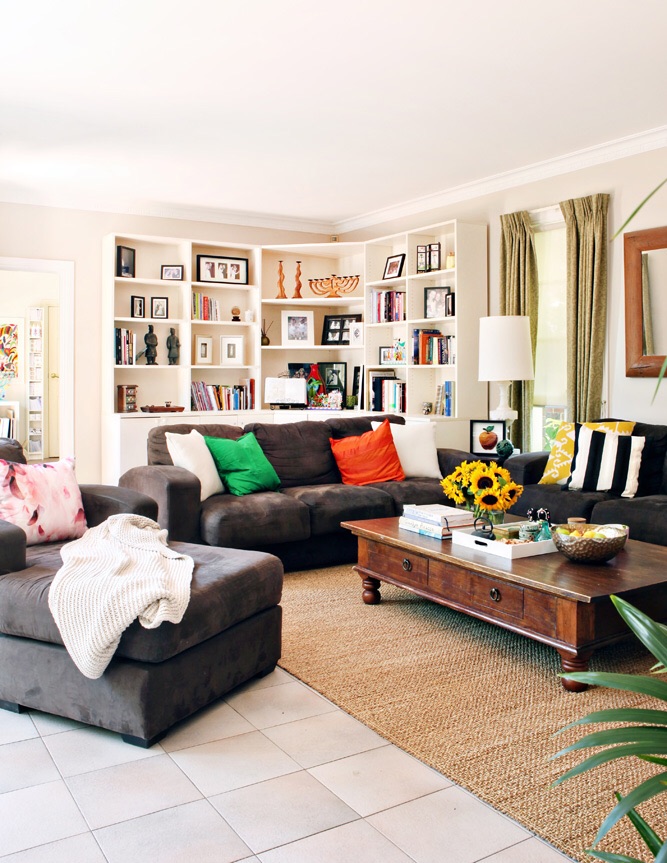 Family room was recently refreshed by Justine's friend, stylist Chantelle Ford from Chantelle Ford Millinery. Photo – Tania Savage Production – Martine Harte.
How important would you rate creativity in your personal freedom, as a woman?
Justine Kuran: I think having a space of your own to create is really important. I will sit in my studio working and have waves of euphoria.
I just feel so good, it's being creative that's when I'm most happiest and everyone's well and my family is safe. It releases endorphins, I'm sure of it, it's like chilli. (laughs)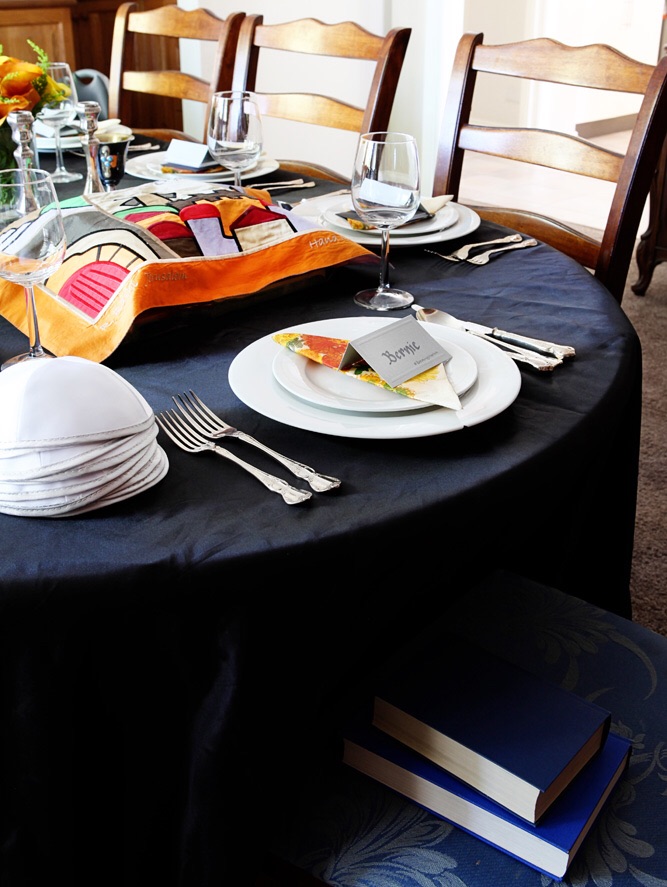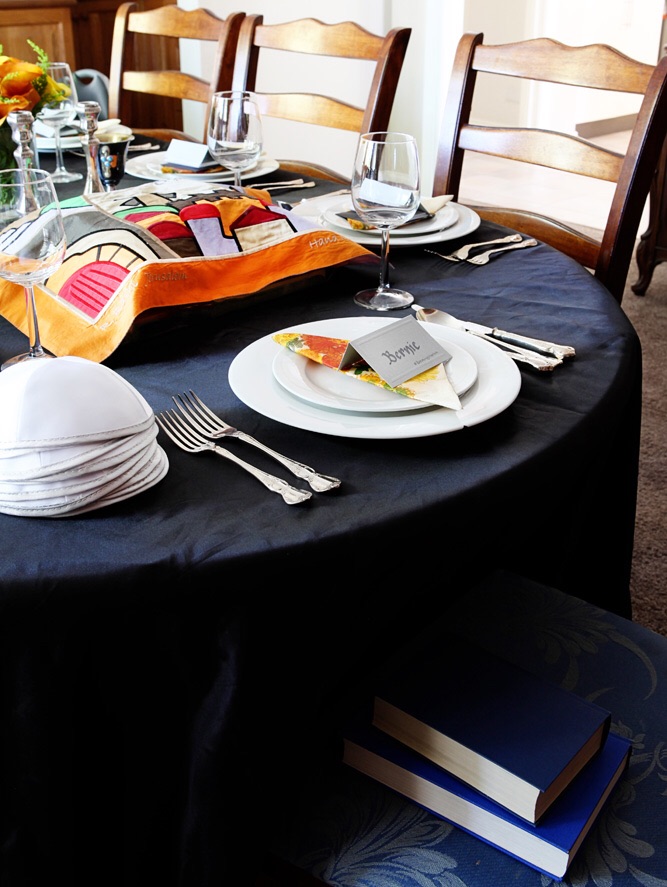 The beautiful table was set in readiness for 'Breaking Challah' the day of our shoot. Photo – Tania Savage Production – Martine Harte.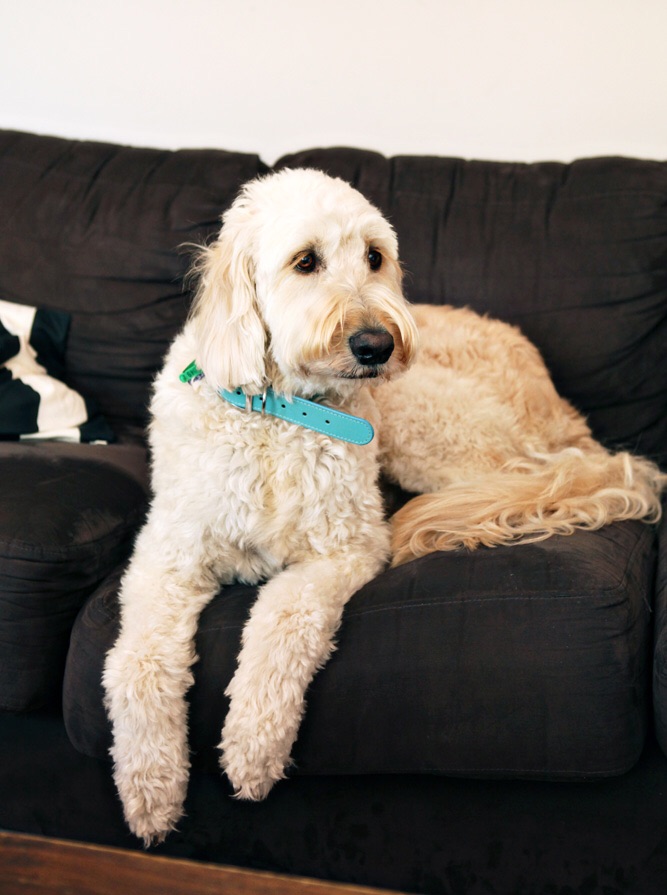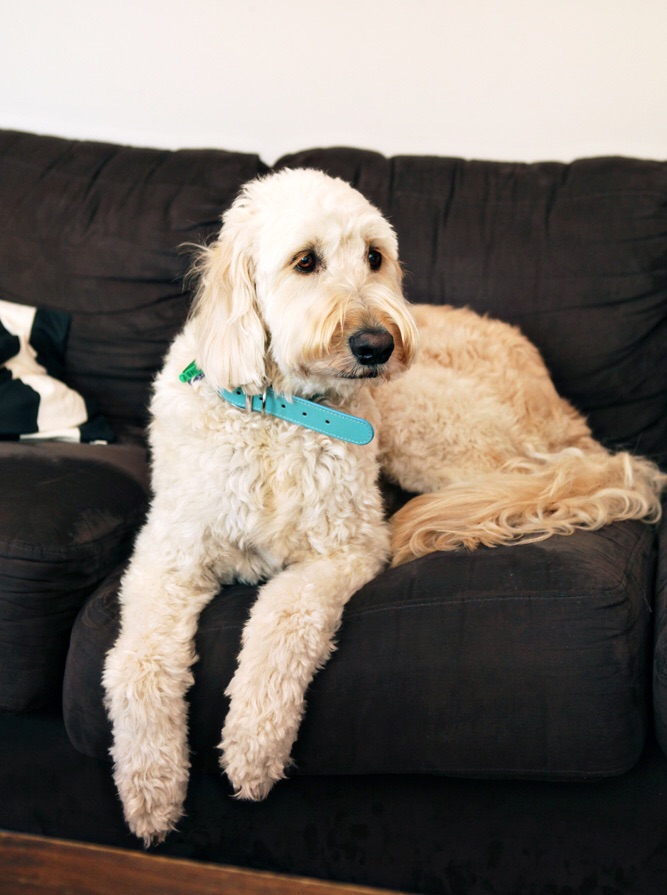 Handsome fourth baby, groodle 'Mo' .. listening to every word throughout our interview.  Photo – Tania Savage Production – Martine Harte.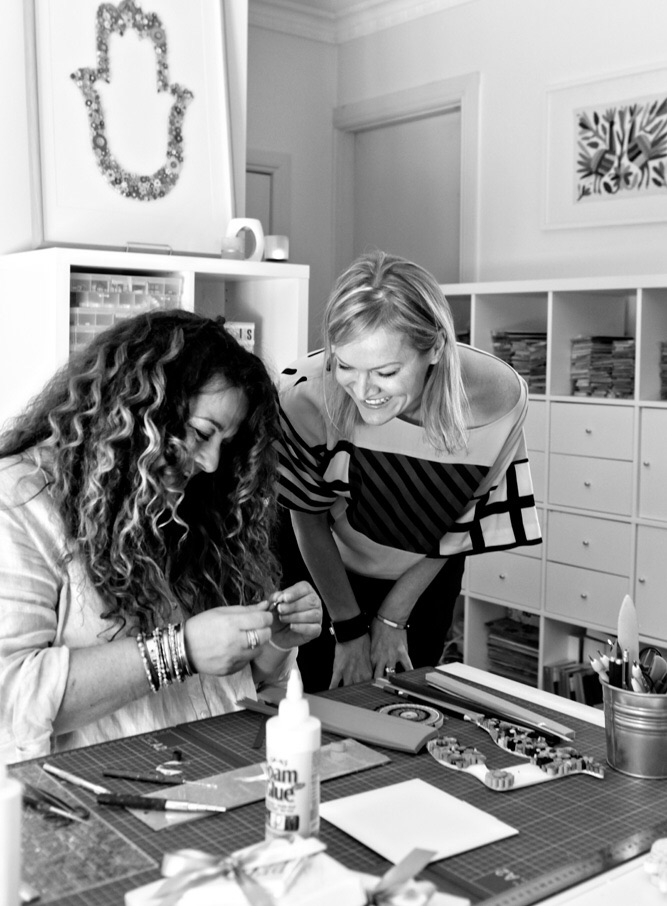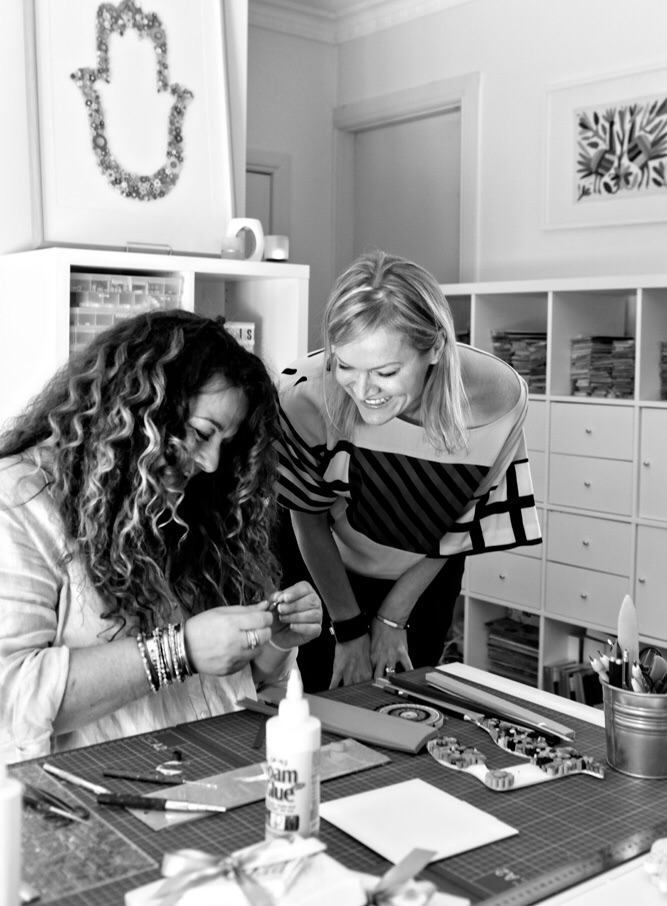 Martine Harte and Justine Kuran. Photo – Tania Savage.
HOOK UP WITH JUSTINE:
If you're keen to enquire about a commission just tap here.
Check out her stockists here.
More about 'Breaking Challah' here.