International Women's Day is a global day celebrating the economic, political and social achievements of women past, present and future.
There are thousands of events – global gatherings, conferences, awards, exhibitions, festivals, fun runs, corporate events, concert performances, speaking events, online digital gatherings and even a fun run is Brissy.
This year's theme is #BeBoldForChange.
INTERNATIONAL WOMEN'S DAY RALLY
MELBOURNE – WEDNESDAY, 8 MARCH 2017 at 5:30PM at PARLIAMENT HOUSE on Spring Street.
SYDNEY – FIND THE WOMEN'S MARCH SYDNEY CALENDAR HERE. 
Activism includes: calling for an end to violence against women.
An end to all forms of violence against women, including sexual, physical, psychological, social, and financial abuse. Fund and support family violence leave and support at work for workers experiencing domestic violence. Restore and increase funding to domestic violence, crisis prevention, legal, and support services.
Aboriginal rights, disability rights and many other issues are also on the table during this rally.
There are sister marches being held across the globe.
ROTARY AUSTRALIA:
The Rotary breakfast is always a hit and this year we can hear from a stellar line up including: Sara James, Susan Alberti, Kitty Chiller and David Thodey.
Rotary Women's aim is to provide opportunities for ordinary women to do extraordinary things.
All corporate tables have been snapped up so you better get it fast!
HEAD OVER TO PURCHASE TICKETS AT  Rotary here: 
UN WOMEN:
By attending this event you are making a donation to support UN Women's incredible work to transform the lives of women and girls in our region.
(post update)
Ticket sales are now closed but you can still donate here.
ENGINEERS AUSTRALIA
Closing the gender gap
The event will include an exclusive masterclass in the morning, followed by lunch with a keynote presentation from internationally renowned speaker Susan Colantuono, recognised as an expert in women's leadership development, gender dynamics and hidden gender bias. Susan is the CEO of Leading Women, one of the world's premier consulting firms supporting corporate initiatives to advance women and close the leadership gender gap.
AHRI –  TARA MOSS
AHRI is proud to present four breakfast events. These events will bring together HR professionals, business leaders, and those who champion this international celebration of women.
Date:
7th Mar 2017 7:30am
 to 
10:00am  
State:
 VIC
Venue/Location:
 ZINC Federation Square
Address:
 Swanston St & Flinders Street, Melbourne VIC 3000
BUSINESS CHICKS LUNCH
Business Chicks are in for a treat! Clare Bowditch, Dr Susan Carland and Clementine Ford are on what's sure to be an amazing panel.
CITY OF STONNINGTON – HOLLY RANSOM
The City of Stonnington is thrilled to be hosting an International Women's Day Luncheon with special guest speaker, young entrepreneur and CEO of Emergent, Holly Ransom.
The luncheon will also include an interactive panel discussion with business and community leaders with the theme 'Be Bold for Change'. Guests will be given an opportunity to join the conversation on how we can value women and men's contributions equally and help women and girls achieve their ambitions.
RACQ BRISBANE FUN RUN
Registrations are now open for the RACQ International Women's Day Fun Run on Sunday 5 March 2017. This sell-out event promises to be bigger and pinker than ever in 2017 with a NEW 10 km inner city loop.
When you think 15,934 Australian women will hear the words 'you have breast cancer' this year – getting together and showing your support for them by raising awareness (and your heartrate) at the RACQ International Women's Day Fun Run seems easy, right?
ACS VICTORIA – DIVERSITY HOW FAR HAVE WE COME?
ACS got in early, one hundred and forty guests enjoyed breakfast plus insights from diversity champions:
Rohini Kappadath, Senior Adviser India Business Practice, KPMG/ Chair, Multicultural Ministerial Business Advisory Council, Jackie Savage Founder and CEO of MedCorp Technologies, Matt Lee, Former COO of Qantas & CEO OACIS and Ajay Bhatia, Chief Product and Information Officer, CarSales.Com.
I was honoured to moderate this panel on behalf of Engaging Women.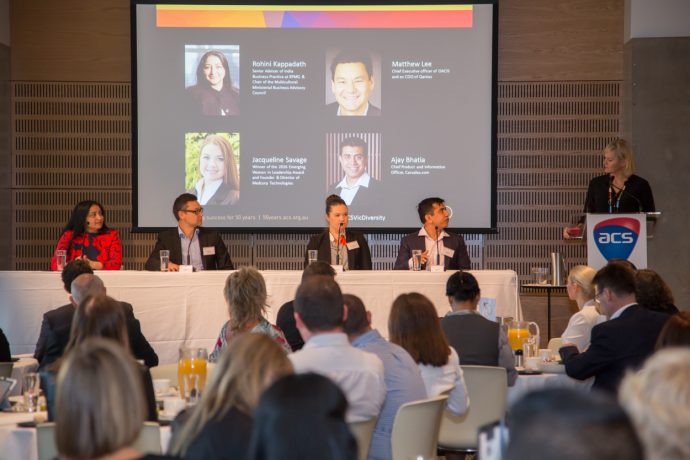 ABOUT INTERNATIONAL WOMENS DAY
Following the decision agreed at Copenhagen in 1911, International Women's Day (IWD) was honoured the first time in Austria, Denmark, Germany and Switzerland on 19 March. More than one million women and men attended IWD rallies campaigning for women's rights to work, vote, be trained, to hold public office and end discrimination.However less than a week later on 25 March, the tragic 'Triangle Fire' in New York City took the lives of more than 140 working women, most of them Italian and Jewish immigrants. This disastrous event drew significant attention to working conditions and labour legislation in the United States that became a focus of subsequent International Women's Day events. 1911 also saw women's 'Bread and Roses' campaign.
Join us to #BeBoldforChange