A social media post just stopped my scrolling thumb in its tracks..

$4000 grant?
For girls and women who dare to dream?
Could she be describing our girl gang any better?
The amazing Layne Benchley AO – seven times Surfing World Champion, Australian Sports Hall of Famer is offering females pursuing their passion a chance to apply for one of her Aim For The Stars Foundation scholarships.
It includes a years mentoring program and a couple of days mentoring session with Layne herself.
WHO IS ELIGIBLE TO APPLY?
Females, 12 years of age and above at 31/01/2017 – upper age is open.
Girls and young women who are long-term (continuing) Australian residents
Females who have initiative and passion and are committed to achieving a dream in their field of choice
You can be from a range of fields including Business, Arts, Environment, Technology, Leadership, Sport and more
Aim For The Stars Scholarships More Here.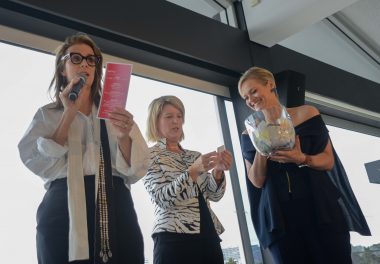 Got five minutes? Check out how much money 400 smart, glamorous women (including Natasha Stott Despoja and Rachel Griffiths) just raised in Melbourne for Hagar Australia…  Pop over here. 
Want to learn what life is like for Deaf women in the modern world ? My chat with our Young Australian of The Year was enlightening and was the result of an interpreter supporting my hearing … come across here to read more.