Advancing the voices of Australian women
Championing diversity
Engaging speakers & events
All women speakers bureau
Using social media responsibly to advance human rights
Women's advocacy platform Engaging Women has been propelling Australian women and human rights since 2011.
We elevate the voices of women through highly respected content platforms, an all-women speakers offering, coaching, networking and activism for social good.
It's a site of trusted content, an engaged community and helps drive the conversation that gender equality is vital.
Our social media platforms enrich lives and promote positive discourse.
Engaging Women contributes its expertise towards gender equality and diversity & wellness events for Australian small business, big business and government.
We have recently supported events including:
Vic Gov 'Women@Work Conference.'
WorkSafe Victoria's 'Women at Work' series.
City of Melbourne's 2017 'Women in Business' lunch at Melbourne Town Hall.
Bayside Women's 'Press for Progress' event.
ACS Diversity in IT breakfast at ACMI.
Respect Victoria's official launch, August 2018
Women in ICT event National Press Club in Canberra
Victoria Police 2019 IWD event- guests included Chief Commissioner Graham Ashton
Melbourne SEALIFE Aquarium
Emerson Automation Solutions
'Your professionalism was outstanding and your contribution to the panel discussion kept guests both engaged and entertained throughout the event.'
Craig Eloranta – City of Melbourne.
We bring the inspiration to you.
Latest feedback:
'I'd like to say that I thought this morning's breakfast went very well – in particular, the panel format produced an intelligent, relevant, flexible discussion and was so much better than the usual after-dinner speakers doing their standard corporate-circuit speeches. I did walk away inspired, I did take notes and I am planning to take action!'  
Guest at ACS Gender Parity breakfast,  Zinc at Federation Square.
'Thank you for your contribution as MC to the Women@Work Conference. The conference was a wonderful success… It led to 25 organisations undertaking the Victorian Government Gender Equality Pledge.'
Hon Natalie Hutchins, Minister for Women.
The National Library of Australia selected the Engaging women interview library for its archives.
"We don't collect every Australian website but select with an eye for content… The Library aspires to enable Australians to understand their diverse social, cultural and intellectual histories by collecting and preserving Australian publications and unpublished collections—in print and digital forms—so that they can be enjoyed by current and future generations."
National Library of Australia.
Join publishing houses, business leaders and leading creatives to receive the monthly newsletter  here.
Who started it?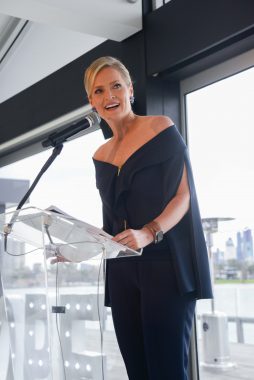 Martine Harte, a diversity advocate, who was awarded a prestigious Melbourne Press Club Gold Quill Award for excellence in journalism, a Logie award nomination and judged the Telstra Business Woman of the Year awards.
Martine uses new media to challenge thinking around human rights and strategies to elevate the lives of women.
She founded Engaging Women to advance the voices of women and girls when there was little like it in the space.
She was an on air reporter for Network Ten for more than a decade and a social commentator on Sky News Australia.
Media appearances include: as a guest on ABC radio's Conversation Hour, radio 3AW, Network Ten, featured in The Age newspaper and online, Sky News, News Limited, CNN and BBC.
Martine is an accomplished MC.
She is also a passionate advocate for the power of meditation and mindfulness in everyday life.
Social Impact
This platform was founded on the notion that we can all turn the dial towards a more gender equal world.
Engaging Women is committed to its social purpose.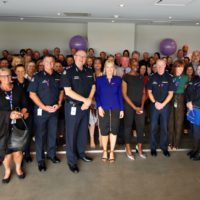 Pic – Victoria Police IWD event 2019
Engaging Women's not-for-profit 'Ambassadors for Good Program'  supports women and children in crisis and elevates the voices of purpose driven women.
SEALIFE FUNDRAISING GALA FOR OUR WATCH
"The event enabled us to reach an audience we would not have been able to reach and raise awareness of our work in the prevention of violence against women and their children.
We have received only positive feedback from attendees and that is in part due to your work in the lead up to and during the event as MC."
Patty Kinnersley
Chief Executive Officer
Our Watch
 FAIR AGENDA
"We'd like to thank the Engaging Women network so much for their support.
With your help our community will be stepping up our campaigns in 2016 — working together to: ensure every woman has access to the service support she needs to escape her abuser, defend paid parental leave from the new attack announced this week; and to put fairness and equality for women on the election agenda."
— Renee Carr, Founder Fair Agenda.
WILL MURRAY TRUST –  NATALIE BELL
"Congratulations on what I heard was a great night and raised a fantastic amount toward helping Will.
It's fantastic that you and others have gone to the trouble to organise and run this night. I know it is greatly appreciated by us the Trust Committee but also I say a big Thank You on behalf of Will and the Murray family."
— Justin Crough, Will Murray Trust Committee.
STRENGTHENING FAMILY CONNECTIONS – NAOMI ARNOLD
"On behalf of the SFC clients and their families I would like to say a big thank you to organising the fund raising event and the donation to SFC.
We have been able to give out the gift cards this week and families were so grateful and many cried. They also wanted me to pass on their thanks and they were very happy.
Some said that they had not been able to buy much for Christmas and with the voucher it would make the world of difference."
— Barbara Robinson, Strengthening Family Connections Supervisor
Livingstone Shire Council, Yeppoon, QLD
 WHITE RIBBON AUSTRALIA
"On behalf of White Ribbon we thank the women in the engaging women community for their exceptional contribution to the White Ribbon Campaign.
It's been a pleasure working with you and the campaign bears witness to the input of so many wonderful people, you all amongst them!"
— Eliza Arrowsmith, White Ribbon Australia.
Values
Our Ambassadors for Good are passionate women across Australia who get their colleagues and friends together and hold an event to assist women and children in need.
Find out more about our not-for-profit Ambassador program here
Work with us