Martine Harte has been sharing the stories of Australians for almost two decades.
She was awarded Victoria's highest award for journalism the 'Gold Quill' for excellence and a TV week Logie award nomination.
Martine began her on-air journalism journey in regional Victoria, spending several years with WIN TV in Gippsland and Albury/Wodonga.
She was soon headhunted by Network Ten and before long promoted to senior network reporter.
Her work has been featured on CNN, BBC and she has been a guest on ABC Conversation Hour, radio 3AW, featured in The Age newspaper and online and News Limited.
Her most recent television role was in 2017 as a regular social commentator on Sky News Australia.
Martine responded to the changing media landscape by diving in head first; founding the digital platform Engaging Women to share the voices of women when there was little like it in the space.
The platform also raises funds to fight family violence.
It is now collected by the National Library of Australia for its cultural value and has a wide reach across social media and a strong subscriber base. It is followed by influential Melburnians across a variety of fields.
Interview with The Age, Spectrum magazine 2017:
"The Martine Harte story has now become very much a new-media journey. In one of those 3am light-bulb moments, she decided to launch a website and blog called Engaging Women, "to create a space for them which was calm and positive".
Harte told her readers that Engaging Women was not going to be about "the usual suspects" but would harvest the insights and wisdom of female CEOs, corporate leaders, scientists and many others. The Age, 2015
Martine is now regularly asked to MC and host panel events for small business, big business, charity and government agencies.
Recent collaborations include:
The City of Melbourne 'Women in Business' lunch at Melbourne Town Hall, WorkSafe 'Women at Work' event, Jewish Care Montefiore brunch and ACS Diversity events at Federation Square.
On March 21st 2018 she is set to MC the Victorian government landmark 'Women@Work' conference – an all-day event at ACMI for more than 400 guests.
She was honoured to judge last year's Telstra Victorian Business Woman of the Year.
Recent feedback from events:
Unbelievable, everyone loved the talk and thought she was outstanding , they loved her appearance, manner of speaking and the natural way in which she spoke.
She was a big hit!
Delysia Pahoff OAM, Jewish Care
Thank you so much for the outstanding job you did as MC for Lunch to Liberate. You were engaging, warm, smart, articulate and always in control.
We truly couldn't have asked for a more perfect MC for the day and we felt very lucky to have you!
Jo Pride, CEO Hagar Australia
The luncheon was a tremendous success. Your professionalism was outstanding and your contribution to the panel discussion kept guests both engaged and entertained throughout the event. We are confident that everyone left the event feeling inspired."
Craig Eloranta. City of Melbourne.
Martine is married to Erin, they have two girls (11 and 8) and a boy who has just turned 6!
She lives in Bayside Melbourne and her favourite way to start the day is walking the beach track near their home.
Mail: martine@engagingwomen.com.au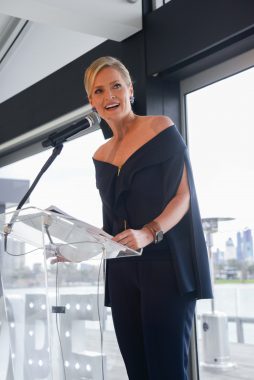 Photo – Martine Harte MC'ing Hagar Australia 'Lunch to Liberate' September, 2016. Photo – Paul Muir.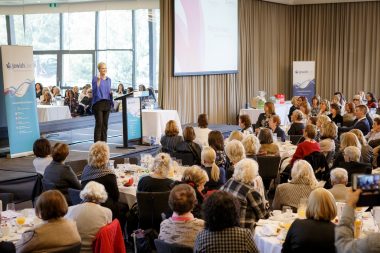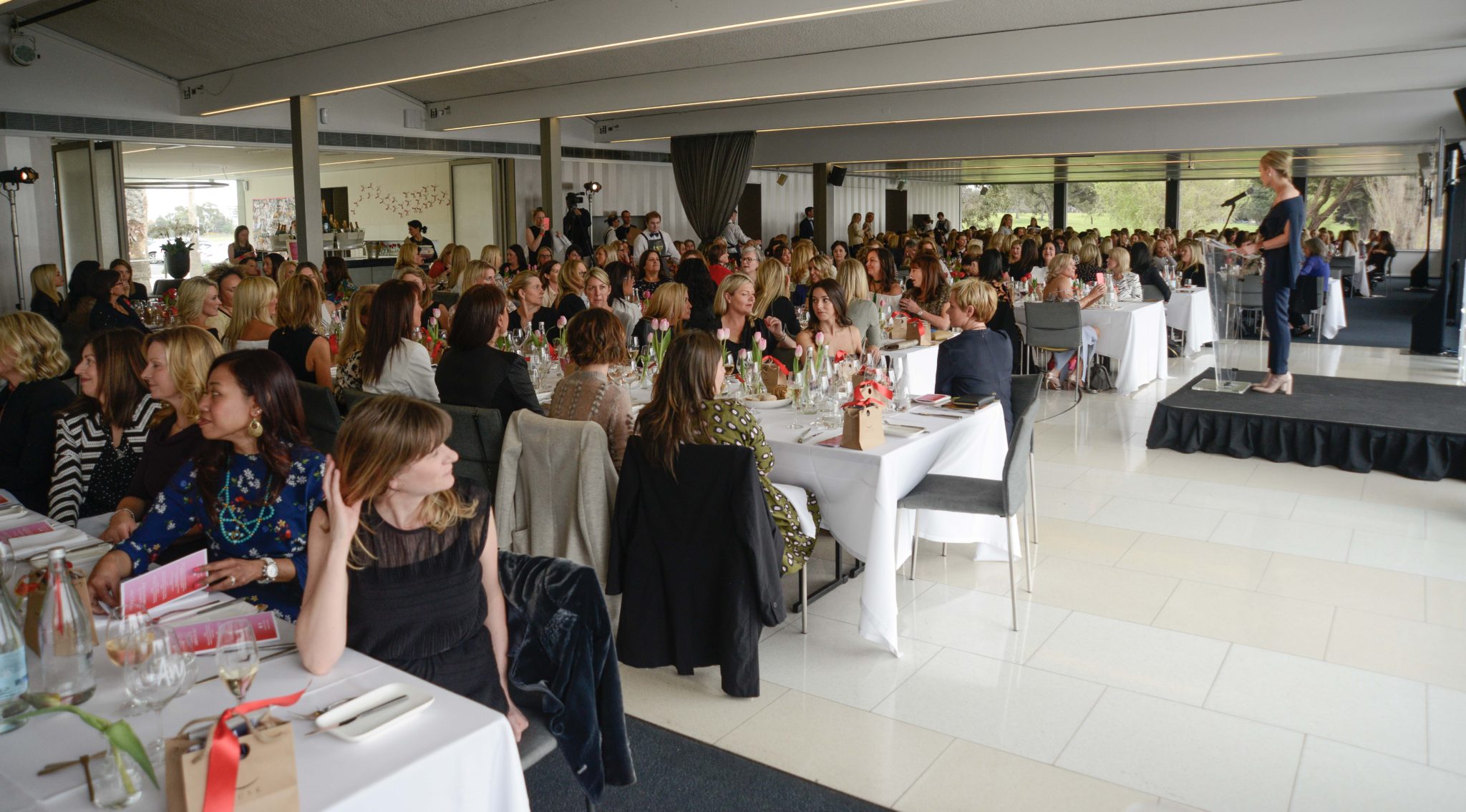 International Women's Day QandA for ACS Victoria with Telstra Vic Business Woman of the Year Cyan Ta'eed and Jacinta Carboon.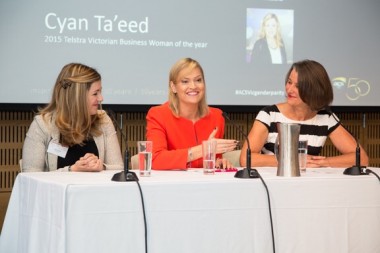 Martine has moderated panels including:
ACS Victoria's Women in ICT 'Striving for Gender Parity' event.
She hosted a National Press Club 'Women & Girls in ICT" summit alongside Australia's Minister for Women Michaelia Cash.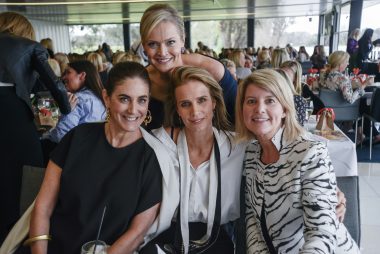 From left, General Manager Pacific Magazines Jackie Frank, Engaging Women founder Martine Harte, Academy Award nominee Rachel Griffiths and Australia's Ambassador for Women and Girls Natasha Stott Despoja.
Engaging Women uses its platforms as a vehicle to raise awareness and money for women and children in crisis. In doing so, it spreads the message that violence against women is not on.
Engaging Women won  a 'White Ribbon Australia' award in 2015.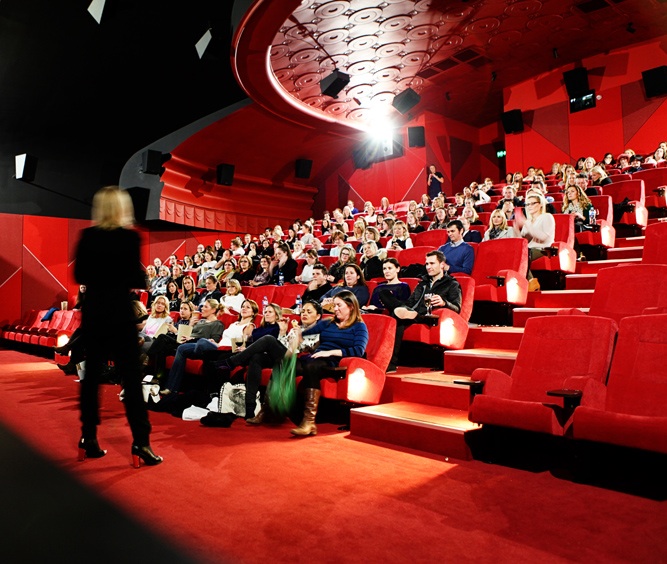 Another event raised thousands to support women in crisis and promoted the good work of Fair Agenda.
The Engaging Women platform also offers other change-makers an opportunity to make an impact through the 'Ambassadors for good' program.
Get in touch : info@engagingwomen.com.au