Engaging Women went live in 2011 to advocate for a more diverse, inclusive Australia.
Founder Martine Harte was quickly recognised as a respected voice.
Clients consistently rate her as a professional event host who not only researches the event thoroughly but brings a depth of broadcasting experience to the role.
Her mission is to make the event as seamless as possible.
Here is just some of the feedback received since 2011: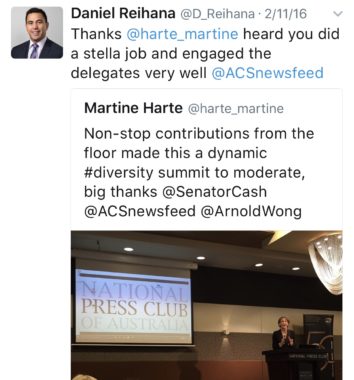 Engaging Women at Friends of Montefiore Annual Brunch
Reprinted with permission
Jewish Care Victoria hosted 220 guests at the 34th Annual Friends of Montefiore Brunch at Leonda by the Yarra, Hawthorn.
Sponsored by the Pratt Foundation, the annual event raised more than $80,000 which will contribute towards new services that will enhance the lives of aged care residents of Gary Smorgon House who live with dementia.
The event was addressed by journalist Martine Harte.
Martine Harte was a senior journalist for Network Ten in 2005, where her coverage of the Bali 9 arrests earned her a Gold Quill Award for excellence in journalism and a Logie award nomination.
Passionate about the advancement of females and their rights, Ms Harte said: "I encourage more women – you! – to put your hand up… to tell stories, to challenge the dominant norm. The absence of women's voices means a narrow perspective and undermines our power. Silence means everything stays the same."
Jewish Care CEO Bill Appleby also addressed the audience: "We are carrying forward the vision of your predecessors – your families – to build a community where everyone has a safe place to live, where everyone who wants to work has access to employment, where everyone is included and supported to live independently and with dignity."