Every two minutes police are called to a family violence matter in this country.
That's 657 times a day.
One in four women has experienced physical violence since the age of fifteen and every week a woman is killed by her current or former partner.
So why is solving this crisis not the number one election issue in 2019?
Where's the outrage?
This week we have witnessed Chloe Shorten articulately advocate on behalf of her husband, Australia's potential next Prime Minister, Bill Shorten.
We are buoyed by her decision to focus attention on our nation's horrifying epidemic.
She has raised family violence as being a hot-button issue in this country before.
Ms Shorten is ambassador for the Victorian Government's Victoria Against Violence campaign and is a Patron of Our Watch.
On March 5th this year, Ms Shorten launched Natasha Stott-Despoja's powerful essay 'On Violence.'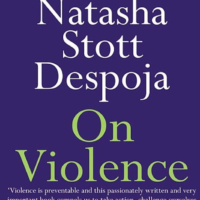 The book ( 'On Violence.') explores why violence against women is endemic in Australia and more importantly, what we can do to stop it.
Ms Shorten told the audience:
"Violence against women is an epidemic of ghastly scope and scale.
It costs $21 billion a year.
It causes a third of all homelessness.
It shatters families, scars childhoods, it leaves a trail of destruction through Aboriginal communities
And of course, for so many women family violence is – literally – a matter of life and death."
Chloe Shorten.
Natasha Stott-Despoja, the youngest woman ever to enter Australia's Federal parliament, argues primary prevention is key.
"Little boys aren't born thinking they need to exercise power and control over others to be a "real man" : our society teaches them that – through the countless messages about gender, power, masculinity, femininity delivered every day.
And I mean every day."
Natasha Stott-Despoja.
Research tells us violence against women is preventable.
The standard we walk past is the standard we accept.
In the lead up to the federal election on 18 May, polling shows voters want action on women's issues.
86 per cent of voters polled in a survey of 1065 voters, commissioned by independent lobby group8 WomenVote showed government should do more to counter violence against women.
We have been talking about this crisis for decades, let's hope a Shorten or a Morrison government will usher in a new era in primary prevention.
Let's face it, there's a greater possibility of change if the leader's spouse is committed to reform.