Happy International Women's Day 2019!
This day belongs to groups all over the world and was first marked in 1911 to celebrate women's achievements and challenge bias.
We've made progress since then but it's glacial and there's much work to do which is why today is a good day to reflect and recharge.
I'm chuffed to be keynoting at the Victoria Police IWD event on behalf of Engaging Women and also can't wait to meet staff at Melbourne Aquarium, as well as various interviews throughout the day.
If you haven't formally organised anything, no stress,  you can either wear a touch of purple (the colour of the suffragette movement) or still join in:
International Women's Day 2019 Whats on
ACMI WOMEN'S DAY PARTY
Aust Centre for Moving Image, Fed Square. Tonight 6pm – late.
A panel discussion, workshops, museum tours, and gaming!
RALLY – STATE LIBRARY OF VICTORIA  5.30pm – 7pm (free)
A time-honoured way to mark the day, join feminists and march through the streets of Melbourne.
Other states, check your state library as marches are being held across the nation.
MUSIC – SISTERS OF SOUL CELEBRATING IWD 
Tickets: $32.59
Soul baby. Raising funds for Girls Rock! A not-for-profit supporting young girls in music.
WOMEN IN SPORT – BRIGHTON TOWN HALL.
Well done to the amazing Susan Alberti and other locals who reflected on our women kicking goals in sport last night. Hopefully another one soon.
Thanks so much to the team at Emerson Automations Solutions for having me address staff at their IWD celebrations yesterday.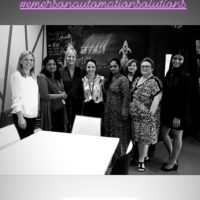 Happy IWD all!