Engaging women elevates the voices of women and girls through publishing, mentorship and advocacy.
We share insights and wisdom from some of the most accomplished people in the nation.
It's a site of trusted content, community, inspiration, and a video series.
The National Library of Australia selected this site to be enjoyed by readers across the nation citing its cultural value.
"We don't collect every Australian website but select with an eye for content… The Library aspires to enable Australians to understand their diverse social, cultural and intellectual histories by collecting and preserving Australian publications and unpublished collections—in print and digital forms—so that they can be enjoyed by current and future generations."
National Library of Australia.
Recent events featuring Engaging Women include.
WorkSafe Victoria's 'Women at Work' series. December 2017.
City of Melbourne's 2017 'Women in Business' lunch at Melbourne Town Hall.
"The luncheon was a tremendous success. Your professionalism was outstanding and your contribution to the panel discussion kept guests both engaged and entertained throughout the event. We are confident that everyone left the event feeling inspired."
Craig Eloranta. City of Melbourne.
Who started it?
Martine Harte, a dedicated gender equality advocate, who was awarded a prestigious Melbourne Press Club Gold Quill Award for excellence, a Logie award nomination for journalism and is judging this year's Telstra Business Woman of the Year awards.
Described by The Age as, "An ideal general for this growing female army," Martine uses new media to challenge thinking around the rights of women and girls.
Martine brings specialist knowledge on diversity and gender equality communication and is regularly called upon to co-ordinate events for small business, big business and government agencies.
Contact: info@engagingwomen.com.au
Media appearances include: as a guest on ABC radio's Conversation Hour, radio 3AW, Network Ten, featured in The Age newspaper and online, News Limited and has moderated many business  panels including an event at Australia's National Press Club with guest speaker Minister for Women Michaelia Cash.
She has been named an influencer by Top ASX companies, is a mum-of-three and was most recently a regular commentator on Sky News Australia.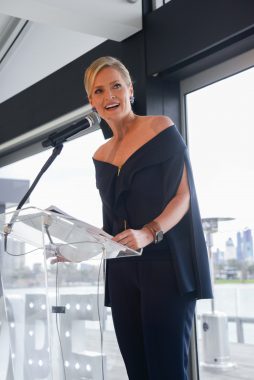 Photo – Martine Harte MC'ing Hagar Australia 'Lunch to Liberate.'. Photo – Paul Muir.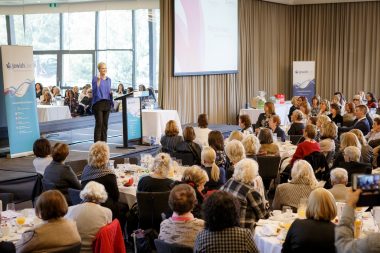 Recent events include.
WorkSafe Victoria's 'Women at Work' series.
City of Melbourne's 2017 'Women in Business' lunch at Melbourne Town Hall.
Thank you so much for the outstanding job you did as MC for Lunch to Liberate. You were engaging, warm, smart, articulate and always in control.
We truly couldn't have asked for a more perfect MC for the day and we felt very lucky to have you!
Jo Pride, CEO Hagar Australia
School talks include: Bialik College – Year 12 students
Martine was engaging, weaving her message of equality, empowerment and respect through her personal narrative.  Students and staff present were both entertained and educated – a pleasure to hear, perfectly pitched and something that every school community should hear.
Head of senior school – male.
Bialik College.
Join publishing houses, business leaders and leading creatives to receive the monthly newsletter  here.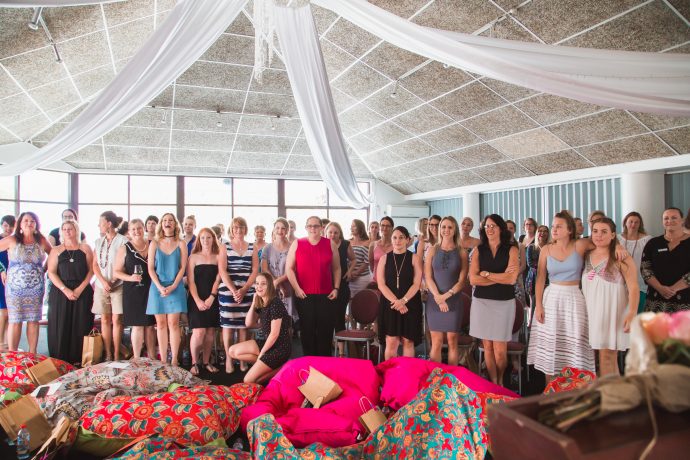 Our Ambassadors for Good are passionate women across Australia who get their colleagues and friends together and hold an event to assist women and children in need, particularly surrounding our nation's domestic violence epidemic. Picture from human rights activist and business coach Naomi Arnold's event in QLD.
Find out more about our Ambassador program here
Want to hear about our next event just join US HERE. 
Hear from:
Australian Diamonds World Cup captain Laura Geitz here.
or Sandra Sully Tap here.
All interviews and images are copyright protected. If sharing please credit Engaging Women with a link to the site and to the photographer
Find out more about our Ambassador program here