"Some still think that policing is about brawn and not brain. I have always found it an intellectual pursuit above anything else. It has fully engaged me and developed me intellectually." Detective Chief Inspector Pamela Young.
We've all seen and read about elite murder investigators in the news but we don't often get to hear from the person behind the stoic facade. Because of this it's easy to form stereotypes; surely they're emotionless, hardened, otherwise how could they cope?
Detective Chief Inspector Pamela Young is a highly respected member of the New South Wales homicide squad. She's attended hundreds of crime scenes and successfully brought rapists, murderers, drug dealers and arsonists to court.
She's smart, energetic, has navigated a male-dominated environment and appears to have more than her fair share of compassion.
I'm excited to be able to introduce you to another woman at the top of her game…
Martine Harte: First things first Detective Chief Inspector, when did you first decide that you wanted to join the police force?
Det Chief Insp. Pamela Young: I was 18 and just out of high school when a girlfriend mentioned that she had been to a police recruitment drive and told me how exciting it sounded. I liked the idea of a challenging physical job combined with the emphasis on people and behaviour. I have never been drawn to jobs which produce money or products. I definitely had, and still have, an intense curiosity about human behaviour and the fact that it was seen as an unusual job for women made me even more interested.
Is there a common belief about your occupation that you would like to change. Right here, right now.
Det Chief Insp. Pamela Young: Some still think that policing is about brawn and not brain. I have always found it an intellectual pursuit above anything else. It has fully engaged me and developed me intellectually.
A second belief is that it inevitably makes me negative about human nature. Not at all!  Yes, I have seen the direct and ripple effects of badness, trauma, loss, grief – and all in volume – but it is exactly this exposure that makes me think well of the vast peaceful big-hearted population and human nature. I avoid pettiness and value kind relationships and good times.
Can you take us back to your first deployment?
Det Chief Insp. Pamela Young:  I was 20 years old and was working only a few suburbs away from where I had grown up and gone to school (in NSW, Australia). My field trainer was an experienced and decent sergeant with a thick Scottish accent and he was very kind and patient with me.
It was a very moderate area to police relative to others, but it was my first up-close insight of the underbelly of life: domestic violence, paralytic abusive revellers, prostitution, and the desecrated life of a drug user. The number of women who fell into a dependant pattern of abuse from men really shocked me. I was glad of the slow adjustment that this particular patrol allowed me to make to steel myself so that I could respond to the variety of ways in which people live.
I was never one to feel peer pressure but early in the job I saw within myself an ability to actively stick up for myself and others' on the occasion when sexist comments, jokes or decisions were clear. I had the guts to speak out at the time which, especially in that era, confounded many men and women. I remember thinking afterwards, the first occasion being within a few days of arriving in my shiny new uniform, of how much I would be resented and excluded once the station found out. What I actually experienced though – from anyone who counted which was the majority of my colleagues and bosses – was a sense of respect.
Acting like this, responding firmly and reasonably, showed them that I had a strong and straightforward manner that they could utilise, understand and handle. I cannot emphasise enough the value of dealing with problems reasonably and honestly and staying true to oneself in the process.
I learned that woman can calm situations and that men, as a rule, have a natural repugnance to being physically aggressive with women. I hope that is still the case for my female colleagues on the street.
I learnt what a patriarchal society we had then when repeatedly the person I would be taking a complaint from would only speak directly to my male offsider. This occurred even when I was the lead interviewer and was taller, fitter, and standing right in front of them doing all the talking.  Those types of people got really confused when I was occasionally deployed with another woman. Once I cottoned on that it was not my communication that was inadequate in some way, I told my male colleagues to tell the person that they were to speak directly to me – we could then get on with business that they had called us in for.
Once you became a detective you must have had some successes to have been promoted to your current role; can you identify what those were? Or maybe I should be asking your bosses:)
Det Chief Insp. Pamela Young:I count a foundational 'success' as gaining a mentorship from one of the most widely respected homicide investigators, being Russell Oxford. There was no such thing as formal mentoring then, but I guess Russell was attuned to what characteristics were required and subtly and respectfully put me to the test before creating a job for me in the Homicide Squad.
That was is 1995 with my most recent job concluding this year with 11 life prison sentences for the Quakers Hill Nursing Home arson-murders. I would have responded to well over two hundred crime scenes and all the jobs are memorable, but some get a little further under the skin such as the killing of Bob Knight who was an innocent bystander returning to his loving home when he was shot by warring gangs; the rape and murder of Tosha Thakkar who stepped out of her patriarchal Indian heritage to live, study and work independently in Australia only to be raped and murdered in a serial-linked attack; a murder which occurred because a young gay man from a 'macho' background felt pressured to reject his homosexual feelings by strangling a man that he was attracted to; and far too many multiple offender organised crime related murders for which I have such disdain and disrespect as they are fundamentally motivated by greed and ego.
What is the toughest aspect of your work?
Det Chief Insp. Pamela Young: Seeing the theatrics of court, which is totally beyond the comprehension and acceptance of the grieving family. Knowing that they look to you to help them understand it, not in legal technical terms, but in human terms. In our realm the court process is the ultimate intellectual combat and gives the impression of having nothing at all to do with the commonly understood definitions of justice, emotion, right and wrong – it is a venue for legalese and wordsmiths. Add to this that funding for some defence teams can only come from the proceeds of organised crime, that crime being the very one that led us all to court in the first place, and you get the idea of why this is tough for police to face. Am I sounding cynical?
No just realistic. Pam after a particularly traumatic experience how do you lift yourself up again?
Det Chief Insp. Pamela Young: Block dark images and thoughts and replace them with pretty ones – if it was that easy! I've improved and become better at sustaining myself and my team over the years. I think of the coming together of families and communities in vulnerable times and the privilege it is to serve them. I now recognise the need for a stand-down to recuperate after a full-on period. I really monitor stand-downs in the on-call team as I know it goes to life balance and longevity in this line of work and I feel responsible for enabling this. I learned the hard way, but I have learned. I pursue interests, such as philosophy, which has undefined boundaries and takes me outside the rigidity of the job. The love of a good man also works wonders.
Are children in the picture?
Det Chief Insp. Pamela Young: No, it was not the pathway that I chose for myself and which I regret as infrequently as good and loving parents regret having chosen to have children. I know that I could not have applied myself in the way I have to this end of the policing spectrum in balance with family life. There were many times in my 20's and 30's when every scintilla of energy was required on the job and I vanished from everyone but other investigators working the job alongside me. I am not convinced that the idea of 'having it all' is necessary let-alone realistic.
So many engaging women I interview agree with you! Lastly, if I met you in a decade where will you be and what will you be doing?
Det Chief Insp. Pamela Young:  Travelling, debating, loving my man, not making too many tough decisions, and working for charity. The charity aspect comes from a hope of only doing things that bring happiness to people. Currently, no matter how many people I charge, who they are, how many convictions and sentences eventuate, there is and remains the deepest sadness and irretrievable loss on all sides.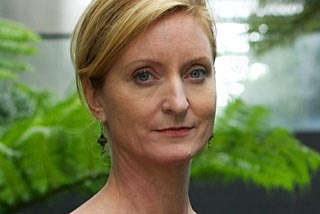 Detective Chief Inspector Pamela Young