As far as chic destination weddings go, it doesn't get much better than this.
Guests from all corners of the globe flew to beautiful Santorini, to witness the MD of Hugo Boss, Matthew Keighran and his partner of many years, the show-stopping Daniel De Almeida Teixeira exchange vows.
The dress code: shades of blue, white and beige, and I was so honoured to be MC.
The ceremony began with the exquisite voice of Edith Piaf brought to life by Dan.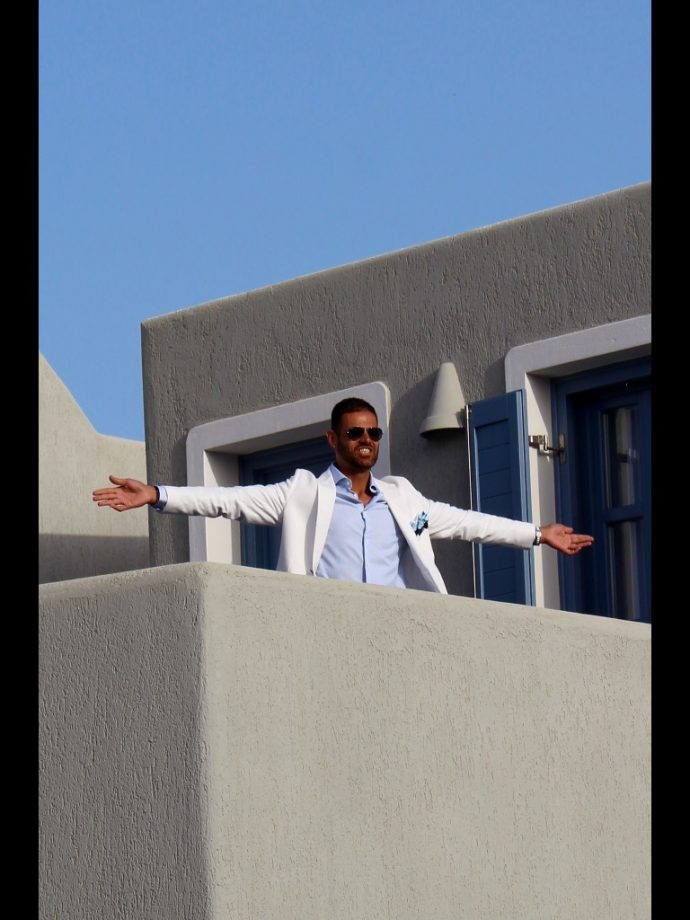 Guests had been counting down the days to this affair, many had planned a European summer vacation around the event. Life was sweet and we were grateful.
Eight days before the big day though, the Orlando attacks shook the world.
Santorini may have been many borders away, but the shadow of the hate crime was cast.
I started to think of ways to honour those slain; without bringing the gunman's vitriol into our beautiful occasion.
I asked myself and other friends of the grooms, should I acknowledge it at all?
But before long I realised, the answer couldn't be found in any MC's words, the answer was all around us, written on the faces and in the hearts of Danny and Matt's guests.
They had created a force field of love.
Smiles, cheers, applause and fierce determination to stand strong in the face of evil seemed to create a solidarity with good people of the world.
Support for the basic human right of our two friends to express their commitment was especially strong from the couple's families.
The couple's godson Oliver Keighran, delivered a prayer for Judy and Peter (Matthew's much loved parents who have passed) and others who were unable to make the ceremony.
You couldn't help but notice that hope for a future of equality and acceptance, shone brightest in the smiles of the young guests.
"Marriage is a commitment between two people: to love, to cry, to try, to build, to grow old together in front of those who are important. So that is what we are doing, we don't need the government to tell us otherwise," said Matthew.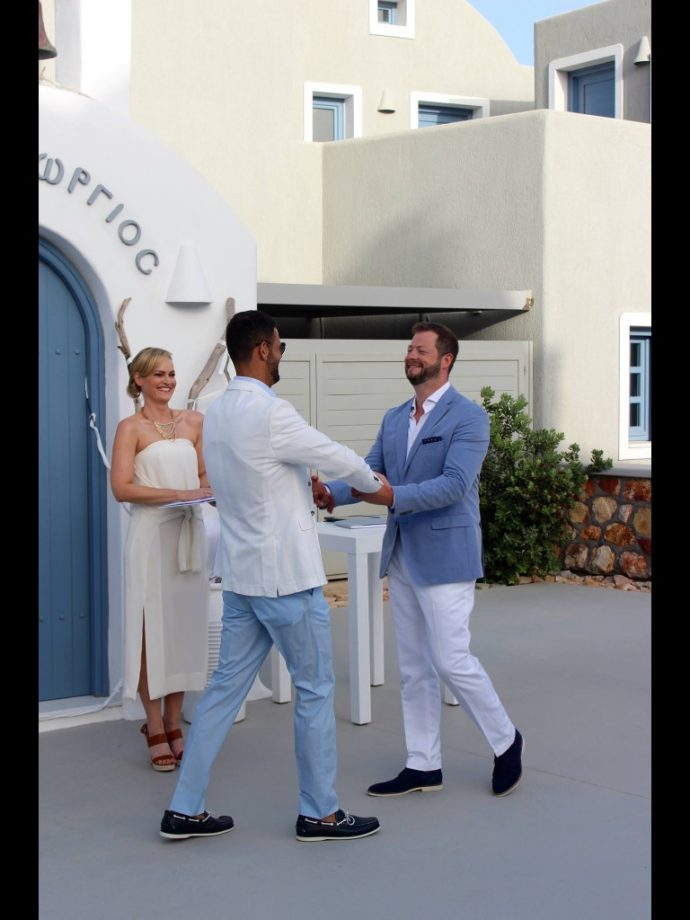 The Vows
I come here today to join your life for years,
I pledge to be true to you, to respect you,
and to grow with you through the years.
We are many things to each other,
May only those best qualities continue to shine
And may our bond continue to grow stronger
Time may pass, fortune may smile, trials may come;
no matter what we may encounter together,
I vow here today that this love will be my only love.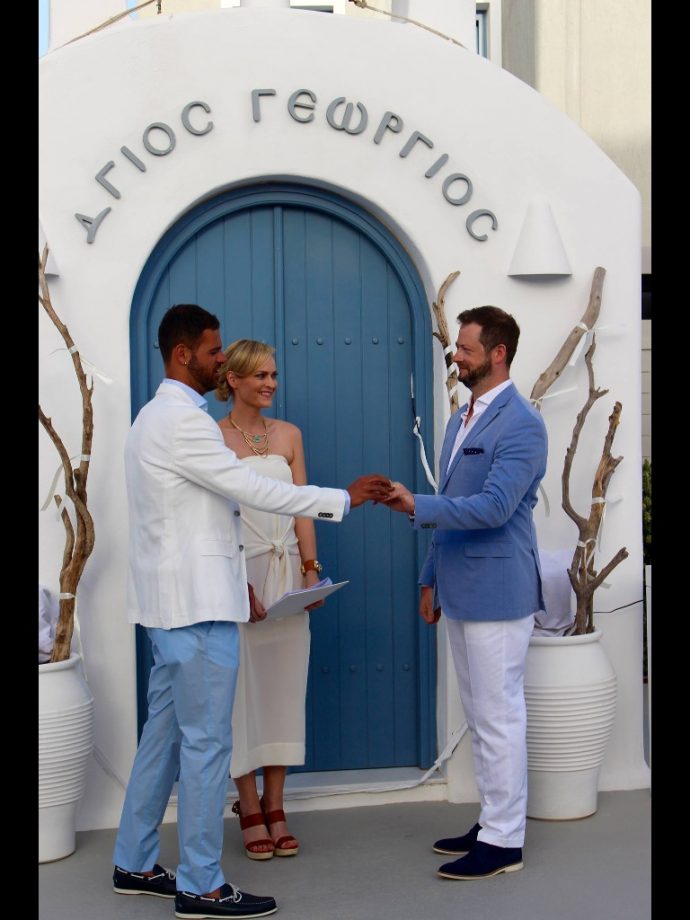 Under a full moon, we danced to cheesy tunes (of course we did – think Abba, 90's dance tunes) clinked glasses, ate delicious Greek cuisine and created wicked memories.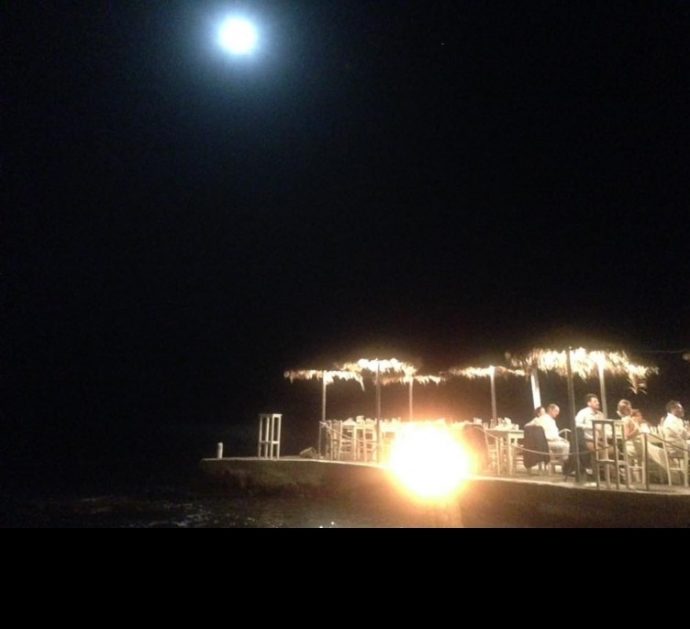 Although we all jumped at the chance of a Greek Island holiday, one fact wasn't lost.
It seems crazy and illogical that our grooms had to travel so far when they had always wanted to be married in Australia.
Poll after poll shows the majority of Australians want same-sex legislation to pass.
June 20th 2016, reminded us that love and tolerance are our most noble human qualities.
On this occasion love defeated hate, through new friendships forged, how we share this colour co-ordinated union over social media, when we tell the tale to our children, colleagues or relatives.
Congrats Matthew and Daniel – we love you and affirm your commitment. Thank you for having us all!
Efharisto to everybody who contributed the pics.
Thanks to Brendan Pawsey for a sensational reception MC job and Luke Keighran for the speech.
Big kudos to Attila Botos for contributing the stunning professional shots on this post.
Want to hear my interview with Natalie Bassingthwaighte or some of the other most accomplished people in Australia, tap here.
Seen the interiors section, zip over here
Or read about Engaging Women's mission here .. and yes the irony is not lost.. running a site called Engaging Women and posting on Marrying Men!
Classic…