It is brilliant to read the updated official British royal family website describe Meghan Markle's commitment to promoting feminism.
Her bio emerged on the site sometime after the wedding and indicates she will continue to push for gender equality.
This is what the world needs right now.
Meghan Markle shared her feminist beliefs long before she became a Duchess.
They are beliefs which were shaped by her experience as a biracial woman.
How do we know?
Because she delivered a UN speech on the topic.
At age 11 she saw a commercial for dishwashing liquid which carried the line 'Women all over America are fighting greasy pots and pans.'
It was part of a social studies assignment to assess the messages of commercials and it didn't sit well with Meghan and her friends.
"It's always Mom does this, and Mom does that."
"Just about one in three commercials, is gonna say something, that's gonna hurt somebody's feelings," 11-year-old Markle can be heard on youtube telling the reporter.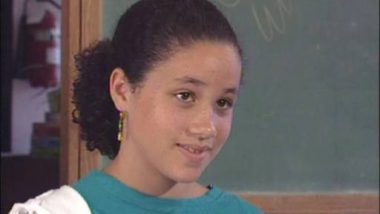 She wrote to the company behind the ad, Procter & Gamble and complained about the sexist language.
Amazingly, Procter & Gamble changed the tagline from 'women' to "People all over America."
Just like that the future Duchess of Sussex had sparked change.
Markle shared this story at the UN Women Conference in New York three years ago. She became the UN Women's Advocate for Women's Political Participation and Leadership in 2015.
Telling the powerful audience,
"I am proud to be a woman and a feminist."
Gender equality drove her speech:
"Come on, this has to change," she said. "We need a global understanding that we cannot implement change effectively without women's political participation."
Her activism has extended to her biracial status.
Filling out a census form in seventh grade, Markle realised there wasn't a  box identifying biracial people.  She again advocated changed through writing a column and named former Secretary of State Madeleine Albright one of the ten women who changed her life.
She volunteered at an LA soup kitchen from the age of 13-17.
Strong women including Amal Clooney and Oprah Winfrey are close friends.
For us, Markle is a sign of the times, women across the globe and here in Australia are calling for change.
It's progress to see a member of the Royal family with strong political beliefs. Let's hope she's given a chance to express them.
Inspired to activate change? Find out how to join our Ambassadors for Good program here.
Mail info@engagingwomen.com.au with the tagline 'Ambassador for Good' and we'll mail you back with details.